Everything Else
Page 3: 12 Entirely True Facts About Oklahoma
1:34 PM EDT on April 1, 2010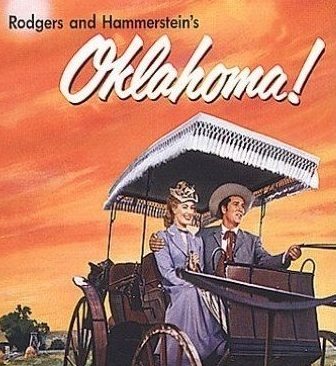 Why Your City Sucks will return next week with an in-depth look at the glorious town of Stillwater. So send in any comments to dailythunder@gmail.com.
But instead this week, I thought I'd use my Internet browsing skills (read: ability to type in Wikipedia's search box) and share some incredibly interesting, unknown facts about this incredible state. So do join me on the other side, won't you?
1. The Land Run was originally supposed to be a raffle. Maybe the most famous, iconic moment in Oklahoma's history nearly never happened. The original idea for the land run was to have all interested land runners fill out a form with their desired section of land. If their name was called, the land was theirs. So instead of having "Boomers" and "Sooners" we might have had "Raffles" and "Auctions" for team names.
2. Mick Cornett's actual last name is "McCornett". His great grandfather changed the family last name after being discriminated against for his Irish heritage. Having the "Mc" on the front was a red flag so he decided to cut it off. But as a way to pay homage to the family heritage, Mick's father named him "Mick". So if you say it fast, you have the original family name.
3. Gary England was almost never a weather man. In 1948, England was cast as the lead child actor in Oliver Twist. The movie was being filmed in London and Gary's family wouldn't let him travel abroad for the filming. He did a few small things in other movies (Like a small cameo in Disney's Swiss Family Robinson. Look for him at about an hour in. He's a pirate.) but he never did follow through on an acting career.
4. There were actually SIX civilized tribes that walked the Trail of Tears. One tribe, Chipachawamie, died of famine early on. The tribe was small and only consisted of about 1,000 members. Those that survived were accepted into the Choctaw tribe. For whatever reason, this is largely ignored by history books.
5. Garth Brooks was actually born in Big Spring, Texas. Granted, he only stayed there one week after birth before his family moved to Yukon. If you go to Big Spring, their water tower says, "ACTUAL home of Garth Brooks." Yet Yukon still claims the country singer as a hometown boy.
6. Oklahoma has the most churches in one state in the entire country. Texas is second and Utah is third. California, is 21st. Oklahoma houses 2,393 churches according to the 200o US Census and estimates indicate that number might be closer to 3,000 once this next Census is finished. Broken down by denomination, there are 1,150 Baptist churches, 545 Assembly of God churches, 310 Presbyterian, 208 Non-Denominational, 105 Catholic, 53 Pentecostal, 21 Mormon Tabernacles and one Muslim Synagogue.
7. The original script for the Broadway musical/film Oklahoma! was going to be Wyoming! but Rodgers and Hammerstein changed it at the last minute. What's most interesting about the change was the reasoning cited for it. In a 1947 interview Rodgers said, "We had the entire script written for the film to be about Wyoming. But we altered it last minute because of some issues with the Wyoming state government over filming. We wanted the film to have features unique to the state, but Wyoming wouldn't allow it. Oklahoma sprung at the chance to be the second choice."
8. Everyone knows Guthrie was the original capital, but did you know Oklahoma City was supposed to be built where Lawton is? Due to a major mistake by a surveyor, Oklahoma City was placed on the map almost 100 miles north of where it was intended to go. And before it was called "Oklahoma City" it was actually referred to as "Redmanton". That was changed officially in 1908, shortly after the state capital was awarded to OKC.
9. Oklahoma claims the Red River, but it actually belongs to New Mexico. Because of a cartographic error, the river's stem was decided to be set in Greer County, Oklahoma. But after Governor Alfalfa Bill Murray took the Oklahoma National Guard to the river to settle the dispute with Texas, the United States government awarded the river's stem to New Mexico to settle the debate.
10. The sweater vest was invented in Oklahoma. Not much explanation needed. In 1925, an Oklahoma tailor cut the sleeves off a sweater and started selling it.
11. In the early 1900's, people would routinely take Oklahoma's red dirt as medicine. The dirt was thought to have an inordinate amount of protein in it and some thought it could cure tuberculosis. A company was even started, "Red Dirt Medicines" that shipped it worldwide. In 1918, it was discovered that the dirt was nothing more than just that. The healing powers of the dirt were a farce and people quit taking it.
12. The number one export from Oklahoma is not wheat, not wind and not natural gas. It's sperm. Oklahoma houses 300 sperm banks statewide and on a yearly average, Oklahoma generates 200,000 pounds of sperm that is shipped off worldwide.
Now you're a little smarter about this great state and you surely will have some interesting facts to share with friends over dinner tonight.
Stay in touch
Sign up for our free newsletter