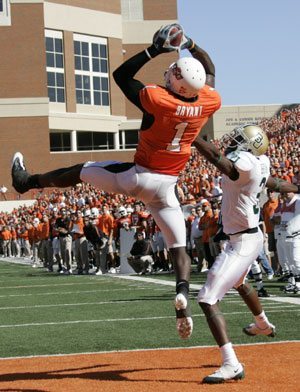 As one of our favorite Q&A participants once touted, the acronym NCAA should for National Communists Against Athletes.  So, it should be no surprise that they are completely botching the punishment of Oklahoma State wide receiver Dez Bryant.
When it was first announced that Dez Bryant was being suspended indefinitely by the NCAA, I, like many people, assumed he had improper contact with an agent.  The truth was simply that he was being investigated for possibly having improper contact with an agent.  The reason the suspended him without any evidence that he actually did anything wrong is that he told the investigator a lie.
The lie pertained to whether the All-American wide receiver had visited former NFL superstar Deion Sanders at his home, where theoretically an agent could possibly have been in attendance at the same time...of course, by that logic, Dez could have been investigated for eating at a Subway downtown.  Anyway, "Neon" Deion, who is now a part time televangelist, told the NCAA officer that Dez had indeed spent an evening at his home, while Dez paniced and said he was not there.  (aside:  I would bet all the money in my pockets that Dez was contacted directly by the investigator because if he had been contacted through the athletic department they would have prepared him, told him he had done nothing wrong, and assured him that telling the truth would be his best option.  Instead, he freaked out assuming the NCAA wouldn't be coming after him if it was okay to talk with a retired pro athlete.) Neither person recalls anyone who could be perceived as an agent being in attendance.
The lie, in and of itself, turned out to be a rule violation that carried the possibility of suspension.  Although, you would think it would be a minor violation, right...worth less of a penalty than, say, actually having improper contact that would void your amateur status?
Obviously, if you think that, you are too logical to work for the administration that governs collegiate athletes.  Because recently, I was reading about John Wall, the stud basketball recruit for the Kentucky Wildcats, who was coached by a person that was registered agent for the NBA.  That's not "improper contact," that is actually working closely on  a daily basis with an agent.  The penalty expected for Wall's amateur status impediment?  They are expecting him to miss approximately 10% of the Wildcats' games this season (3 to 4 of 30+ games).  That punishment should occur at the beginning of the year while Kentucky takes on powerhouses like Campbellsville, Clarion, and Morehouse State.
Dez on the other hand has already missed four games (three conference match ups) while the NCAA takes their sweet time in deciding if not talking to an agent is worse than having an agent pay for your mother's home while you win a Heisman trophy (penalty for said offense:  nada) or having a booster give you tens of thousands of dollars (penalty for said offense:  "humiliating" discovery while interviewing for TNT studio gig).
Fine, I understand that Bryant deserved some punishment for fibbing while scared that his poor judgement could ruin his team's promising season.  Even if the NCAA wanted to make an example of him to other athletes who might make the same bad decision, wouldn't you think the two games he missed (Grambling State and the conference opener against the A&M Toy Soldiers) would have been sufficient.  That would be the 10% Wall will miss for actually breaking the rule Dez was suspected of violating.  Then, with the Missouri and Baylor DNPs it became double what the governing board likely would have given him if Deion had said, "Yeah, he was there and he was hanging out with Scott Boras."  Does he really need to serve any more time to learn his lesson?
In the meantime, OSU has actually done quite well.  During the preseason, I wrote this about Dez' quarterback, Zac Robinson:
Do you remember playing football on the playground at school?  There was always the one kid who always managed to be the quarterback and he would manage to get his best friend on his team.  On every play, he would look only for his buddy and even if the guy was quadruple-covered while the rest of the team stood wide open in the endzone, the QB would try to rifle it into the crowd.  Eventually, everyone else on the team just trotted a few steps after the snap and then disappeared to go play on the monkey bars.

I think that is how the OSU receiver corps feels.  Last season, My Cousin Zac basically looked for Dez Bryant as option A, B, and C.  Option D was tucking the ball under his arm and running with it.  Don't believe me?  Robinson threw 25 TD passes last season, Bryant caught 19.  Of his 204 completed passes, 43% were to Dez.  The remainder were spread out among 14 players.
Without Bryant as a crutch, My Cousin Zac has looked like a West Coast style quarterback spreading the ball around to every receiver on the field.  In particular, Hubert Anyiam has looked like a go-to guy the way Bryant did when he was the receiver opposite Adarius Bowman during his freshman year.  His absence may actually help the receiving corps as a whole in the long run.
Of course, having that All-American primary receiver to go with the more confident group as a whole would probably be ideal if the Cowboys hope to win the Big XII South and a possible BCS Glorified Scrimmage berth.  Perhaps the NCAA will come to their senses and make a decision soon.
Yeah, right.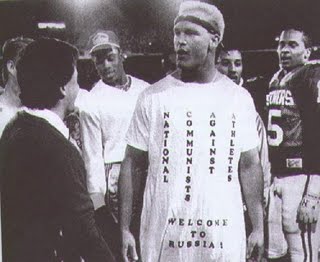 Clark Matthews is a world-class checkers champion, co-founder, and basketball editor-emeritus of The Lost Ogle
Read More:
Stay in touch
Sign up for our free newsletter