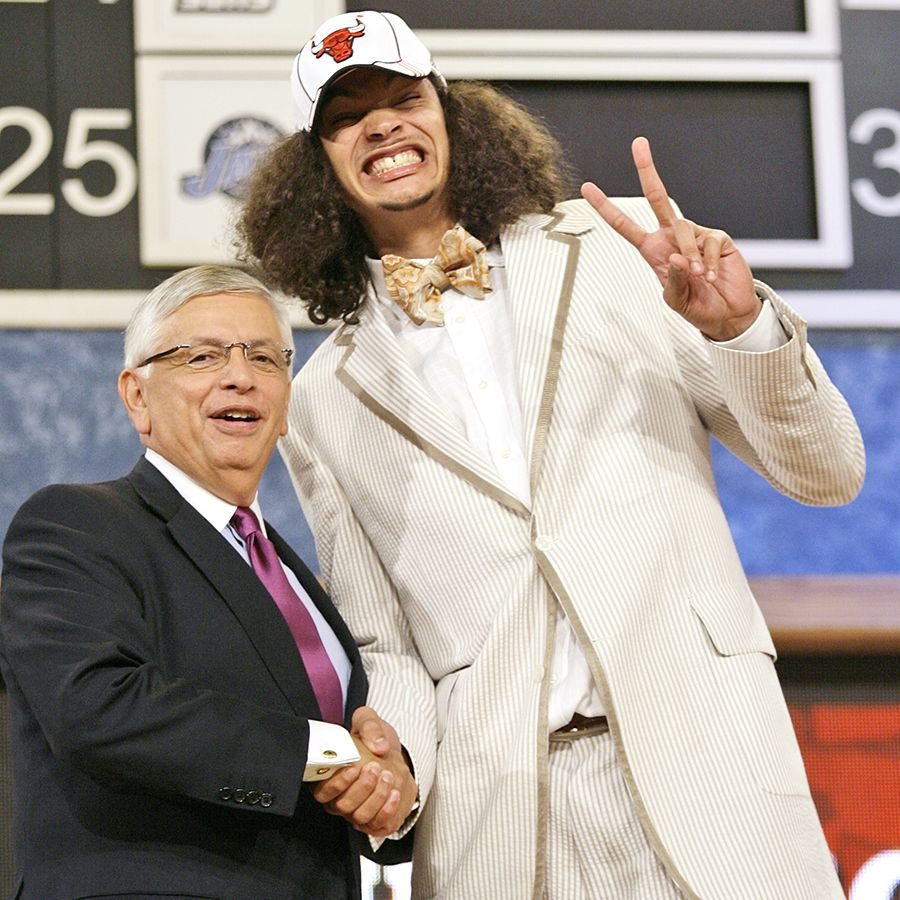 This may come as a surprise to you, but I love basketball.  And even back when I hated the NBA, I still watched the NBA draft religiously.  Now that the league has improved and we have a local interest, my obsession has only increased.
The sad thing is that as the demand for NBA information has increased, the local media's knowledge has not kept up.  With the exception of The Oklahoman's Darnell Mayberry, we get very little informed opinion or speculation about the draft in this market.  Most of the talk is centered around guys who played in the Big XII or else made the cover of Sports Illustrated.  So, to fix this, I recruited some of Oklahoma City's best internet basketball writers to collaborate on a mock draft.
Since I think Mayberry has my email address blocked, he was not involved, but these guys were:
Royce Young of DailyThunder.com: Royce is probably the top blogger when it comes to Thunder related information. He has a partnership with ESPN's TrueHoop network, and is one blog I check religiously.
Max Trueblood of OKCThunderFans.com: When Patrick and I got out of writing exclusively about the Oklahoma City Hornets at HornetsCentral.com, we sold the site and it eventually became OKCThunderFans. On their message boards, the resident expert is Max who has extensive knowledge about all NBA teams.
Clark Matthews of TheLostOgle.com: Clark writes a weekly, too long, column called "Peace, Love and Thunderstanding" which is read by at least four people. He is easily the smartest, handsomest, and most popular person I know.
Anyway, I wanted to see how informed three ginormous Thunder fans could be when it came to prognosticating the NBA Draft, and the results are as follows:
With the 1st pick of the 2009 NBA Draft, the Los Angeles Clippers select...Blake Griffin, Power Forward, University of Oklahoma
(Pick made by Clark Matthews)
The words above are bound to be heard on Thursday night and most Oklahomans will have their hearts break when they are uttered.  This is the biggest no-brainer of the draft.  Griffin is a legitimate 6'10", has explosive athleticism, great rebounding instincts, is strong as a bull, and already has an offensive game.  While the Clippers have to take him, it is the worst short term fit possible for the Sooner Goliath.  L.A. has $39MM wrapped up into three players who play in the post.  Griffin will probably be the most talented of the bunch, but veterans earning $16MM (Zach Randolph), $12MM (Chris Kaman), and $11MM (Marcus Camby) will not take well to losing their minutes to a rookie.  Chemistry, which isn't great in Clipperland to begin with, is bound to suffer.
With the 2nd pick in the 2009 NBA Draft, the Memphis Grizzlies select....James Harden, Shooting Guard,  Arizona St. University.
(Pick made by Max Trueblood)
This one is tough. With Ricky Rubio's contract situation seemingly taken care of and there being no way for him to go back as bridges have been burned, Memphis would seemingly be in position to call (Rubio's agent, Dan) Fegan's bluff but at the end of the day, there is still risk involved. Harden represents more of a sure thing as he is more NBA ready than either Rubio or Hasheem Thabeet. Memphis needs someone who can give them immediate hope to inspire a deadbeat fanbase. Harden represents that. Look for management to follow through on their word and make O.J. Mayo the point guard of the future with Harden playing the 2 spot.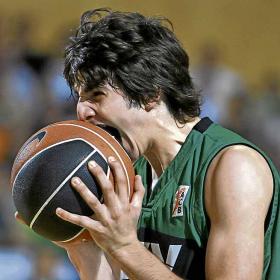 With the 3rd pick in the 2009 NBA Draft, the Oklahoma City Thunder select....Ricky Rubio, Point Guard, DKV Joventut (Spain)
 (Pick made by Royce Young)
Basically Memphis made up Oklahoma City's mind for them. If the Grizzlies had taken Rubio and traded him, then the Thunder had the choice between James Harden and maybe a wildcard like Stephen Curry. If the Grizzlies had taken Hasheem Thabeet, then the Thunder had an extremely difficult decision in choosing between Rubio or Harden. But since Memphis took Harden, probably the guy best suited to play with the Thunder, there's just no question what to do here. While Rubio is a mystery, he's also a bundle of potential. And he's also got lots of value to teams drafting lower. Presti could take Rubio and flip him to a team salivating over his skills, or Presti could keep Rubio for himself and adjust his roster accordingly. Some folks would think Thabeet is the obvious choice but if you look at the red flags piled up around him, he just doesn't seem like a Presti style pick. Questionable work ethic, raw and underdeveloped skills, no feel for the game and worry about his desire. Sure he's 7'3" and can block a shot or two, but is the risk worth the reward?
With the 4th pick in the 2009 NBA Draft, the Sacramento Kings select...Tyreke Evans, Combo Guard, University of Memphis
(Pick made by Clark Matthews)
 First of all, the pick by Royce makes me all kinds of giddy.  I have been a huge proponent of Rubio in a Thunder jersey, and I think if this scenario plays out that the Thunder will be a playoff team very soon.  His playmaking ability and the plethora of talented players to feed is exactly what Oklahoma City needs.
 As for Sacramento, this was a difficult pick.  Everything points to the team taking a point guard.  I've been hearing rumors that they are in love with Syracuse's Johnny Flynn, but I have trouble seeing a barely six foot player being taken this early (unless he's as talented as Chris Paul, which Flynn isn't).  So, I see the Kings going with the safer pick and taking Tyreke Evans (who has worked out for them twice).  I don't see it working out well for them, because Evans is not a point guard, but that's beside the point.
With the 5th pick in the 2009 NBA Draft, the Washington Wizards select...DeMar DeRozan, shooting guard, University of Southern California
(Pick made by Max Trueblood)
A bit of a shocker here as most analysts don't see DeRozan going this high but he has the most upside of anyone left. There have been rumors of Jordan Hill or Stephen Curry going here but Curry is too small to play the 2 spot while Hill just doesn't make sense when you have a crowded frontcourt of Jamison, Haywood, Blatche, Songaila, Thomas and McGee. DeRozan can backup the 3 spot for now as the Wiz have Stevenson and Young at the 2. This way, they don't rush the youngster. They can let him take his time developing, maybe even seeing time in the D-league and then he can flourish in a year or two.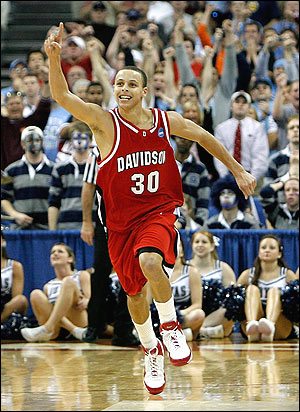 With the 6th pick in the 2009 NBA Draft, the Minnesota Timberwolves select...Stephen Curry, combo guard, Davidson University
(Pick made by Royce Young)
It's already starting to get a little muddy. Minny is deep in the frontcourt with Kevin Love and Al Jefferson and really, they have players in their backcourt. So their pick is a bit of a head-scratcher. Randy Foye is a decent combo guard that prefers to score. Corey Brewer is a long wingman that's role it to defend. What honestly helps them most is another combo player. Someone that gives them flexibility with Foye so that they can flip-flop both him and the pick around in the backcourt until they find something that meshes. The smart money there is on Tyreke Evans, but seeing as he's off the board, you've got to look at the next best combo guard on the board. And that falls to Stephen Curry, a guy that can shoot, handle and pass. Question marks are his size and his ability to defend, but seeing what your other options are, he's the best option here.
With the 7th pick in the 2009 NBA Draft, the Golden State Warriors select...Hasheem Thabeet, center, University of Connecticut
(Pick made by Clark Matthews)
The Warriors should take a point guard because lord knows Monta Ellis, even when he's not maiming himself with a moped, isn't going to pass the ball to anyone.  But, Don Nelson is committed to having a gunner run the offense, so they'll probably snag the free falling giant from UConn.  In the end, it is probably good for the Warriors who are loaded at the guard position.
With the 8th pick in the 2009 NBA Draft, the New York Knicks select...Jonny Flynn, point guard, Syracuse University
(Pick made by Max Trueblood)
The Knicks were hoping that Curry would be here for them but there are still a bunch of solid PG prospects. It came down to Jrue Holiday, Brandon Jennings and Flynn. While Holiday was the best defender of the bunch, questions arose about his ability to handle Coach Mike D'Antoni's system. Jennings seemed like a great fit for D'Antoni but there are character issues all over the place as Jennings has bad mouthed other prospects and has pouted during various workouts. Flynn combines strong character with an uncanny ability to push the rock at full speed, a must for the D'Antoni offense.
With the 9th pick in the 2009 NBA Draft, the Toronto Raptors select...Jordan Hill, power forward, University of Arizona
(Pick made by Royce Young)
The Raps wanted Vince Carter version 2.0, DeMar DeRozan, but it wasn't meant to be as the Wizards snatched him up. They desperately need help at shooting guard, a position Anthony Parker currently patrols. But with Chris Bosh's contract nearly up and CB4 grumbling about his situation in Toronto, the Raps go with his future replacement in Jordan Hill. Hill isn't nearly as skilled as Bosh, but he'll fill the role admirably. Plus, if you look real fast, they kind of look the same.
With the 10th pick in the 2009 NBA Draft, the Milwaukee Bucks select...Brandon Jennings, point guard, Lottomatica Roma (Italy)
(Pick made by Clark Matthews)
The Bucks are likely to lose Charlie Villanueva and Ramon Sessions in free agency, so their holes are at power forward and point guard.  As such, I'd narrowed it down to Jordan Hill and Brandon Jennings at this pick, and Royce's selection of Hill for Toronto made the decision for me.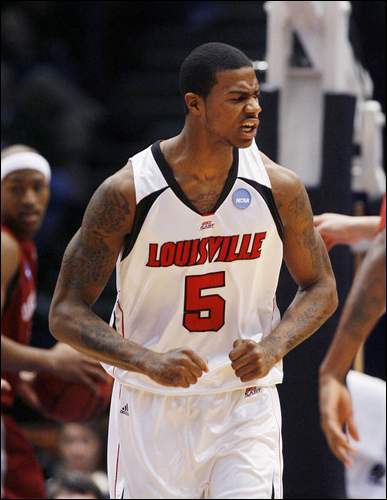 With the 11th pick in the 2009 NBA Draft, the New Jersey Nets select...Earl Clark, forward, University of Louisville
(Pick made by Max Trueblood)
This one was tough as well. Clark's teammate, Terrence Williams, has been impressive in workouts, as has Tyler Hansbrough. The Net's brass decided against Hansbrough due to having Yi Jianlian, Eduardo Najera, Sean Williams and Ryan Anderson at the 4 spot. It became a flip between the two former Cardinals and Clark's long term potential and New Jersey roots gave him the slight nod. Jarvis Hayes and Bobby Simmons aren't long term answers at the 3 spot and their respective contracts are up anyways. Clark will learn from the bench in his rookie year then hopefully be ready to roll by year 2.
With the 12th pick in the 2009 NBA Draft, the Charlotte Bobcats select...Gerald Henderson, shooting guard, Duke University
(Pick made by Royce Young)
The Bobcats are looking two-guard here all the way. They've got Ray Felton and D.J. Augustin at point guard. Gerald Wallace playing the swingman. Boris Diaw and the oft-injured Sean May at the power and Emeka Okafor at center. And at shooting guard is... Raja Bell. Bell's not a bad player, but he's not a starting two, especially on a team strapped for scorers. The Cats go with Henderson because he's an NBA-ready player that can possibly step in and start. And there's not a lot of great options out there at this position. Plus, there are reports that Charlotte is in love with the Dookie and would take him if given the chance. Well, here's their chance and I don't see them passing.
With the 13th pick in the 2009 NBA Draft, the Indiana Pacers select...Jrue Holliday, point guard, University of California--Los Angeles
(Pick made by Clark Matthews)
If Holliday really does drop to Indiana, they will be ecstatic.  A little over a week ago, this was the fast riser of the draft with teams raving about him and expectations that he might follow in the footsteps of Russell Westbrook (another "point guard" out of UCLA) and land in the top-5.  A couple of disappointing workouts later, he's probably a borderline lottery pick.  The Pacers, who need help at the point guard position will be pleased to find a player with such upside this late in the draft.
With the 14th pick in the 2009 NBA Draft, the Phoenix Suns select...Jeff Teague, point guard, Wake Forest University
(Pick made by Max Trueblood)
Steve Kerr is seen repeatedly slamming his head against the wall as Holiday is drafted one spot ahead of Phoenix. Never one to throw in the towel, Kerr pops in an excedrin and goes with the next best PG on the board and takes Teague. With Phoenix reportedly trying to get Steve Nash to sign an extension, a pass first PG isn't a must as they just want someone to give them good minutes off the bench and eventually develop into a conventional PG.
_______________________________
PICKS 15-30 WILL RUN TOMORROW AT DAILYTHUNDER.COM
Clark Matthews is a world-class checkers champion, co-founder, and basketball editor-emeritus of The Lost Ogle
Stay in touch
Sign up for our free newsletter