Everything Else
Peace, Love and Thunderstanding: Roster Decisions
12:36 AM EDT on April 30, 2009
The slate of Thunder games in Oklahoma City is over and now the city gets to experience its first off-season with long term consequences.  Back when I was the "HornetsCentral GM", I wrote about the off season in which the Hornets drafted Hildric Simstrong, signed Peja Stojakovic, and traded for Tyson Chandler.  Analyzing those moves was simple because the length of time they mattered turned out to be one season.  Now, with the Thunder in town, however, what happens could effect the product we witness in the Ford Center for years go come.
That being said, the first step of the off-season is making decisions about the players who are currently associated with the team.  Some guys are entering free agency.  Some guys have contract options.  Others are entering the final season of their contract and could be bought out to make room for new players.  For all of these players, General Manager Sam Presti will have a decision to make.  For the rest of this column, I will point out what will likely go into his thought process.
Desmond Mason
Situation:  Unrestricted Free Agent
When it comes to NBA basketball in OKC, Desmond Mason is the elder statesman.  He has been a member of both the Hornets and the Thunder while offering mediocre play from the swingman position.  Mason came into the NBA out of Oklahoma State as an uber athletic and exciting player who provided strong defense and had a developing jump shot.  Unfortunately, eight years into his career, the athleticism has dissipated, the defense has become spottier, and the jump shot developed the wrong direction.
That being said, Mason may be the second most popular player on the team.  His jersey flies off the shelf, fans love having him around, and the media enjoys covering his art shows.  Plus, he is an excellent teammate and a respectable veteran presence among a roster loaded with young'ns.  Having him around to teach the players who still have the athleticism he once possessed how to cover opposing players makes him a de facto assistant coach.
Odds of being a member of the 2009/10 Thunder:  75% -- My guess is that Des will take a significant paycut, but get rewarded with a multi-year deal slightly above the league minimum.  It is unlikely he will play much over what will probably be the final two years of his career, but when he's done, the Thunder will keep him on as member of the front office.
Malik Rose
Situation:  Unrestricted Free Agent
Rose was acquired at the trade deadline as an apparent favor to the Knicks.  Prior to arriving in Oklahoma City, Rose had spent several years cashing paychecks from the lowly Knicks and not playing.  In Oklahoma City, Coach Scott Brooks gave him some playing time, but it was clear that Rose was an old, fat, short power forward.
Odds of being a member of the 2009/10 Thunder:  1%  -- I can't think of any scenario that leads to Rose getting a contract from the Thunder.
Robert Swift
Situation:  Unrestricted Free Agent
Being seven feet tall has its advantages.  For instance, if I was incapable of showing up to work 90% of the time and when I did show up, I constantly confused debits with credits, odds are, I would be fired.  When you are seven feet tall and have at least a minimal interest in playing the sport of basketball, though, general managers look at no other factor.
Swift has been a draft bust since he was taken by the Seattle Supersonics straight out of high school.  To date, nobody in the organization will officially label him as such.  I thought last summer that a genius like Sam Presti would be able to admit the mistake of his predecessor and let the Marilyn Manson loving giant have his walking papers.  Instead, Presti tendered Swift with a qualifying offer that kept him with the team.  His reward:  3.3 points and 3.4 rebounds per the 26 games Swift managed to play in.
Odds of being a member of the 2009/10 Thunder:  25% -- Part of me wants to believe that Presti will finally give up the Robert Swift experiment.  Then the rest of me knows that all GM's have the re-curring nightmare that they let a center walk and he turns out to be something other than a stiff for a different franchise.
Chucky Atkins
Situation:  Partially guaranteed contract
Atkins was a throw-in of the deal that sent Johan Petro to Denver for a first round pick.  There were a few reasons why the Thunder were willing to take him.  A)  They were hoping to trade Earl Watson and Atkins would provide depth behind Russell Westbrook if that happened.  B)  Atkins is a veteran player whose expertise could be passed on to Russell Westbrook.  And finally, C) the 2009/2010 portion of his contract was only partially guaranteed meaning that if the team cuts him before training camp, they won't have to pay more than (reportedly) $800K.
Odds of being a member of the 2009/10 Thunder:  5% -- The only scenario I can picture that leads to Atkins receiving all of his $3.6MM is if Watson is traded in the off season (without receiving a PG in return), Shaun Livingston is re-injured in Summer League or completely ineffective, and the team does not draft a point guard.  All of those things have to happen.
Shaun Livingston
Situation:  Non-guaranteed contract
After the horrific injury he sustained nearly three years ago, it was doubtful that Livingston would every play basketball, let alone professional basketball again.  When the Heat and Grizzlies both cut him without showing him more than a smattering of floor time early this season, that suggested the conventional wisdom was correct.
In the last month of the season, though, Sam Presti wanted to give him an opportunity and did so by signing him through the rest of this season and partially guaranteeing next season.  That way, Livingston would definitely be available to participate on the Thunder's Summer League team.  He still has to make the team in training camp is what that means.
Odds of being a member of the 2009/10 Thunder:  80% -- In the limited time he spent with the team, he showed that he still has significant ability.  Barring something awful, Livingston should have a bright future with the Thunder.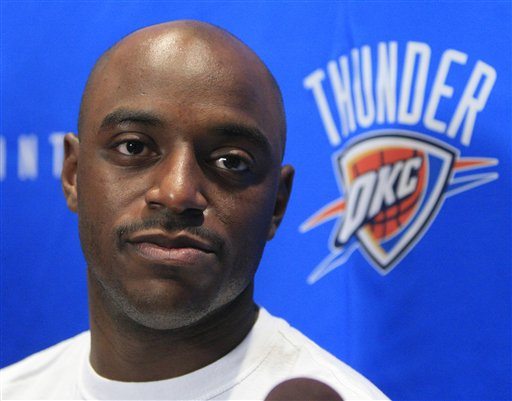 Damien Wilkins
Situation:  Early Termination Option
A lot of people either never realized or forgot that this franchise (when called the Seattle Supersonics) won their division and participated in the playoffs only a few years ago.  During that short, but over-rated run produced two "rising stars".  Jerome James parlayed the near upset of Tim Duncan's Spurs into a rediculous long term contract with the Knicks and the Sonics hurried quick to lock Damien Wilkins up before he went on the open market.
Now, they are hoping he will take advantage of the "Early Termination Option" that Wilkins' agent negotiated into that deal so that Wilkins wouldn't be stuck making below market wages when he became an all-star.  Obviously, the Wilkins' team was overly optimistic as he has since become little more than a player the Thunder use in the case of injury/foul trouble...and then only if they can't play someone out of position instead.
Odds of being a member of the 2009/10 Thunder:  90% -- In the current economic climate and after the stink bomb he added to his resume since originally signing the contract, Wilkins would be a moron to excercise this option.  If the Thunder are going to get rid of him, it will be because they traded his expiring contract or because they bought out the final year of his current deal.
Kevin Durant
Situation:  Rookie Option
As part of the most recent Collective Bargaining Agreement, one of the concessions made by the Player's Union was to reduce the guaranteed portion of rookie contracts from four to two years.  Now, instead of four guaranteed years, a team has the option of re-newing the rookie contract up to two more years after the guaranteed portion is complete.
As the face of the franchise, I have a feeling the Thunder have already excersized Kevin Durant's option.  And if they haven't it's because they haven't been allowed to by the league yet.
Odds of being a member of the 2009/10 Thunder:  99% -- The only way Kevin Durant is not a member of the Thunder next season is by the result of something so tragic I don't even want to suggest it for fear of rallying bad juju.
Jeff Green
Situation:  Rookie Option
Drafted about fifteen minutes after Durant two years ago, Green is not quite as important to the team's future as Kevin Durant, but he is the Robin to Durant's Bat Man.
Odds of being a member of the 2009/10 Thunder:  95% -- see above.  The only reason his likelihood is less is that there is an off chance that the Thunder could trade him if it would net them Blake Griffin.
Clark Matthews is a world-class checkers champion, co-founder, and basketball editor-emeritus of The Lost Ogle
Stay in touch
Sign up for our free newsletter