Everything Else
Peace, Love and Thunderstanding: Free Basketball
12:01 AM EST on January 15, 2009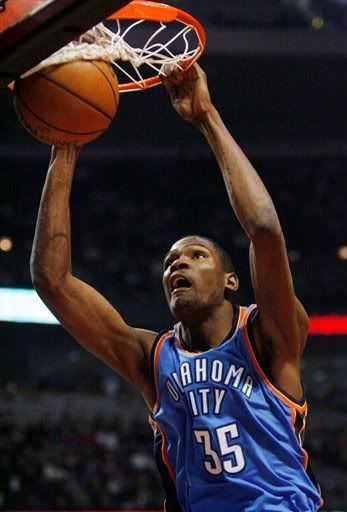 Word of the Week:  Overtime
With the exception of a devastating forty-two point loss at the hands of the Timberwolves to start off the week, the Thunder were very competitive.  They lost by four to the Rockets on Friday.  Then, the rest of the week featured, as Keith Olberman used to say, OOOOOvertime.
The knock on the recently more competitive Thunder has been that they cannot get it done at the end of the game.  When the game is close, they collapse and lose.  Well, they still haven't gotten over that hump, but instead of losing when it's close and late, they just manage to extend the game and provide the fans with five minutes of basketball for which they didn't pay.
On Saturday, the Thunder took the Bulls to overtime in Chicago.  Two days later, the same thing happened in New Jersey against the Nets.  In the former, the Thunder opened a can in the extra period and ended up with an eleven point margin of victory.  In the latter, well, they lost by four.
Quote of the Week:  Kevin Durant
I want to stay in Oklahoma as long as possible. I do, that's the honest truth. I love it there.
In response to a question from New Jersey reporters who wondered if the presence of minority owner and rap magnate Jay-Z would help the Nets woo Durant as a Plan B were LeBron James to sign elsewhere in the Summer of 2010.
I love Durant's answer and all, but really it is the question that makes this really interesting.  First of all, how flattering to KD.  "Would you be our fall back plan if we let you meet a famous musician?"  Second, the reporters apparently have no understanding of how NBA business works.  Durant won't even be a free agent in 2010.  He'll be eligible for an extension, which the Thunder are bound to throw his way, but the Nets will have no ability to even discuss the possibilities of OKC's franchise player changing addresses.  Third, even if he was a free agent, he would be a restricted free agent, meaning if he did sign a contract (which would be shorter and less valuable than what the Thunder will be able to offer) the Thunder would have the right to match the deal and end Durant's free agency.
This idea of Durant leaving our podunk little town at first opportunity has become a theme for the national media.  For example, ESPN's Bill Simmons, a rabid Seattle apologist, has taken to referring to the franchise as "Kevin Durant's future former team."  It is all well and good for them to take out their frustration at OKC's challenge to the status quo by bringing Durant's name into the mix, but it is an ignorant red herring of an argument. 
Along with the quote mentioned above, Durant is not one of those players, like LeBron, who enjoys the attention that comes with being in the limelight.  He's a basketball player, pure and simple.  His joy comes from dropping 40 points and winning the game, not from being sought out by other celebrities because they saw him on SportsCenter. 
My favorite Durant story comes from this past Summer when he chose to spend part of his vacation watching his teammates who had been forced by the coaching staff to play in the Summer league.  He watched one game from the bench and you could tell, every time the camera swung his direction, that it was killing him to sit there when he would rather be participating.  The next game, Durant was suited up in one of those generic black Oklahoma City reversible jerseys and competing against a bunch of D-Leaguers.  Afterwards, the Thunder brass put there foot down and forced their star to stop playing for fear of him getting hurt.  However, it illustrates that Durant still has that young child's enjoyment of the game.  For him, it isn't about business, it isn't about playing in a ginormous market, it's still about just lacing it up and playing.
Don't believe me that he's not star struck?  Here is the rest of that quote:
I don't know him at all. I met him twice, but I don't know him that well. I love his music. I'm a big fan, but I just never got around to it I guess. I've never been a guy who's been like, 'I need to meet Jay-Z. I got to meet him.'
Clark Matthews Told You So:  Brook Lopez
Before last June's draft, I advocated that the Oklahoma City NBA Franchise should select Brook Lopez with the fourth overall selection.  Patrick told me that Lopez was a stiff.  He didn't look like a stiff on Monday when the Nets beat the Thunder in overtime.  His line of 31 points on 10 of 17 shooting along with 13 rebounds and 2 blocked shots was kind of responsible for the Thunder loss.  Suck on that, Patrick.
Statistic of the Week:  Overtime wins by double digits
I consider myself a statistics junkie, which some people would consider dorky.  Thankfully, the people over at the Elias Sports Bureau exist to satisfy my hunger for obscure facts and make me feel better about myself by providing data I would never have even thought about.
According to said Bureau, the Thunder's 109-98 win at Chicago in overtime happened to be the eighth time that the franchise (including their years in Seattle) has been tied at the end of regulation but still won the game by double digits.  Apparently, this gives them the record.
Goat of the Week:  Desmond Mason
I nearly gave the award to Desmond last week because it was his outstretched hand that Carmelo Anthony made the game winning shot over.  But, his defense was actually very good on the play and since the Thunder had such a good week, I copped out.  This week, Desmond earned it.
During the New Jersey loss, Mason had a +/- statistic of -17.  That means when Mason was on the floor, the Nets outscored the Thunder by seventeen points.  Most of his teammates had positive scores on that statistic and to make matters worse, Desmond only played twelve minutes.
Earlier in the week, it was Mason who was supposedly guarding Randy Foye who went off for 32 points in the Thunder's embarrassing 42 point loss at Minnesota.
Clark Matthews is a world-class checkers champion, co-founder, and basketball editor-emeritus of The Lost Ogle
Stay in touch
Sign up for our free newsletter