Back before The Lost Ogle became a media sensation, I used to work with Patrick on a website called HornetsCentral.com where I was the "Hornets Central GM". My role was to analyze business decisions made by the Hornets (during their stint in OKC) and make suggestions for how the team could improve their situation, or how the maximize the value in an upcoming event. That typically ended in me coming up with a plan to acquire J.J. Redick.
As the Seattle Sonics get closer to arriving here in Oklahoma City, I will probably begin writing more in that vein--beginning with today's look at how the Sonics should approach this year's draft.
The bad news is that the Sonics stunk badly enough to have the second worst record in the league but as a result of bad luck in the draft lottery, they will be the fourth team to make their pick when the draft actually occurs on June 26th. What really hurts is that the pool of entrants for this draft contains three players who are considered sure fire all stars as professionals. Those players are Memphis point guard Derrick Rose, Kansas State power forward Michael Beasley, and USC shooting guard O.J. Mayo. None of them will be available when the clock starts counting down on the Sonics.
On the other hand, this is a deep draft and the Sonics possess two picks in the first round (their own--#4--and a pick from the Phoenix Suns--#24--obtained in return for taking on Kurt Thomas' salary). They also have four second round picks. While the odds of the team actually selecting six players during the night is slim, the number of picks owned make them a major candidate to be active in trade talks.
Now the question becomes how the Sonics should look to use those assets to improve their team so that they don't suck as much when they do arrive in our fair city. Before figuring out where the changes need to be made. Through exhaustive research, I have come up with this list of strengths:
Still Looking for #2
Durant is certainly the single player this team will be built around. The former Longhorn (all of one record breaking season) is destined for greatness. As a scrawny rookie playing out of position, he averaged 20.3 points per game and won Rookie-of-the-Year honors. One has to assume he will put on some weight as he continues going through an NBA training regimen (not to mention maturing more as he gets closer to legal drinking age), and the team will eventually shift him to his more natural small forward position where his 6'9" and long wingspan will be more useful in the rebounding department. Add some players to help him out and Durant could be one of the best players the league has ever witnessed.
There are a couple of players who may stick around to help Durant on this journey to superstardom. The most likely is Jeff Green who was selected with the #5 pick in last year's draft specifically with the expectation that he would play a role similar to what Scottie Pippen did for Michael Jordan. Green showed flashes of brilliance in his first season, and may eventually beef up enough to become a versatile power forward (as opposed to his current role as an ordinary small forward). Outside of him, Iowan farm boy Nick Collison is perfect for the Oklahoma City market who demands a goofy, awe shucks kind of garbage player.
The rest of the team is a weakness. Luckily, most of the team is scheduled to be gone after next season leaving the Sonics with tons of salary cap space to make additions to the team. In the meantime, they could use some promising young players to develop at the, unfortunately, two most critical positions on any basketball team: Point guard and Center.
Now, the main event. Assuming that Sonics General Manager Sam Presti sits on his hands and the team sticks with the status quo these are the players that should be considered:
PICK #4: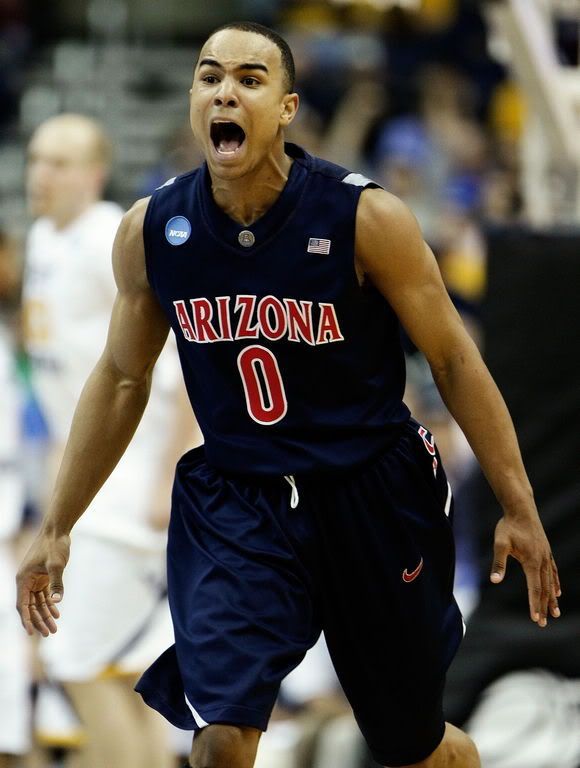 Jerryd Bayless
University of Arizona
Point Guard/Shooting Guard
6'3", 190lbs, 19 years old
The freshman out of Arizona is lightning fast and has a great shot. At 6'3", he even has better than average height for a player who will likely play the point position. According to Chad Ford of ESPN.com, Bayless to the Sonics is as close to a lock as there is in the top-5. On the other hand, Ford does offer the caveat that there could be a trade. Personally, I would rather the team trade the pick than stay put and take Bayless. That is not to say that he will not be a good player. He could even be a good player for the Sonics. I just think Bayless is more of a shooting guard who can dribble than a true point guard. His best hope of success is playing for an uptempo team like the Golden State Warriors play. If I foresaw the Sonics playing that type of game, I'd still prefer Bayless be the spark plug player that comes off the bench to spell the true point guard (kind of like Speedy Claxton did in the Hornets first season in OKC). At pick #4, though, you have to expect the player will be groomed as a starter.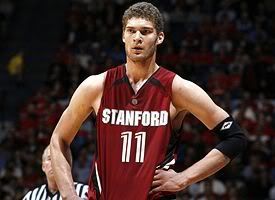 Brook Lopez
Stanford University
Center
7'0", 260 lb, 20 year old
Patrick and I disagree completely on this guy. While my scouting report projects Lopez to have a ceiling like Tyson Chandler if Chandler had an offensive game other than slamming home alley oops from Chris Paul, Patrick thinks he'll be a complete stiff. Obviously, I think he has a lot more athleticism than Patrick, and if I'm correct, it would be a mistake for the Sonics to pass on a player who could be the low post scoring threat the team needs to take pressure off of Kevin Durant.

D.J. Augustin
University of Texas
Point Guard
6'0", 180 lb, 20 year old
In my opinion, Augustin is the best true point guard in this draft. While he lacks ideal size, so does Chris Paul and he has succeeded thanks to the same kind of skill set (elite quickness, incredible ball handling, and pass first mentality) that Augustin possesses. Augustin has not shown the same basketball IQ that sets CP3 apart as one of the best players in the league, but Augustin is a far better shooter at this point.
One other plus for D.J. is that he already played with Durant when they were both freshman in college, so there is already a familiarity that tends to be important between a point guard and a star player.

Russell Westbrook
UCLA
Point Guard
6'3", 189 lbs, 19 year old
Westbrook has the capability to be a lock down defender in the NBA. Compared to the team's current starting point guard, Luke Ridnour, anything other than matador defense from the point guard position is a huge upgrade. On the other hand, Westbrook is not much of a shooter.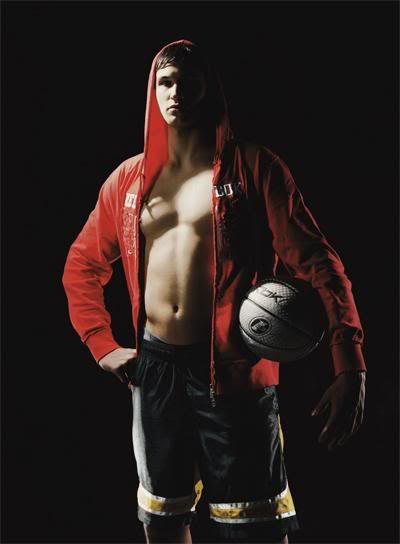 Danilo Gallinari
Armani Jeans, Milano (Italian League)
Small Forward
6'9", 212 lb, 19 year old
Actually, I don't think Gallinari has any business being in the conversation for the Sonics at any pick. But, if I didn't at least try to overrate a foreign player, Patrick would be disappointed with me.
PICK #24

DeAndre Jordan
Texas A&M
Center
7'0", 255 lb, 20 year old
Early on, there was talk of Jordan being in the mix for the #4 spot, at which point I prayed against that happening. While he has the physical tools to become a great center (often, Jordan is likened to Orlando's Dwight Howard from the standpoint of build and athleticism), he is a risk due to what is perceived as a lack of desire. Of course, as Jordan's stock has dropped, his projection has fallen to where his potential makes him plenty worthy. Should he fall all the way down to here, the Sonics would have to roll the dice on him.

Robin Lopez
Stanford University
Center
7'0", 260 lb, 20 year old
Despite being the identical twin brother of Brook, see above, Robin is more like the yin to Brook's yang on the floor. Where Brook is a polished offensive player who plays with a calm akin to Tim Duncan, Brook is more of a Dennis Rodman type of energy player who does all the little things. He rebounds, blocks shots, and bounces around on the floor with his puffy hair and pumps his teammates up. While his upside is not as high as DeAndre Jordan, Lopez is the kind of post player the Sonics desperately need.

JaVale McGee
University of Nevada-Reno
Center
7'0", 237 lb, 20 year old
Another upside player, and honestly a much bigger reach than Jordan. Then again, Jordan could end up going ten slots ahead of the Sonics second pick. My take is that McGee would end up being another in a line of bad center gambles by the team should he be the pick.
Serge Ibaka
CB L'Hospitalet (Spain)
Power Forward
6'10", 220 lb, 18 year old
Some mock drafts suggest Ibaka is the most likely player to be taken by the Sonics at #24. The scouting report on him sounds familiar. He rebounds, blocks shots, but will be a huge project offensively (again, more support for why I think a player like Brook Lopez who is seven feet tall and already a good offensive player are so hard to pass up). What can set Ibaka apart from, say, JaVale McGee is that Ibaka will not expect to play in the NBA next season. Instead, he can continue to hone his game in Spain while the Sonics use the roster spot for one of their second round picks and do not have to pay Ibaka while he learns how to play. For a team who has no illusions of competing for the playoffs next season, selecting a "stowaway" player makes sense.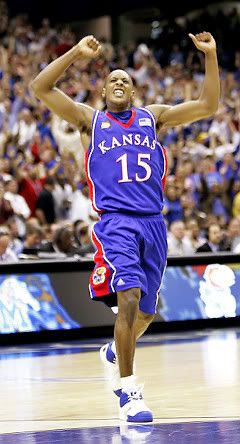 Mario Chalmers
University of Kansas
Point Guard/Shooting Guard
6'2" 170 lb, 22 year old
Last seen hitting the biggest clutch shot in KU history, Chalmers could be the best point guard available late in the first round. Chalmers could be a great defender, and he can be a good shooter in streaks. The downside is that he has done little to prove he can be a floor general. At Kansas, he generally played off the ball while Russell Robinson ran the point.
Ante Tomic
K.K. Zagreb (Croatia)
Center
7'2", 237 lb, 21 year old
Another guy who would probably have to agree to be a "stowaway" before being selected. Tomic is tall. That's about all I got.
Nathan Jawai
Cairns Taipans (Australia)
Power Forward/Center
6'10", 270 lb, 21 year old
Described as a "poor man's Elton Brand", the rest of Jawai's scouting report screams "project." Someday, draft experts are going to have to find another way of saying, "we have no idea what this guy can do" than to call them "athletic and tall with a wide wingspan".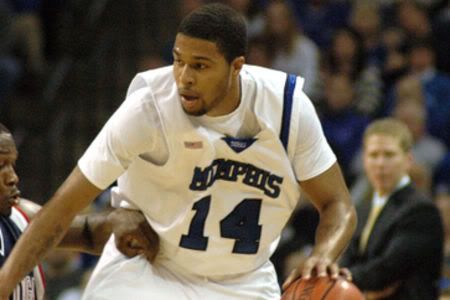 Chris Douglas-Roberts
University of Memphis
Shooting Guard
6'6", 195 lb, 21 year old
CDR is a talented, albeit limited player. He has pretty much reached his ceiling, but as a player who spent three years playing for a former NBA coach that means he is ready to contribute. Not an elite shooter, Douglas-Roberts is a solid defender and has a fantastic mid range game. How he would fit with Kevin Durant, though, is questionable.
IN FUTURE POSTS
As the draft gets closer, I will profile who the Sonics may consider in the second round and make some suggestions for trades that could be made. After the draft, I intend to examine how the team may play the free agent market and look at trades that do not involve draft picks.
Clark Matthews is a world-class checkers champion, co-founder, and basketball editor-emeritus of The Lost Ogle
Read More:
Stay in touch
Sign up for our free newsletter