Everything Else
Famed Edmond Golfer / Voyeur Honored with Mural at Kickingbird…
12:32 PM EST on November 20, 2023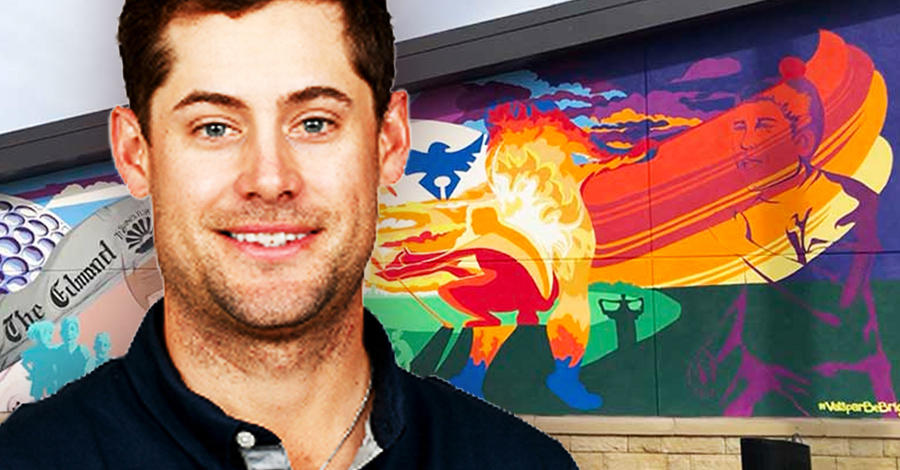 We'd like to send a big congratulations to Edmond Memorial grad Taylor Moore!
Last week, Taylor – a PGA golfer who pled guilty to voyeurism charges in 2015 for taking clandestine photos of a drunk woman's private parts without her consent – was honored with his own mural at Kickingbird golf course in Edmond.
Let's take a quick little peek!
The mural was commissioned by Valspar to celebrate Moore's victory at the Valspar Championship this past March. He took home the title and a $1.45-million payday after a couple of other golfers fell apart down the stretch.
According to Golf Oklahoma, the mural tells the story of Moore's golf upbringing at Kickingbird.
It also does an excellent job ignoring the golfer's checkered time at the University of Arkansas, where he was sentenced to one year of probation, fined $1,000, and suspended from the golf team after accepting a plea deal for taking intimate photographs of an intoxicated woman, asleep in his bedroom, without her consent.
The mural tells the story of Moore and his upbringing at KickingBird where he took lessons from Director of Golf Brian Soerensen since he was 10, along with a nod to the history of the course and the city of Edmond and its relationship with the Kiowa tribe and chief Kicking Bird.

Valspar began the mural program three years ago during Covid and paints one around Tampa Bay and one at the home of each winner of the championship…

The mural was painted by local artist Rhiana Deck after Moore consulted with representatives of Copperhead Charities and Valspar. 
It's nice of Valspar to do that and everything, but they probably need to come up with a contingency plan for what to do if one of their tournament winners pled guilty to voyeurism or some other crime.
Oh well, at least it probably led to an interesting phone call between the Valspar marketing team and the mural artist:
"So, we have good news and bad news, Rhiana!"
"What's the good news?"
"We're like you to paint a mural honoring local golf legend Tyler Moore!"
"Great! What's the bad news?"
"You're not allowed to Google him."
Unlike the artist, Valpar marketing execs, and the City of Edmond, I did Google the words Taylor Moore + Voyeurism and learned more details about his 2015 arrest and plea deal. It's pretty gross.
The woman told police on April 11 she consumed multiple alcoholic drinks at various bars on Dickson Street in Fayetteville and then ran into Moore and Echavarria, whom she described in the report as friends.

She said she went to two other places with the pair, then because she was too intoxicated to drive, she and another friend accepted a ride from Moore and Echavarria. According to the women, they dropped off her friend and then took her to Moore's house.

The woman told police she passed out and then awoke in the car several times. She said she was under the impression she would spend the night at Moore's house, then be given a ride home in the morning.

The woman said she kept falling asleep, then waking up on the couch and recalled being carried into Moore's bedroom. The woman said while in the bedroom, she recalled seeing a flash of light and suspected Moore took photos of her.
I think we can all agree that golf bros are basically the ice cream truck drivers of the sports world, and I'd like to thank Taylor for reinforcing that stereotype. I bet if you walked into Top Golf right now and announced you were paying $100 for photos of drunk women taken without their consent, you'd probably be out $5,000.
"But Patrick! That happened in 2015! He served his punishment! It's time to move on!"
I don't necessarily disagree. 
He was young, drunk, and born in a pre-woke era where young men capturing images of nude women without their consent was popularized in classic comedies like Revenge of the Nerds and American Pie.
There's a good chance he's learned and grown from this experience, and is a much much better person today than he was as a stupid 21-year-old with a still-developing prefrontal cortex. 
Well, at least that's what I hope. 
Either way, that doesn't mean we should fall in line with the rest of the Oklahoma media and forget his 2015 arrest ever happened! You have to admit, celebrating a guy with a mark like that on his resume is awkward. 
If anything, Taylor wearing a scarlet letter V on his chest, and being reminded of his transgression during any professional accomplishment seems like a pretty fair societal punishment for the crime. It's harsh, but not nearly as bad and violating as some skeeze taking voyeuristic pictures of you when you're drunk and passed out in his bed. 
Stay with The Lost Ogle. We'll keep you advised.
Stay in touch
Sign up for our free newsletter