Everything Else
Killers of the Tribal Tags: Stitt Sets Aim on Tribal License Plates
12:13 PM EST on November 14, 2023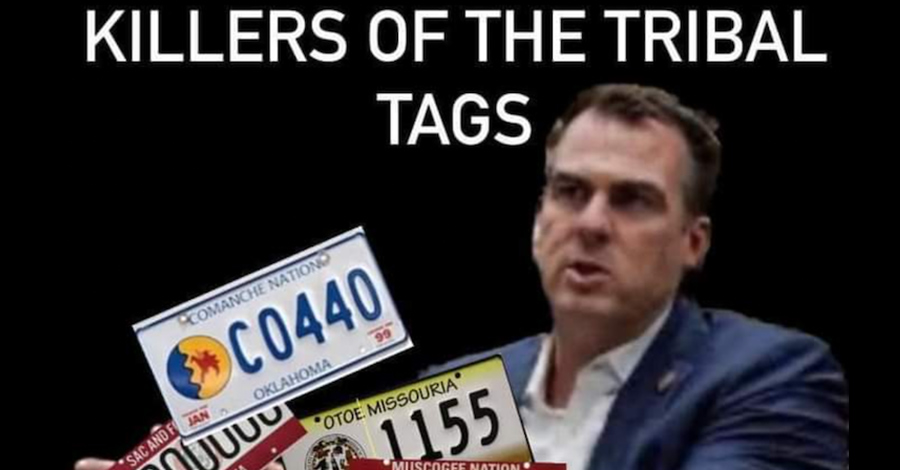 Stitt's now hitting tribal citizens where it really hurts!
Inspired by the treatment of native peoples in Scorcese's Killers of the Flower Moon, Kevin Stitt has ratcheted up his endless / constant / never-ending feud with tribal nations over their sovereignty. 
This time around, he's instructed his buddies in the OHP to go after the one thing indigenous Oklahomans love most – their tribal car tags, which is why this meme Louis recently shared is so funny:
In case you missed it, a citizen of the Otoe-Missouria nation was recently ticketed near Enid for having a tribal plate on her car because she didn't live within the tribe's defined boundaries. She shared a post about it on social media and it quickly became big local news. 
Here's a report via The AP:
An Oklahoma Highway Patrol trooper ticketed a tribal citizen with a current Otoe-Missouria Tribe license plate for failing to pay state taxes, prompting an outcry from tribal leaders who blamed Gov. Kevin Stitt's increasing hostility toward Native Americans.

Crystal Deroin, an Otoe-Missouria Tribe citizen, was ticketed for speeding near Enid on Tuesday and received a second $249 citation for failure to pay state motor vehicle taxes because she did not live on tribal land…

Many tribal leaders say they have never experienced issues with Oklahoma law enforcement issuing tickets before.

But an Oklahoma Department of Public Safety spokeswoman said the 1993 ruling said Indians can only use a tribal tag if they reside and "principally garage" their vehicle in the tribe's Indian country. In Deroin's case, she lives near Enid, Oklahoma, which is about 45 miles (70 kilometers) from the Otoe-Missouria's headquarters in Red Rock.
Geeze, can Stitt be a bigger asshole? Going after tribal plates is just plain rude! Like most Oklahomans, I have a bunch of friends who are citizens of tribal nations. Sometimes, the only way you'll know about their tribal ancestry is their license plate!
"I didn't know you were Eastern Shawnee, Steve."
Seriously, tribal citizens love their plates. Not only does it save them money and allow them to show off their tribal heritage, but they also don't have to roll around with that ugly monstrosity of a license plate Mary Fallin cursed us with a few years ago!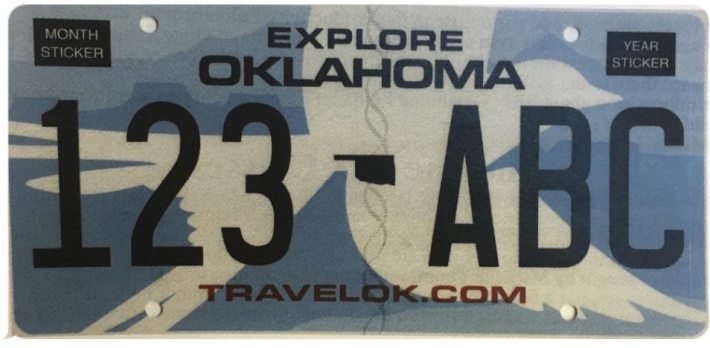 I think I speak for all white folks when I say Stitt should just leave tribal plates alone.
Not only should tribal nations – just like any other nation – have the right to issue their own license plates, but just like potholes, turnpikes, and motorists driving 50 in the fast lane, they're a staple of Oklahoma highway culture, and we should keep it that way. Spotting all the different ones around the state on road trips is one of the only cool and unique parts of living here!
According to Stitt, he's going after the tags in the name of "public safety." He claims tribal plates make it harder for law enforcement officials to profile and harass motorists.
Stitt, who is a citizen of the Cherokee Nation, said his concern is that some tribal governments don't share vehicle registration information with the Department of Public Safety, making it a "public safety issue that puts law enforcement and others at risk." He said in a statement that members of tribes with valid compacts with the state won't be ticketed.
To quote my pal Mick Cornett, that's bull stitt! If Ole' Stitter really cared about public safety, his first order of business would be to keep his wife off Oklahoma roads. Not go after tribal tags!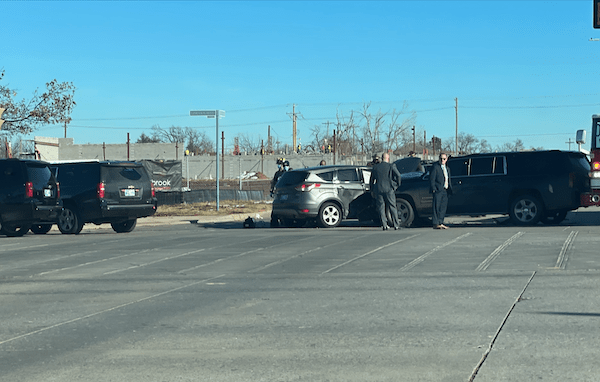 We all know the real reason Stitt's doing this – he has an irrational hatred of Oklahoma tribal nations and wants to do everything possible to strip away their sovereignty. 
Cherokee Nation Principal Chief Chuck Hoskin Jr. agrees:
"Governor Stitt's position that Cherokee citizens living outside of the Cherokee Nation reservation unlawfully operate vehicles with Cherokee Nation tags is frankly, ignorant and unquestionably illegal," said Cherokee Nation Principal Chief Chuck Hoskin, Jr. "Governor Stitt's lawless and fact-free approach to tribal sovereignty is nothing new and his actions against our citizens will not be tolerated."
I'm not an expert on license plate laws, but I have to agree with Hoskin on this. 
The Oklahoman took a deep dive into the history of tribal plates.
According to the paper, the issue of law enforcement not having access to tribal plate data was allegedly solved in 2011 by bosom buddies Joe Dorman and Mary Fallin. 
Tribal tags that do not meet those qualifications are a public safety risk and cost the state money, Department of Public Safety Commissioner Tim Tipton said. He told state lawmakers in July that unregistered tribal tags were at a critical level and only two of the 33 tribes that issue car tags provide information to the state's vehicle license database. "I don't know if that car's been chased and run," Tipton said. "I can't get any data, any intel."

But records show state lawmakers took steps to address those worries back in 2011.

At that time state Rep. Joe Dorman, D-Rush Springs, and state Sen. Charlie Laster, D-Shawnee, pushed through Senate Bill 857 which was designed to address the problem of state access to tribal vehicle registration. That measure, which was endorsed by the Department of Public Safety, was signed into law by then-Gov. Mary Fallin…

After the measure became law, Oklahoma Highway Patrol Maj. Rusty Rhoades, the patrol's legislative liaison at the time, said the bill would "provide the highway patrol with another opportunity to fulfil its mission of protecting the public.
The Oklahoman article comes to a dead end after that, so we don't know what exactly happened.
Knowing what we know about Oklahoma government, they could have dropped the ball. Then again, knowing what we know about Kevin Stitt, he could be simply ignoring state law and targeting tribal plates for no other reason than to mess with tribes... or get the issue in front of federal courts again in yet another attempt to strip tribal governments of their sovereignty. 
Whatever the reason is, we'll continue to monitor and keep you updated. Stay with The Lost Ogle. We'll keep you advised. 
Stay in touch
Sign up for our free newsletter