Everything Else
TLO Ignites OU Football Twitterati Outrage!
4:14 PM EST on November 13, 2023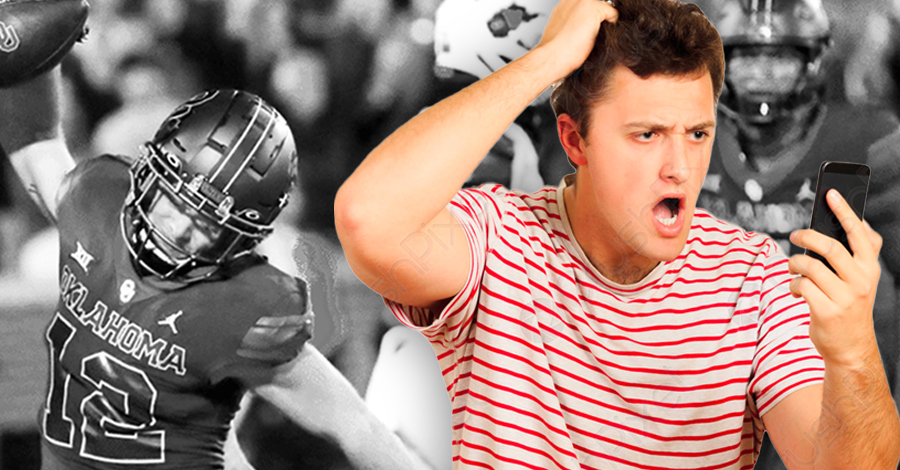 Last Wednesday, I took my buddy Craig to the Thunder-Cavs game at the Paycom Center for his birthday.
I was able to score a 90% discount on some floor seats about an hour or before tipoff, so at halftime, we ventured down into one of the courtside club lounges located deep within the bowels of the arena to ritz it up with the Oklahoma City gentry and ruling class. 
As we were grabbing our final beers and about to return to our seats, I spotted a guy who looked like OU wide receiver Drake Stoops hanging around with some very attractive women.
"That dude looks like Drake Stoops!" I said. 
Craig nodded in cautious agreement and then grabbed his phone to Google a photo of Drake Stoops. As he did, I told him the quick story about how I pissed off OU fan boys and the local media earlier this football season with an off-the-cuff take about the diminutive coach's son and fan-favorite. 
It happened during the OU – Texas game on October 7th. I was at home watching the game by myself, nursing a massive hangover from a happy hour turned happy night the day before. 
At one point in the game, I believe Drake Stoops made a catch and Chris Fowler went on a little monologue about Drake didn't get where he was "based on his name." I kind of chuckled because, if we're being honest, Drake would have never made it onto the OU campus if his last name wasn't Stoops. 
The program, even during its lows of the 90s, has never been in the business of recruiting and signing diminutive 5' 10" white wide receivers to scholarships. If his name was Drake Jones, he probably would have been offered a scholarship to Arkansas State, Tulsa, or Youngstown State out of high school, and if everything played out right, ended up at a Power 5 school thanks to the transfer portal. 
Not too long after the announcer's glowing remarks, Stoops failed to haul in a wild Dillon Gabriel throw near the sideline. It would have been a difficult catch, but also the type you'd hope a high-level college athlete – or experienced 24-year-old sixth senior – would have made in a big game. 
Frustrated, I grabbed my phone and quickly hammered an angry football thought. You know, the type you might say to a room full of friends, who would then either agree, disagree, or, more than likely, completely ignore what you said and continue watching the game.
As we know, Twitter / X / Whatever is the opposite of a room full of friends. It's a wretched hive of trolls, edge lords, whiners, complainers, fake tough guys, sociopaths, and other forms of scum and villainy that I 100% identify with. It's an echo chamber where context and nuisance go to die, controversy reigns supreme, and people latch onto simple words and statements and interpret them however they want, and then tell you about it. I've been to all corners of that realm and know it well.
Because I dared criticize a fan-favorite OU football player with a storied last name, the tweet was met with an impressive volume of anger, feedback, resentment, and a lot of misinterpretation by OU fans of all shapes, sizes, and intellects. 
Instead of interpreting the tweet as the basic fact that it was – Drake Stoops would have never played football at OU if his name wasn't Drake Stoops – they chose to make it out that I hate Drake Stoops or think he's a bad player. 
The controversy, however, was pretty short-lived. OU would eventually win the Red River Shootout; the fans, players, and the program would treat it like the greatest win in history; and the algorithm lords would quickly drown it out in favor of ones of celebration and jubilation. 
As I finished telling Craig a truncated version of that story, he looked up from his phone. 
"It's him!" he said.
He then showed me Drake's roster mugshot from the OU website. I still wasn't sure.
–
Although I had pretty much forgotten about my accurate Tweet about Drake Stoops, Parker Thune sure didn't. 
Thanks to the hard work and dedication he's put into texting teenage boys about where they're going to college, Parker's earned a credentialed seat at the OU homer media roundtable. He runs some Sooner fan website, hosts a sports radio show with Mike Steely, and even gets to run around on the field after the game taking photos of coaches hanging with their families. 
Basically, Parker is a Gen Z version of James Hale, only not as well-liked or respected by the OU coaching staff.
This past Saturday night, Drake Stoops had his career game against a hideous West Virginia team that's already giving up on both their coach and season. I only got to watch the first half of the game in bits and pieces because I'm a single dad, had my daughter for the weekend, and the bedtime routines and rituals for a 5-year-old who only is for "the winning team" take priority over a boring mid-season OU game.  
When I woke up Sunday morning, I learned Parker retweeted my tweet from last October in an effort to call out all "Drake Stoops Haters."
I was aware Parker retweeted my post because my Twitter mentions were full of people I don't know calling me a hack, has-been, liberal, loser, obese fatty, cuck, and, worst of all, an OSU fan.
A smart person would have seen Parker's retweet, read the notifications, and turned their phone off and cried, but as plenty of OU fans have reminded me over the last 48 hours, I'm not very smart. 
Although I try to avoid physical pain in the real world, I'm like Steve-O or Bam Margera when it comes to the digital realm, constantly seeking out pain to soothe my self–destructive addiction for likes, notoriety, and attention. 
Well, at least that's what my therapist tells me. 
Like an undisciplined OU defender (or head coach) committing an ill-timed personal foul, I grabbed the phone and fought back:
To be clear, I think Drake Stoops has developed into a solid, above-average college football player who, if his name wasn't Stoops, would be breaking records at Akron.
Now, is he an elite game changer in the mold of CeeDee Lamb, Sterling Shepherd, Marquis Brown, Marvin Mims, DeeDee Westbrook, or Ryan Broyles? The type of player that can win you a Natty, and the type of player OU should be trying to land in recruiting?
Obviously not, but he is what he is – a tough-nosed, experienced, 24 ½-year-old sixth-year senior who's benefited from a lifetime of access to elite coaching and training and may even land on an NFL practice squad.
He could be a good complimentary slot receiver/backup for a championship-caliber team or leading wide receiver for an abovish-average team that can't beat Kansas or OSU on the road.
Obviously, the OU Twitterati didn't like my double down, reacting as if I split sixes on a table at Vegas, setting off a chain reaction of busts. They grabbed the broomsticks, torches and pitchforks and came after me like Barry Switzer chasing down a bartender at the last call. 
For example, Joe Castiglone Jr. – the son of OU's athletic director Joe Castiglione – spoke up to defend his fellow nepo-baby:
Yep, Joe Castiglione's son is running to the defense of Bob Stoop's son on Twitter. I can't wait to hear what Sam Humphreys has to say about this today on the Sports Animal!
I also got some hate from some other members of the OU homer media. 
For example, Eddie Radio – the leading Oklahoma sports social media influencer for men who have a favorite golfer – called me some choice words:
For what it's worth, I enjoy listening to Eddie. I watch his OU Football YouTube Show and, if my satellite radio is broken and I left my phone at home, I'll even tune into his radio show in the car while taking my daughter to school! He's probably right – I am fucking moron, but... at least I don't know what Carey Murdock's balls taste like.  
I've probably been bombarded with about 500 or so mean and angry insults from people I don't know over the past day or so all because I shared an off-the-cuff opinion on a nearly 25-year-old college football player. 
One of the most common insults was that I'm grasping for attention, and TLO is no longer relevant.
For example, here's a take by some beardly man who works for with the OCPA – a.k.a. the alt-right "Think Tank" that supports and encourages Ryan Walters in his quest to destroy Oklahoma public education:
I have some bad news for our right-wing haters.  
Although we – just like every other media outlet on the planet – don't have the same reach as we did during the pageview free-for-all of the 2010s, TLO has never been more relevant.
We survived the post-pandemic digital media winter that killed off tens of thousands of publications and – thanks to the continued fall of newspapers, radio, and television news – our slice of the local media news pie has sadly never been larger!
LOL. I'm just kidding. The Right Wing OCPA guy is totally right. We're just trying to stay relevant and think a good way to do that is to share unpopular opinions that get us bombarded with hundreds of hateful comments by people from all across social media who don't and never will read our website.
Sure, it doesn't raise revenue or generate clicks, but hey, any publicity is good publicity, and we're staying relevant to right-wing dudes who don't read or like us, and – like Ryan Haynie – are envious of our success. Yeehaw!
Outside of the "YoUr No LoNgEr ReLeVaNt insults, my favorite batch were the ones that accused me of being an Ogle…  
Or OSU fan.
For example, here's an unsolicited message I got yesterday morning: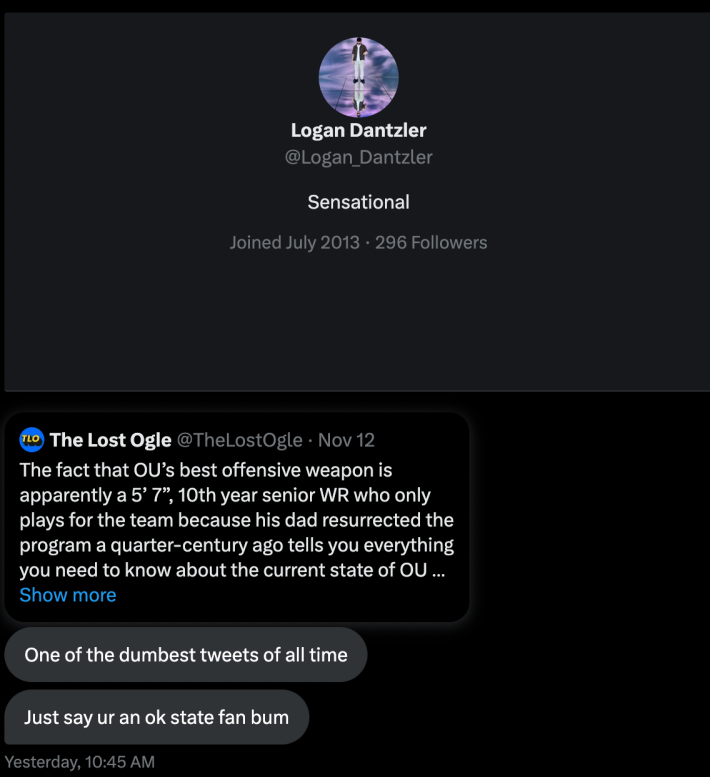 The OSU fan accusations are the only burns that really bugged me.
If you're a long-time reader, you're probably aware that I'm a lifelong OU fan who didn't go to school there and loves nothing more than talking trash on Pistol Pete, Stillwater and OSU's 1945 National Championship that they won in 2016.
In fact, I was trolling OSU after their loss to Central Florida!
For what it's worth, I appreciate and understand the hate that's coming my way.
I get it. When Mike Lupica dared say OU was running up the score on A&M during the 77-0 rampage of the early 2000s, I was one of the OU fans who left negative reviews of his book and sent him a nasty email. When anyone would criticize OKC during the Thunder's early years, I'd come after them strong. There's just something about being a fan, especially a young or dumb one, that makes you intolerant to criticisms of your team and its players and defend them like they are members of your own family. It is all part of the game. 
Speaking of the game…
–––
Craig was ultra-convinced that Drake Stoops was standing only 20 or so feet from us. 
"I'm going to ask him for a selfie," he said.
I kind of chuckled. Although I've been asked to take selfies with people, asking a celebrity for a photo isn't my thing. 
"Really?"
"I have no shame."
"Go for it. I'll wait here."
I then watched Craig walk over to the small gaggle of people, talk to them for a bit, reach out his phone, and take a selfie with young Stoops. He then continued to talk with the group for a bit. 
I was more than ready to get back to our heavily discounted floor seats, so I walked over to grab Craig.
He tapped me on the chest and said "This is my friend Patrick."
I shook one dude's hand, and then turned to shake Stoops's. 
"Hi. I'm Isaac," he said. 
At that moment, I felt really dumb. Patrick Riley of The Lost Ogle – a guy who has watched or listened to at least a part of every OU game since 1983, and can name probably every starting quarterback going back that far – forgot that Drake had a twin brother named Isaac. 
I guess the Twitter folks who think I'm an absolute idiot are onto something. 
When Isaac said his name, I played it off like I knew who he was, shook his hand, and a few seconds later, Craig and walked off to our seats. When we exited the fancy lounge and walked into the hall that leads back into the arena, we both started laughing. 
"I totally forgot he had a twin! What did you do?!" I asked. 
"Well, I asked him for a pic, and he said 'Sure, but I'm Isaac.'"
"And you still got one?"
"Sure did." He then showed it to me.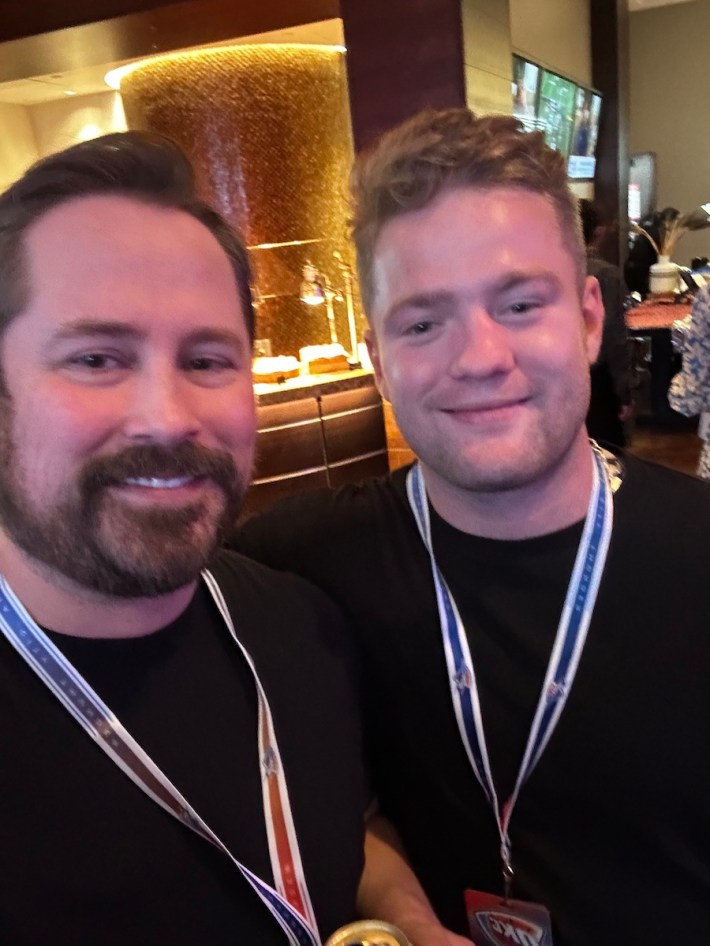 Anyway, I've written way more than I planned to write in what was supposed to be a weird observational post about the vitriolic online hate I received for sharing an honest and accurate sports opinion about a popular local athlete who was born into football royalty in the late 1990s. 
I wish Drake Stoops the best of luck for the rest of the season, hope he rises up the OU receiving charts, makes an all-conference team, and becomes the NFL's next Cole Beasley. I also hope he doesn't make some stupid gaffe or error in a game that leads to me tweeting "Told you so!" That would be bad for everyone. 
Stay with The Lost Ogle. We'll keep you advised. 
* I know it called X now, but I still call it Twitter, Tweeting, Etc.
Stay in touch
Sign up for our free newsletter