Oklahoma Business
Mr. Gatti's Pizza and the Wonderful Epitome of Sheer Mediocrity…
10:29 AM EDT on November 2, 2023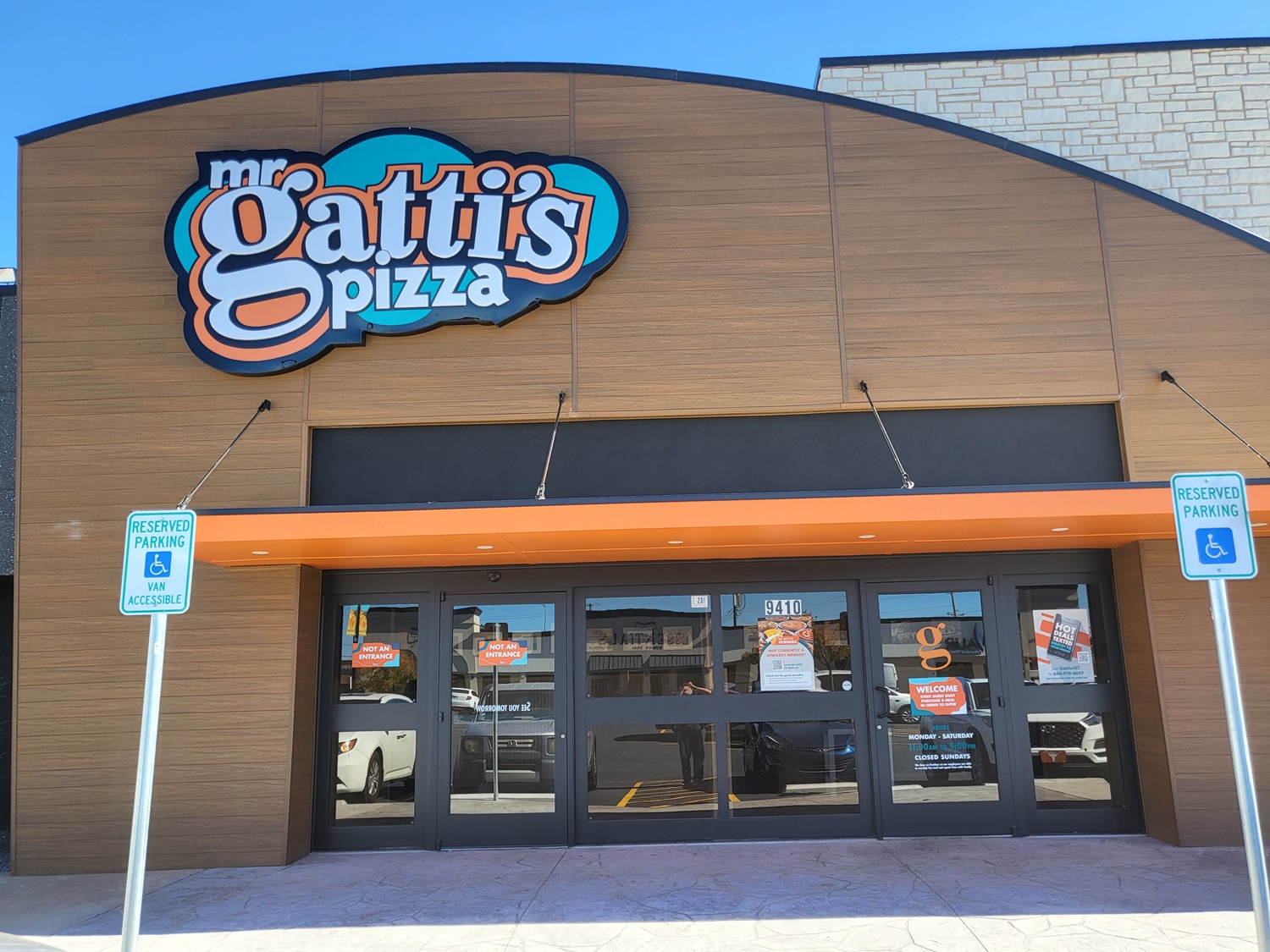 A couple of weeks ago, I decided to take my troubles away with a wonderful dinner…
Well, at least I was going to, but my boss called and said that he wanted me to check out this place called Mr. Gatti's – the new franchise eatery brought to town by the grifter who turned barbecue into a four-lettered word, Brent Swadley.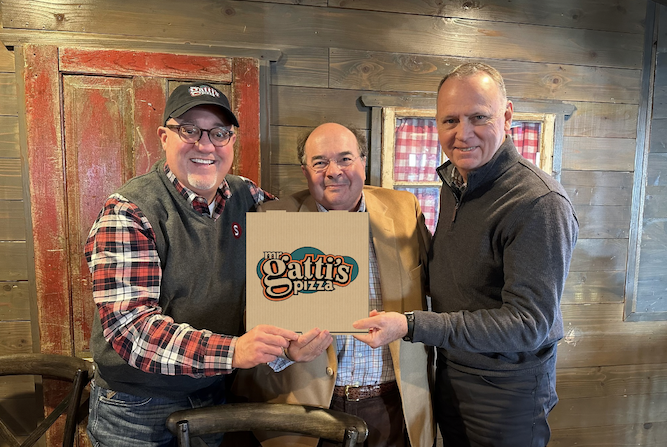 "Whoa!" I recoiled in obvious distaste. "I reviewed Gattiland on Northwest Expressway a few years ago and nearly got a mom's phone number. Isn't that the same thing thing?"
Turns out, that place on Expressway changed brands years ago.
Mr. Gatti's is a new incarnation of that ol' Gattitown restaurant and others from years past. So, knowing what I gathered during my incarnation as an upstart food critic, I made a U-turn and zoomed to this pizza flame located at an old Luby's at 9410 N. May Avenue.
As my heartburn began to settle with some errant Tums, I parked in the lot and had an old Luby's flashback. Would Gatti's have a wide variety of jellos, vegetables and even a bell to ring for people who need assistance with a tray?
Apparently not.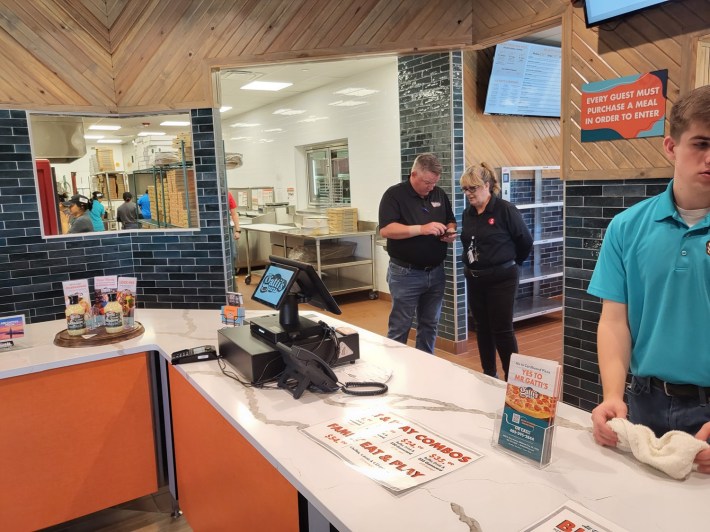 When I walked inside the front entrance, the place seemed as close to brand new as possible, without one single homage to the cafeterias or bad steak experience concepts that once occupied these ancient grounds.
Surrounded by giant photographs of a happy family scarfing slices of pizza, I went through the double doors and I was met with…a typical pizza buffet.
It's been a long time since I ate at a pizza buffet—there was a time when $5.00 was all I had—but this was a high-dollar one, costing $13.00 for all the pizza, salads, desserts, and soda I cared to consume. I guess that's the price you have to pay for something "Old Fashion" today.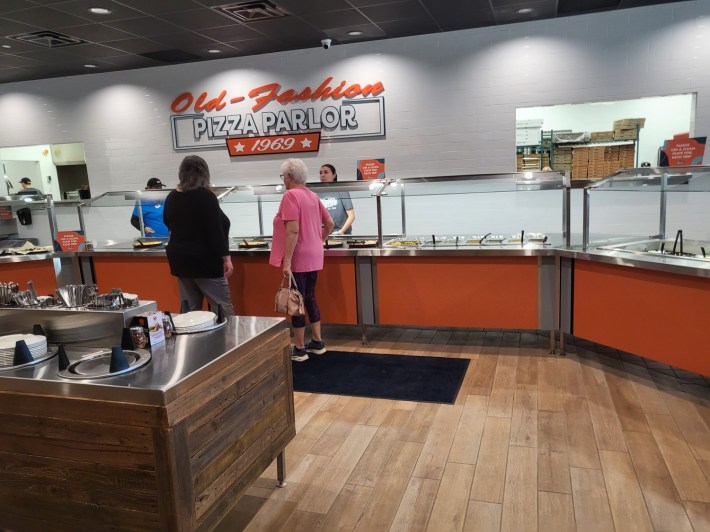 Looking over the lunchtime bar, Mr. Gatti's was far more spread out than a Cici's, Mazzio's, or even the famed Luigi's on N. May – a much more affordable, tasteful, and run-down stomp just a mile or so away – but somehow offered a smaller selection of pies to choose from.
But I started with the salad bar...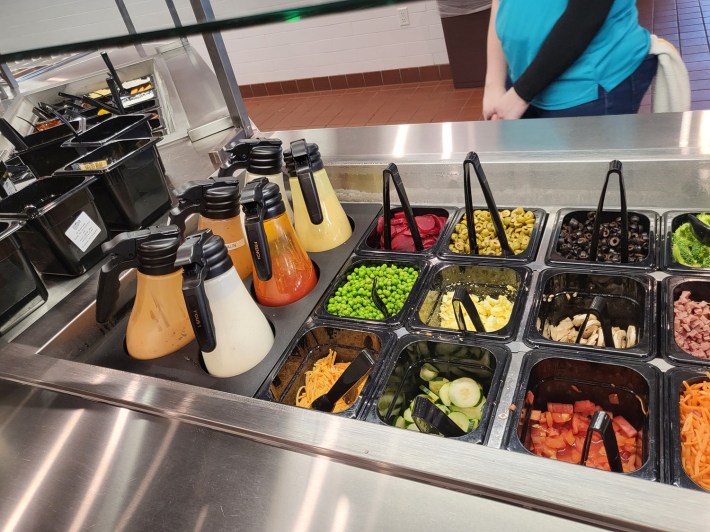 While there are a few items that seemed exotic—is that baby corn?—it was your standard greasy salad bar with the typical mix of iceberg lettuce, not-so-crisp vegetables, ham bits, shards of cheese, and croutons out the wazoo.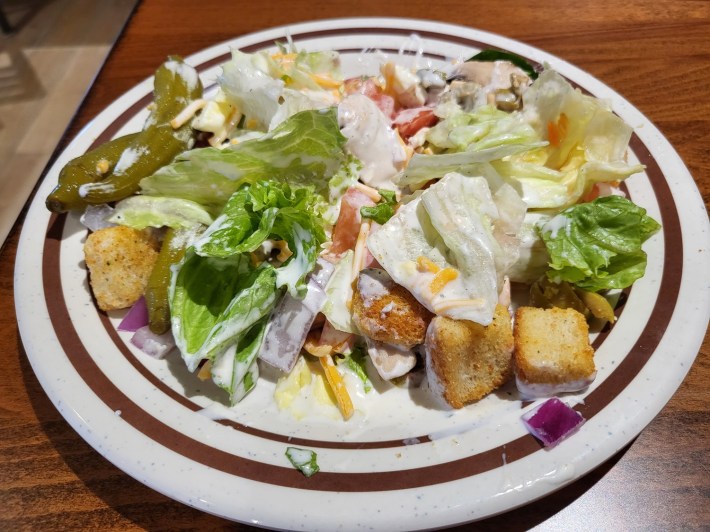 It was a slightly average salad, but nothing to write home about. Pushing aside my plate, here's where I wanted to shine: the entrees!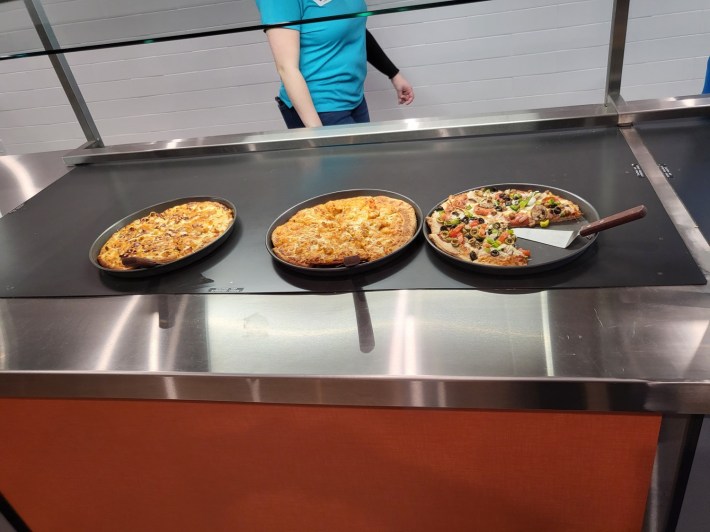 With the price point so ludicrous for this mid-range buffet lunch, I had around three pieces of pizza including the cheese-bread concoction, as well as some macaroni and cheese.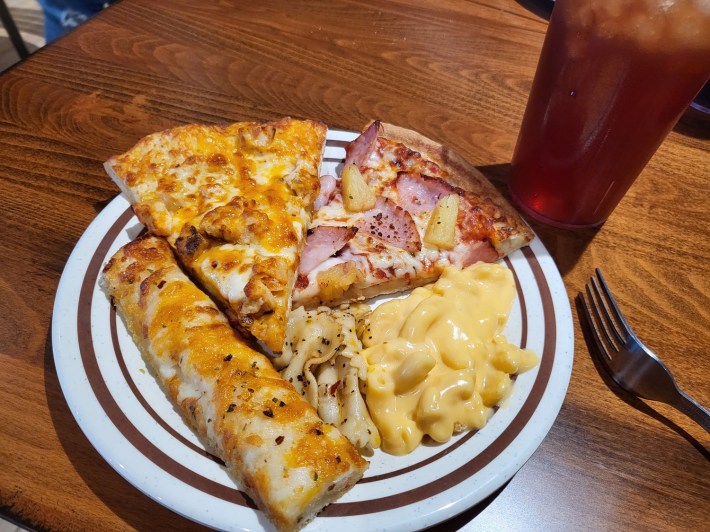 I guess my pizza pallet has grown over time, because this pizza is moderately (and morally) okay. With the Hawaiian pizza being quietly tolerable and the mac and cheese solidly runny, I have to say that the breadstick was floppy and wet. Yikes.
After eating some average buffet-style pizza, I mosied over to the game room to see what gaming electronics will likely fill our State Park lounges in the next 3 - 5 years.
I thought there would be Whackamole or Skeet Shooting like when I was a kid, but instead, it was crammed with specialized games with VR screens where kids drove a tank or other nonsense—I am sure my nephew likes them.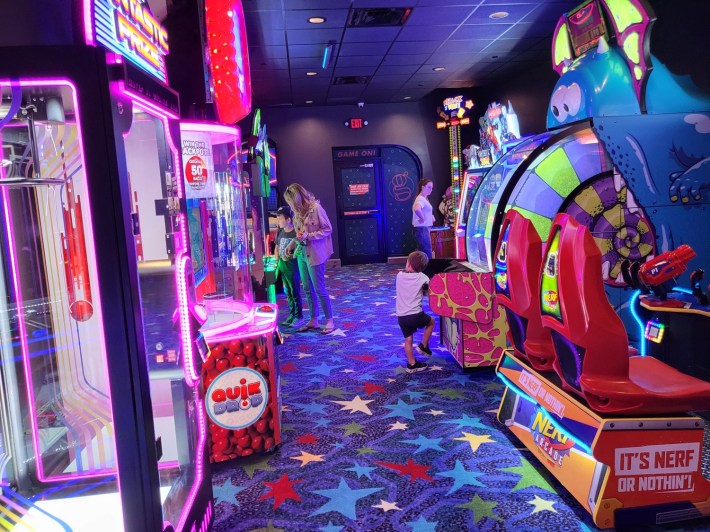 Honestly, all I really cared about was ski-ball, but a couple of lads were taking the balls on, throwing them into the prize-winning holes, earning more tickets in the long run…I am glad kids still do that.
On the way back to the dessert station, I stopped by the "movie theater" and viewed some public-domain cartoons with an audience of none. I've heard rumors that a long-lost place called Crystal's once had a much cooler version of something like this, but they were all closed by the time my family settled here.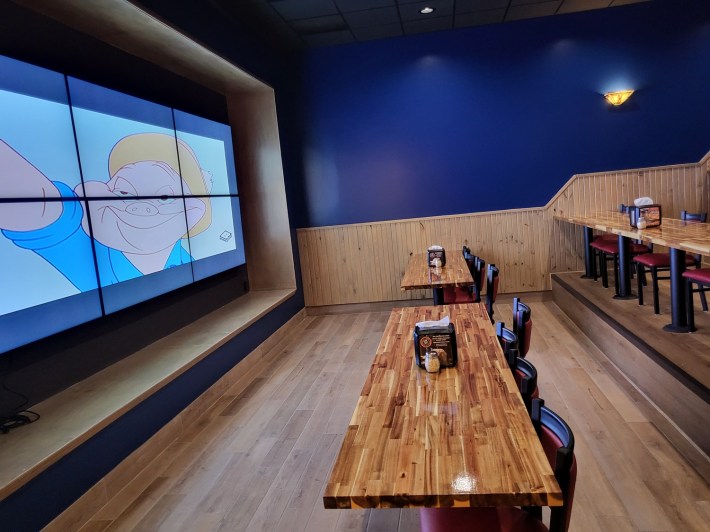 Feeling that I wasn't the target audience for this room and not wanting to make an FBI watch list, I quickly left and grabbed two pieces of dessert pizza, both of which I put down after one bite, marveling at their tastelessness.
No thank you, Mr. Gatti!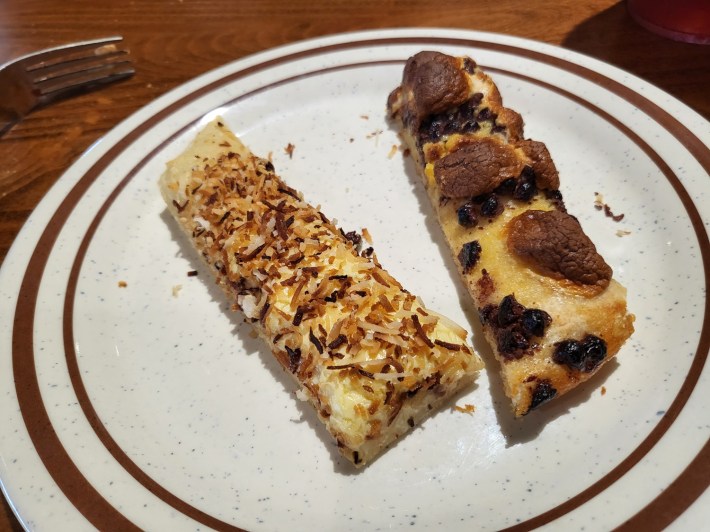 As I threw my napkin on the table, I realized that Mr. Gatti's is fine for a small child with little-to-no sense of taste and décor, because all they want are some more games and some cheap prizes they will throw on the floor over the next fifteen minutes.
At Mr. Gatti's Pizza, cheapness is job one, from their prizes down to their food. If only the buffet price matched it.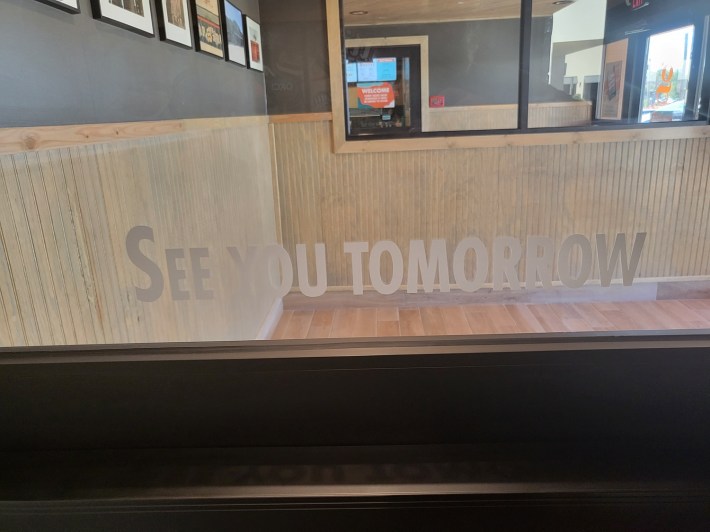 As I was leaving, a sign on the door read "See You Tomorrow." I figured it must be an attempt to remind employees to show up to work the next day, because I can't imagine any customer voluntarily coming here twice, much less two days in a row.
-
Follow Louis on Twitter at @LouisFowler and Instagram at @louisfowler78.
Stay in touch
Sign up for our free newsletter