Everything Else
TLO Restaurant Review: GattiTown
12:09 PM EDT on June 2, 2014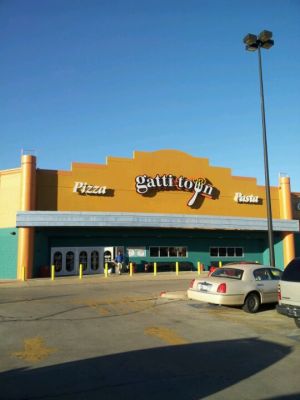 Growing up, the Walmart near Northwest Expressway and MacArthur in Warr Acres was a weekly sojourn for my family, stopping by after Saturday Mass at St. Charles Borromeo to buy whatever people used to buy at pre-supersized Walmarts (I honestly can't remember) before heading next-door to Pancho's Mexican Buffett for a few plates of all-you-can eat deliciously low-rent flautas and enchiladas.
Having only recently returned to the Metro after a decade-long stint in Fort Collins, Colorado, I had a small list of places that I wistfully revisited to see how much OKC has or has not changed. One of the first places that I checked-up on was that Pancho's, and, like so many of my childhood hopes and dreams, was completely gone, converted into possibly a Mediterranean eatery.
My heart sunk, knowing that no face-stuffingly sub-par Tex-Mex would be had today and, even worse, that never again would I be able to purchase their patented collector's glass filled with a lime Jell-O parfait to replace the one a former lover had thrown at my head in a fit of well-deserved rage.
But, what was even more intriguing during that trip, was that the Walmart was also gone, replaced by another City Church and, oddly enough, something called GattiTown. "What the Hell is a GattiTown?" I thought aloud to no one in particular. Housed in a still quite large façade, I figured that it had to be an indoor amusement park of sorts, possibly with a Dave & Buster's rip-off with latter-era Martin Scorsese theme. Seemed legit at the time, but it was also quickly forgotten, no longer having any need to venture into Warr Acres for any reason whatsoever.
My interest was recently re-piqued however when the postal service, during one of their Family Circus sponsored canned food drives, left me a coupon for GattiTown, advertising a $3.99 "all you care to eat" buffet special. That was even cheaper than the wasteland of urban poverty that is CiCi's Pizza. I wondered aloud, to especially no one in particular, if they would have that macaroni and cheese pizza there as well.
Now, when it comes to food, I hate pizza. It's definitely my least favorite of the heart attack-inducing foods in the Michelle Obama-approved pyramid, but, still, how could I pass up $3.99 for what was sure to be an endless wonderland of said Italian pies, as well as salad, pasta and dessert. I'd be a crying fool not to, right?
When one first enters GattiLand, there's the immediate feeling that you're entering the foyer of a one-story mall, like old school Shepard. Checkered linoleum covers the floors, providing a homey Black Lodge feel to the cavernous proceedings. This place is needlessly immense and excruciatingly overwhelming. How more kids don't go missing from here is a true wonderment, because it seems like a really easy place for an Amber Alert to go into full-effect.
Paying the $3.99 to the cashier and crossing the threshold, the place becomes even more daunting, with numerous rooms filled with family-style seating, big screen TVs aplenty and numerous kids running around like they had just been freed from a Thugee cult by Indiana Jones. I had to watch every step I took, lest one of the darlings bounce into me, fall to the ground and start crying, adding an even more suspicious aura to the already present one that a lone dude chilling at GattiTown on a Friday night spiritually adds to the purchase price.
Grabbing a wet plate, obviously fresh out the dishwasher, I proceeded to head to the buffet line which, surprisingly, not only had pizza and all the typical accoutrements, but also a strange selection of Southern goodies like corn, green beans, mac and cheese and a loaded baked potato bar. It was like someone plunked 1/10th of a Golden Corral in there, with the same level of quality to boot.
Having made myself a plate of salad (iceberg lettuce, cheese and thousand islands dressing, thank you very much) and a nice sampling of their pizzas (pepperoni, sausage and BBQ), I settled on a table that was sparsely filled with only other single dudes, eating pizza by themselves on a Friday night, obviously lamenting the wrong turns their lives swerved into. One dude might have been crying. I'm not sure.
The table was also still wet and smelled like cleaning products and failure. The pizza was wonderfully terrible, with flavors reminiscent of the aforementioned CiCi's, but with a thicker crust. The pepp and saus were decent enough, but the BBQ was downright inedible. It tasted like they substituted Bullseye with bullcrap.
Getting up for a second sampling, aiming to try out the baked potato and pasta, I immediately locked eyes with a perfectly nice Latina woman who had a couple of tiger claw tattoos on her ample bosom. As we walked the line together, she started talking about her children, and about how, for single parents, that GattiTown is actually a great value. The conversation, however, took a turn when she asked about my kids, and I replied that not only do I not have any, but that I am just up here, hanging out and enjoying dinner, by myself.
As she glared at me like I was some sort of pervy creep, I immediately realized that I should have made up a story that this was my child's favorite place in the world, but he died two years ago and today was his birthday. I seriously would have been sinking deep into her well-worn mommy-loins that evening if only I had been quicker on my feet.
Moving into another area of the place that was not very well-lit, I enjoyed the baked potato on about the same level I would a $1.29 special from Wendy's, but the spaghetti was downright inedible. It made Chef Boyardee look like it was crafted by the Italian experts at a fancy place like Stella, or the Olive Garden if you're nasty.
When asked, the server who was staffed into the room to pick up after grotesque pigs such as myself told me that kids love their spaghetti, to which I told her that kids are stupid.
Finally, I went back to the end of the line to sample something called a dessert pizza which, even though it's a staple of many a hackneyed pizza buffet, was a culinary abortion that I never had the guts to go through with. Taking a bite of a very small sliver of some sort of frosted strawberry thing, I had to spit it out, the overwhelming sweetness not going together well at all with the spaghetti I was desperately trying to get out of my mouth. It was like something created in a lab by super-intelligent obese five-year olds.
Before leaving, I decided to do a quick tour of the rest of the place. Trying to be a nonchalantly uncreepy as possible, I took note that their indoor attractions include mini-bowling, mini-golf, mini-bumper cars, mini-go-karts and approximately 200 full-sized arcade games based on the much beloved The Fast and the Furious franchise.
As I was walking out of this gargantuan pantheon to overpriced partying-down, I received a warm goodbye from the waitstaff and a phone number from the single mom who was chatting with me earlier. I was cordial, said thank you and, as I got into my car, threw it on the ground with the other scraps of trash. Not because I wasn't interested, but because I know I'm a cynical jerk who would criticize both her and her four children anytime they wanted a return visit to GattiTown, and it's already hard enough to be a single mom.
If it's any consolation, however, I'm pretty sure the intense stomach issues I had later that night were intestinally karmic. I guess that's what I get.
Stay in touch
Sign up for our free newsletter