Everything Else
Westwin CEO deletes "White Genocide" video. Stays the course on refining toxic metals in Lawton.
10:52 AM EDT on September 6, 2023
Good news everyone! The genocide against white farmers in South Africa is apparently over! 
We know this because Westwin CEO KaLeigh Long – the person leading the effort to build a mysterious new toxic metal refinery in Lawton – deleted her 2019 YouTube video where she begged viewers to provide $1,000 donations to help the "millions" of white South African farmers targeted for genocide.
Yep, that's right. She deleted it!
Now, instead of seeing KaLeigh interview a farmer affected by the widely debunked travesty, all we have is this screenshot: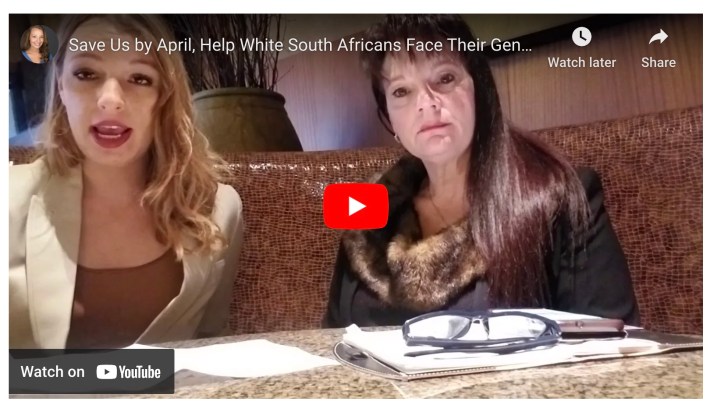 While KaLeigh was updating her online footprint and deleting old videos that propagated widely debunked conspiracy theories promoted by white nationalists and other right-wing looneys, the Ogle Mole Network was hitting us up with more details about Kayleigh and her mysterious quest to make Oklahoma an international hub for nickel and cobalt refining.  
Here's some of the stuff I'm hearing…
Before Westwin set up shop in Lawton, they nearly landed in a 150,000+ square foot manufacturing facility in KaLeigh's hometown of Bartlesville.
Contracts were written, the city was going to offer subsidies, and everything seemed like a done deal, but it all hit a snag at the last minute when KaLeigh demanded the city replace the facility's roof for several million dollars.
I guess there was concern from her team that if the roof collapsed the whole city would have to be evacuated or something. 
Sadly, it looks like the Evacuation of Bartlesville news story will never happen.
The city was already growing a bit weary of KaLeigh, Westwin, and the company's long-term prospects for success, so they balked at her demand, and the company turned their focus and attention to Lawton. 
Lawton, like a desperate kid needing a prom date, was very welcoming of KaLeigh and Westwin's overtures.
They provided millions in both upfront cash and performance-based incentives for the company to set up shop near Ft. Sill. Let's hope the facility has a strong roof, because the last thing our state needs is for 100,000 Lawton refugees to be evacuated to Chickasha.  
According to one Mole, the company is going to utilize some sort of experimental science that utilizes pressure to refine cobalt and nickel imported from the Congo into toxic chemicals like nickel sulfide.
Well, at least I think that's what the Mole was describing. They also could have been telling me the opening plot for a futuristic disaster MIO movie treatment they wanted to pitch to Lance McDaniel. 
"That's nice and everything, Patrick, but how did some unknown lady from Bartlesville get involved in the cobalt refining game?"
Great question! 
According to my Moles, KaLeigh Long is a hardcore Christian Nationalist-type from the Bartlesville area who moved to DC and became a successful right-wing lobbyist and political consultant.
While in DC, she made a lot of connections with rich and powerful folks, and eventually turned into a fundraising bounty hunter of sorts, raising lots of money for right-wing causes, Super PACs and non-profits.  
She's also apparently associated with some group called Voice of the Martyrs – a heavily armed version of Gideons International that assists persecuted Christians from around the world, especially Africa.
This probably explains why she was filming YouTube videos asking for people to help farmers affected by the non-existent white genocide in South Africa. Once again...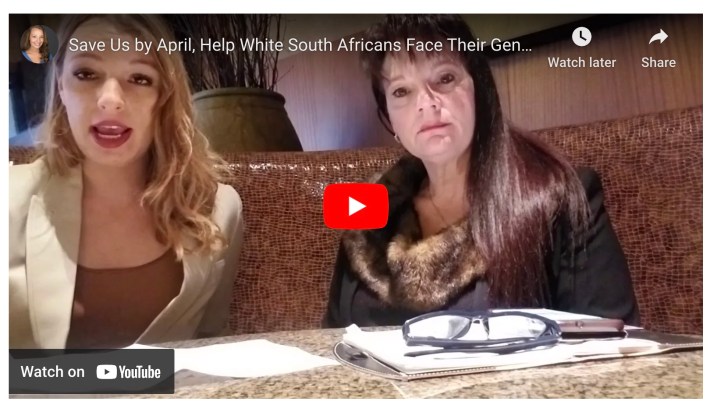 I guess KaLeigh's connection to the Martyrs and access to American money has led to her making some powerful friends in the Congo – the cobalt capital of the world.
As a result, she has inside connections and access to cobalt and nickel reserves, which has led to her becoming the CEO of Westwin, and getting people like the disgraced former CEO of Boeing to toss money at the company. 
The Moles I'm talking to portray KaLeigh as more of an aloof figurehead CEO whose main role is to connect people and other dots, but an important one due to her Congo cobalt connections and ability to charm rich right-wing donors who want to stick it to China.
They're saying the company is essentially being run by a hodgepodge of other executives, many of whom seemed overly concerned by Oklahoma tornados. Great news, huh?
Anyway, I guess we'll continue to monitor this mysterious company, its equally mysterious CEO and the mysterious toxic metals they plan on refining in Oklahoma. If you have any info you'd like to share, hit us up on TLO tip line. 
Stay with The Lost Ogle. We'll keep you advised. 
Stay in touch
Sign up for our free newsletter