Everything Else
How Tulsa's Clark Brewster came to represent Stormy Daniels (Alternative TLO Version)
We play a fun Tulsa-edition of connect-the-dots!
12:01 PM EDT on April 4, 2023
Last week, the Tulsa World's Kevin Canfield profiled famed Tulsa Defense Attorney Clark Brewster – a huge TLO fan who's represented many famous Oklahomans over the years like The Penis Pump Judge and Deputy "Oops That's Not a Taser."
Specifically, Kevin detailed how Brewster – a high-profile attorney locked in a small flyover state – landed a huge national client like Stormy Daniels after she dumped the slimy Michael Avenatti way back in 2019.
Here's what Mr. Brewster – a handsome and distinguished individual who, rumor has it, has considered entering the Oklahoma political arena – told The World:
"In early 2019, February, she reached out to see if she could have a meeting with me in Tulsa. … It kind of surprised me," the Tulsa defense attorney recalled Friday…

The attorney has owned and raced horses for decades, and Daniels is a passionate equestrian.

"I think she was originally referred by people in the equestrian world, the horse world, nationally," Brewster said. "If you are in that industry in one practice or another, it's a small community. I think that is originally how she was referred."
Yep, take it straight from the horse's mouth – Stormy Daniels learned about Clark Brewster through the equestrian world.
Well, at least that's what Clark thinks.
You'd probably expect a smart guy like Clark to more vividly recall how he landed a famous porn star client who will go down in history books, but for some reason, he only thinks that's how it happens.
It makes me wonder, perhaps there's another way he scored Stormy?
I have a theory that's highly circumstantial, lacks evidence and involves a game of Tulsa Connect the Dots, but it seems much more plausible and believable than the "Awe, shucks! Ole Johnny Boy from the stables sent Stormy my way" narrative that Mr. Brewster would like you to believe.
Here we go...
Back in 2018, Tulsa-based writer Denver Nicks wrote a big profile of Stormy for Rolling Stone titled "One night with Stormy Daniels, the hero America needs." It was the first big magazine article about the actress who was thrust into the public eye and captured America's mushroom-shaped hearts.
I think I may have met Denver once at some cool basement bar in Tulsa when I was being shown around town by the charming Tulsa socialite Nicci Atchley and some poet dude who was wearing a scarf.
I don't think anyone at the table thought that a couple of years later Denver would be writing about Stormy Daniels in Rolling Stone, or bailing her out of jail in Ohio:
Charges dropped against adult film star Stormy Daniels after strip club arrest

Authorities dropped the charges against adult film star Stormy Daniels Thursday after she was taken into custody during a performance at a strip club in Ohio, which her lawyer called a "politically motivated" setup.

Court records show Daniels was released on bail after an individual named Denver Nicks posted $6,054 bond. She was seen leaving jail Thursday morning.
It may seem strange to hit up the guy in Oklahoma who wrote an article about you to bail you out of jail, but, I guess Stormy and Denver hit it off in more ways than one, and Denver's one night with Stormy Daniels became many, many, many nights with Stormy.
Yep, the two started dating! I guess it got kind of serious, too. Here they are at the 2019 X-Biz Awards: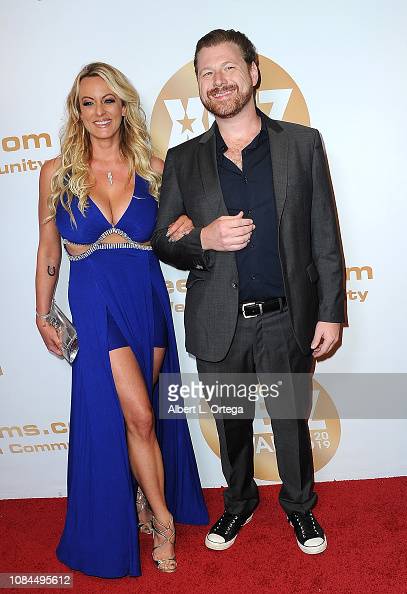 First of all, I'd like to congratulate Denver for landing a famed, accomplished, and totally-fine-with-nude-scenes actress like Stormy Daniels. The closest I ever got to that was when Brandin Rackley sent us an email saying we should grab Chelino's next time she was in town.
Unfortunately, it looks like things didn't end well for Stormy and Denver.
During his 2022 criminal trial for defrauding Stormy, Michael Avenatti cross-examined her on the witness stand. At one point, Denver's name got brought up in regard to the filming of a weird reality television show about ghosts:
Avenatti: You said Denver Nicks has not been the same since.

Daniels: I don't know. I haven't seen him in two years.
Yep, it looks like Denver and Stormy broke up in 2020 or so. That's sad for Denver, but I think it worked out well for Clark Brewster!
Here's some more connect the dots….
Denver is the son of former Tulsa County judge Linda Morrissey and attorney John Nicks. They both now practice together at the Tulsa firm Barnes Law.
According to our Moles, Brewster has a very cordial friendship with Morrissey. In fact, back when she was a judge, she frequently received campaign donations from him. Some of these donations date way back to the 1990s.
There's also another interesting connection between Morrissey and Brewster!
Back in 2018, Morrissey got caught up in a squabble between former Oklahoma Attorney General Mike Hunter and current Attorney General Gentner Drummond when they were facing off in a primary.
Basically, the Drummond campaign accused Morrissey of falsifying a record in a case where a widow claimed she was mistreated by a Tulsa bank and the bank's original attorney, Drummond.
You know who was one of the opposing attorneys in that case? Clark Brewster.
As I said, everything I'm writing her is circumstantial connect-the-dots fun that I'm sure an attorney with the intellect of Clark Brewster could use to blow holes through.
Well, at least I think.
Either way, what's more believable?
• Brewster got the case through his vague equestrian connections?
• Brewster got the case because he's friends with the judge whose son was banging Stormy Daniels?
Regardless of the scenario, I'd like to congratulate Clark for landing the high-profile client and getting the Tulsa World to publish his complete version of the events completely unchecked.
I'd also like to congratulate Denver Nicks for being a journalism role model. We admire you.
Stay with The Lost Ogle. We'll keep you advised.
Stay in touch
Sign up for our free newsletter