Everything Else
Ryan Walters stumbles and bumbles way through Oklahoma Teacher of the Year Ceremony…
11:06 AM EST on March 2, 2023
Yesterday afternoon, The Oklahoma State Department of Education held its annual Oklahoma Teacher of the Year Awards ceremony at the Cowboy Hall of Fame (or whatever it's called now) in Oklahoma City. 
Taking place since 1955, it's kind of like the Miss America pageant for Oklahoma educators, only minus the swimsuit, evening gown, and talent competitions. 
Okay, I guess that means it's not really like Miss America, but winning the award is a pretty big deal. Finalists have to go through a methodical nomination and selection process, while the winner becomes a teaching ambassador, traveling the state to spread the gospel about the importance of Oklahoma teachers and public education. 
Knowing all that, you probably wouldn't be surprised to learn that Ryan Walters – Oklahoma's anti-public education Superintendent of Public Education – took this year's event about as seriously as a high school pot dealer does a geography test. 
In fact, he didn't attend rehearsals and showed up an hour late to the ceremony, just in time to screw things up and present an award to the winner.
For the most part, the 90-minute-long production went off without a hitch until a disheveled Ryan arrived (once again) an hour late with his OHP security detail in tow. He then proceeded to stumble his way through the ceremony like a new barista starting their first shift at the Harbor Mountain Coffee House. 
Obviously unprepared and oblivious to what was going on, Ryan started going off script from the get-go, calling for people to come to the stage who weren't supposed to come to the stage.
Unsure what to do next, he then looked through a big binder for notes and started searching for a man named Tim all while awkward, uncomfortable silence filled the room.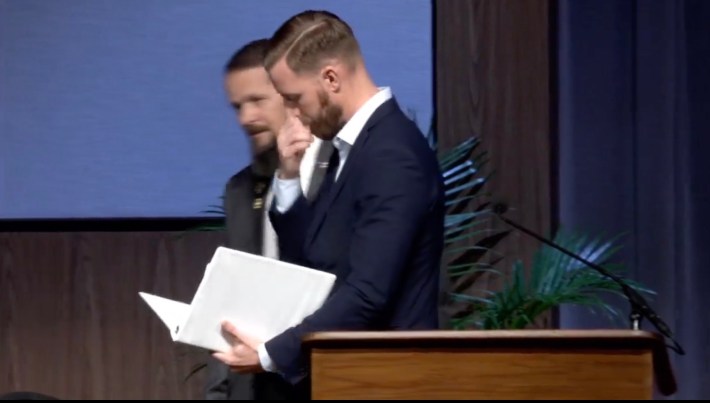 At that point, former Oklahoma Teacher of the Year Becky Oglesby – my new favorite Ogle – took command of the ship and got the proceedings back on track.
She then directed Ryan – who looked as cognizant as Vincent Vega stopping by Mia Wallace's condo in Pulp Fiction – to shake the hands of various school district "Teacher of the Year" winners as they walked onto the stage. His general unpreparedness earned a well-deserved side-eye from the teacher in green.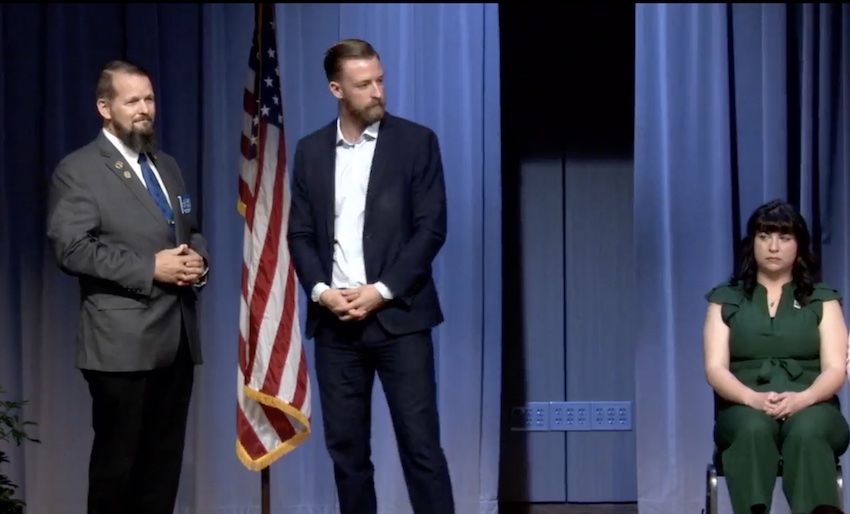 Eventually, it came time for Ryan to announce the 2023 Oklahoma Teacher of the Year award. After an envelope malfunction, Ryan proudly mistimed the drum roll and mispronounced the name of the winner – Ms. Traci Manuel – of Booker T. Washington High School.
He then gave her a "Teacher of the Year" sash and framed certificate that was apparently covered with saran wrap: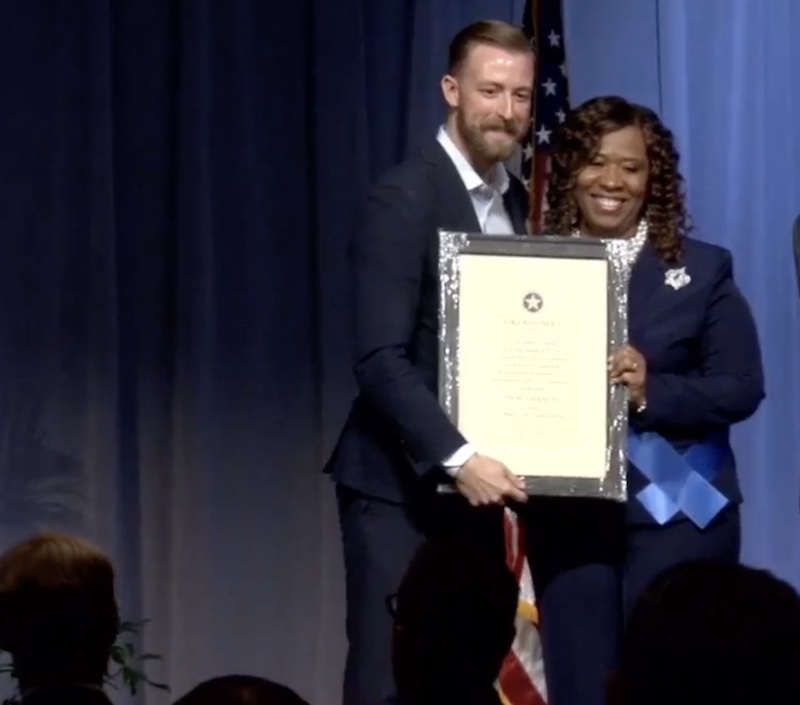 Ryan likes the Tulsa Public School District about as much as Putin likes Ukraine, so I guess we should thank him for putting on a nice smile for the award presentation. I'm sure that was difficult for him.
We'd also like to congratulate Ms. Manuel on the honor, and wish her the best as an ambassador for public education in a state where the governor and his School Superintendent openly want to dismantle public education. 
Because I'm a nice guy, I downloaded a video of the entire ceremony and put it on YouTube. You can watch Ryan begin to stumble and bumble his way through the proceedings at about the 1:12 mark:
Yeah, that was pretty rough, huh?
On one hand, I guess we shouldn't be surprised that Ryan almost intentionally went out of his way to show he didn't care about the Teacher of the Year proceedings. He's about as anti-Oklahoma public education and Oklahoma teacher as you can get. In fact, I'm surprised he didn't boo after he announced the winner's name!
Then again, you'd also expect Ryan to show some class and take things more seriously. He is a former Oklahoma Teacher of the Year finalist. Plus, he was enthusiastically involved in the Teacher of the Year proceedings for McAlester Public Schools. 
McAlester High School Teacher Rachel Morris was named the McAlester Public Schools Teacher of the Year on Monday…

-

Morris was announced as the winner by last year's winner, Ryan Walters. Walters is a history teacher at MHS. 

-

"Ryan told me last night I should prepare something to say, just in case," Morris said after accepting the award. "I'm glad I took his advice.

-

"I want to thank the faculty and staff at MHS," Morris said. "I get to work alongside some of the best teachers I've ever met."
Considering he didn't even prepare for the event, something tells me he didn't give Ms. Manuel a tip the night before like he did for Ms. Morris. 
Anyway, we'd like to once again congratulate Ms. Manuel for being named Teacher of the Year, and all the other finalists for their dedication and contribution to Oklahoma students and education. We'd also like to thank Ms. Oglesby for being composed and awesome and doing her best to thwart Ryan's probably contrived attempts to sabotage the ceremony. They're the real MVPs.
Stay with The Lost Ogle. We'll keep you advised. 
Stay in touch
Sign up for our free newsletter