Food
TLO Restaurant Review: Torchy's Tacos
9:03 AM EST on January 10, 2023
Satan is, for all intents and purposes, the Savior of the Damned, the Lord of the Flies, the Host of Baphomet, and, possibly, the Elder God of Shoggoth.
He also makes a damn good taco.
My mesmerizing ring of fire recently brought me to upstart fast-casual chain Torchy's Tacos, located at 2050 24th Ave NW, Suite 130, in Norman.
With a lil' horny devil as their mascot, I have heard good things about them, so after dowsing myself in preventive Holy Water, I decided to check out this Godless taco establishment.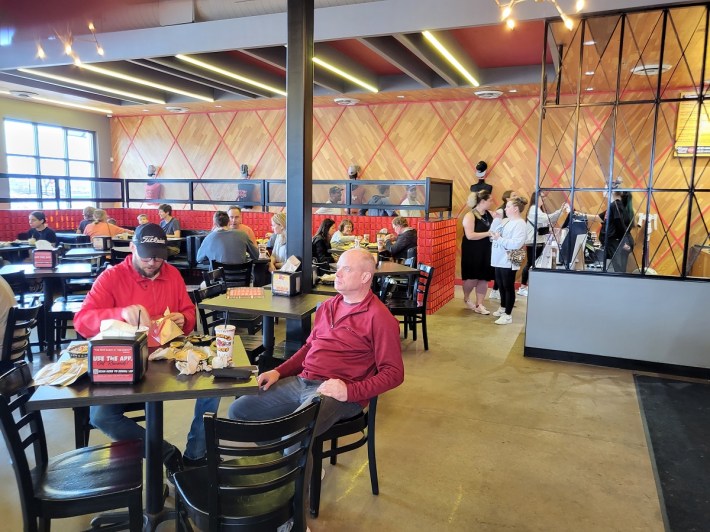 After a few prayers in Latin, I perused the menu. I was thoroughly impressed at the broad sampling of vegetarian options, so I decided to make a deal with God: In your good graces, I will consume from the non-meat menu, but still douse it with the paint-peeling hot sauces that Torchy's is known for.
For my starter, I went with Torchy's Green Chile Queso + Chips. Usually, I forgo the basic chips and queso when it's not free with a set-up, but when in Hell, why not splurge?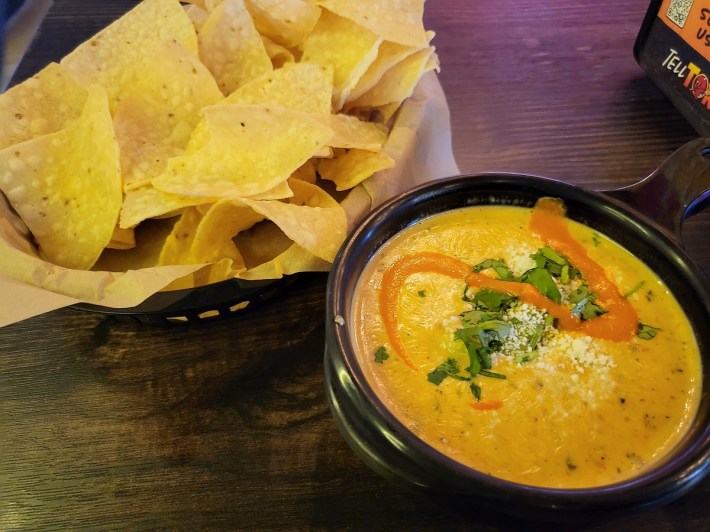 Torchy's Green Chile Queso + Chips is a startling revelation—well, at least as far as one can go with chips—with Cotija cheese, guacamole, cilantro, and from the fires of eternal damnation, their Diablo Sauce.
The ramping blend of the mellow Mexican cheese dancing with the piercing buzz of the hot sauce is exquisite, and truly made for a basket of corrosive chips, but one that can be enjoyed without the ringing of numerous fire alarms. It hurt so good, as one chip after another tried to possess me.
For a big taste of a bigger breakfast, I started on the Migas ($4.25): a vegetarian'ish breakfast taco with, of course, eggs, corn tortilla strips, green chiles, avocado, cheese, and pico de gallo, with a drenching of tomatillo sauce, all on a flour tortilla.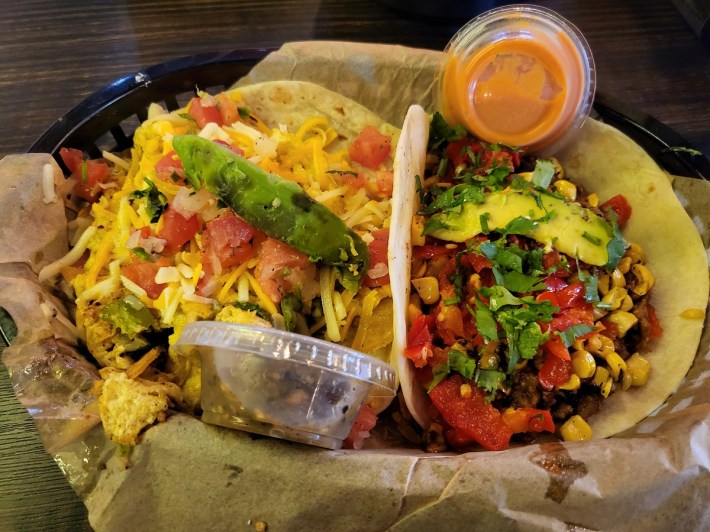 Overflowing with eggs, cheese, and especially the chiles, the tomatillo sauce gave a real sense of bonding to the demonic proceedings, with a real smoky texture for extra depth. But, to be honest, it didn't seem like a breakfast taco, and is great to eat anytime.
Next up, I went with the Mofaux ($6.15) – a faux-meat taco that is anything but fraudulent.
With "cowboy-style" Beyond Beef, it's topped with green chiles, grilled corn, peppadew peppers, avocado, cilantro, and, what the Hell, some more of that Diablo Sauce, on a corn tortilla.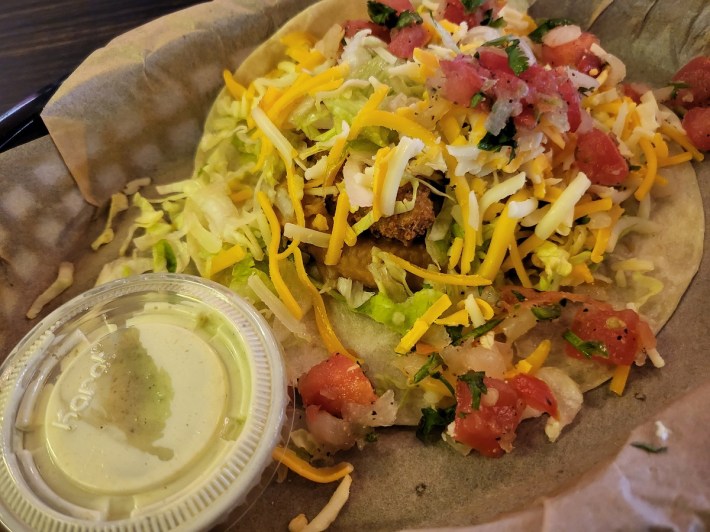 This taco hit the spot, with the fake meat really taking the taste to the ol' Scratch's woodshed. Like a spicy trip to an impious salad bar, the green chiles, corn, and the peppadew peppers—something I hadn't heard of—filled my mouth with pure flavor, and the Diablo sauce really gave the Devil his due.
As I gave a desecrating belch from the fires of Hades, there was one last taco to have and hold: the vegetarian Fried Avocado ($4.85). Besides the lovingly fried avocados, it was completed with refried pinto beans, more pico de gallo, and cheddar jack cheese with poblano sauce, all inside a flour tortilla.
Piggy-backing with the howling pintos, the fried avocado was an amazing confirmation of wicked taste, so good in fact that I forgot to take a photo.
Satiated, Torchy's gave me a crackling howl. My gluttonous body breathlessly told him, "While you might be a disrespectful hell-beast, but damn, definitely know your vegetarian tacos!"
Cómpralo ya!
_
Follow Louis on Twitter at @LouisFowler and Instagram at @louisfowler78.
Stay in touch
Sign up for our free newsletter