Food
TLO Restaurant Review: Maco's Indian Tacos
12:30 PM EST on December 20, 2022
Without a doubt, I believe Frybread to be the great emancipator of North American delicacies. Much like the Indigenous people and our culture, it has become the great substance of our most trying times and, even more, our most beautiful triumphs.
Made with a little water, some flour, and a lot of perseverance, it will always be the common foodstuff for the uncommon palate.
But, even in Oklahoma, it is a basic treat that many people don't do well. You would think it would be a basic part of our grand culinary DNA, but it seems that outside of a restaurant in Shawnee, a few food trucks around town, and a whole mess of small-time part-time chefs (usually setting by a roadside stand for a few dollars), it's a hard dish to do right.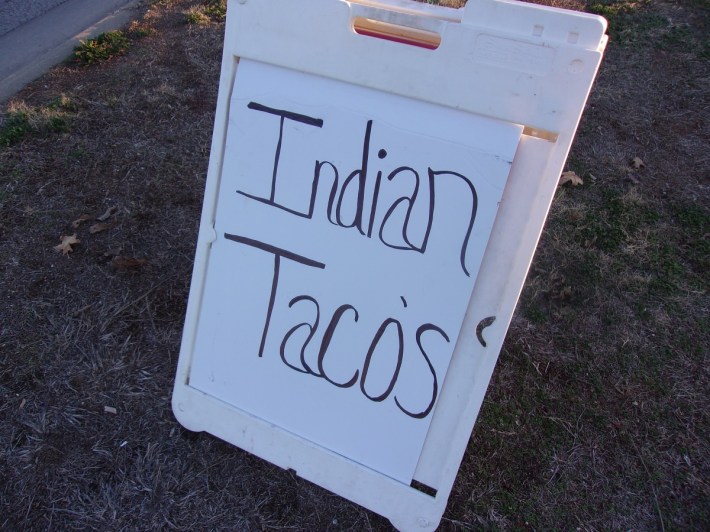 This takes me to Maco's Indian Tacos.
It's a quaint little food truck that shows up most Monday afternoons in Noble, with the exceptions being those days of inclement weather. (Editor's Note: After we published, we learned Maco's is apparently closing for the winter months).
Servicing other small communities like Washington and other towns I have not heard of, Maco's is one of those places that does it right.
For my most recent trip, I started with the preamble of a Maco's Frito Pie ($8.00).
It's like a frybread taco, without the frybread, settling for a bed of corn-oil fried Frito's instead. Topped with ground taco meat, beans, lettuce, tomatoes, cheese, and jalapeno, it's all here. A little bit of sour cream, and I was in business.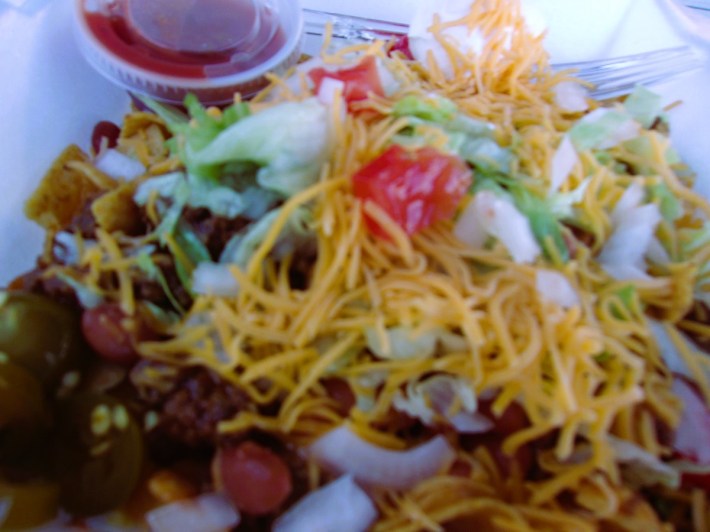 It's hard to screw up a Frito pie unless you're in Guthrie, an Maco's take is pretty good!
The combination of beef and beans with the cheese and, especially, the crunchy Frito's, make every bite of this concession-stand cuisine hit the number one spot.
For my main course, I kept things simple and went with the Maco's Classic Indian Taco ($12.00).
Every single chord made it memorable: from the beef, beans, and cheese to the impressive classic take on the frybread. Simply put, Maco's is one of the best.
I was so taken back that this is the only blurry photo my hands could muster.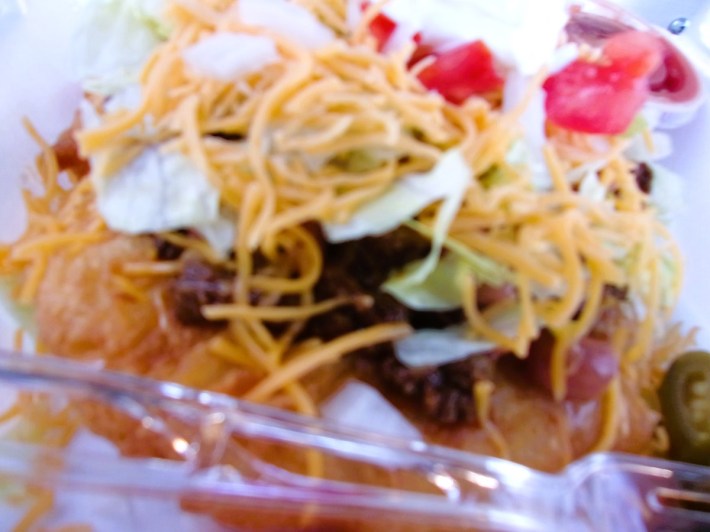 Delicately drowning with salsa and jalapenos, as I took an unwieldy mouthful of the fluffy mass of freshly submerged frybread, the toppings of spicy meat and flavorful beans deliberately worked with the lettuce for a tasty revelation, reiterating to me that this simple foodstuff—this uncommon communion, born out of strife and desperation – gave us the wherewithal and the stamina to take the unending bows.
Every bite was, to use an Indigenous expression, Frybread Power, and I was completely recharged—taking this frybread for everyone, no exceptions
Cómpralo ya!
_
Follow Louis on Twitter at @LouisFowler and Instagram at @louisfowler78.
Stay in touch
Sign up for our free newsletter