Everything Else
Mike Morgan needs attention…
10:07 AM EST on December 19, 2022
Winter officially begins on Wednesday, which I guess means the return of cold temperatures, space heater fires, and – as this 12-year-old meme reminds us – Mike Morgan clamoring for attention with dire "life-threatening" winter weather forecasts that probably won't happen.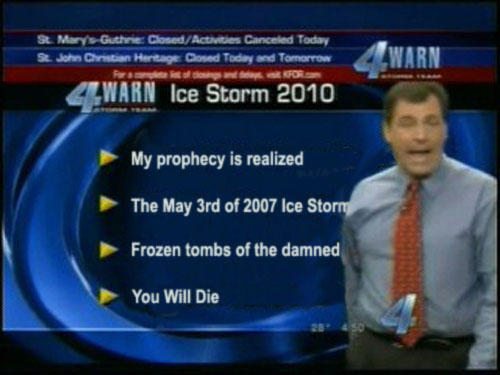 Well, I guess let the winter traditions begin. 
Last Wednesday, a full 10 days before Christmas Eve, Mike began hyping a super arctic life-threatening white-out blizzard weather event that he prophesied will chill all Oklahomans to the bone, burry us in blowing snow, and, probably, send Governor Stitt packing for a state-of-emergency ski trip to Santa Fe. 
Check these out:
Although they compete with Mike for likes, ratings, and retweets, and seem equally starved for attention, the other local weather folks have taken a more subdued approach and, curiously, haven't hyped the upcoming arctic blast as a once-in-generation Oklahoma winter weather event that's a combination of other once-in-generation Oklahoma winter weather events. 
For the most part, they've acknowledged it will likely be very cold, very windy, and that we might even get a blowing dust of Christmas Eve snow, but so far, they've resisted the urge to prematurely hype the arctic blast as a "treacherous" life-threatening blizzard in a desperate plea for attention. 
In fact, weather scientists whose salaries aren't connected to how many people watch them on the nightly news seem to be downplaying the possibility of a life-threatening Christmas Blizzard of the Damned. They do want us to pay attention to the cold, though...
For what it's worth, this isn't the first time Mike Morgan has cried "Christmas Blizzard." 
Back in 2012, he led the charge in hyping an arctic weather event that never happened. At least back then he was smart enough to hedge his bets.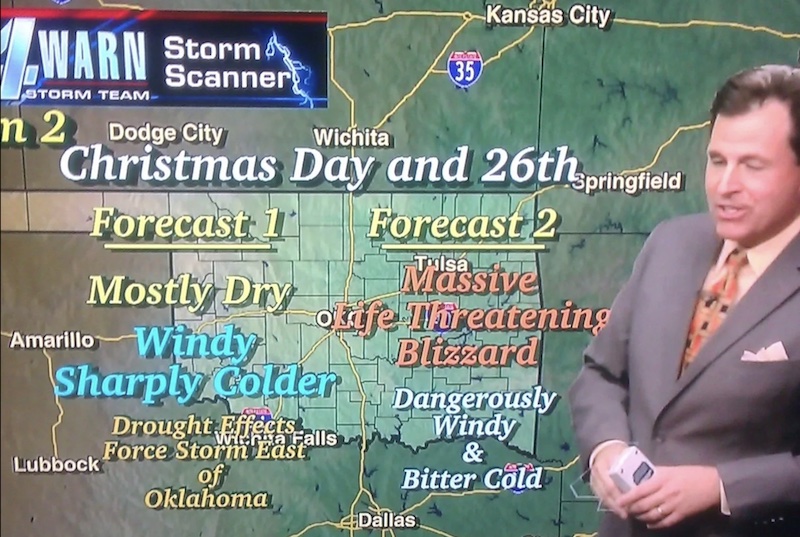 Just to clarify, neither forecast played out. It was basically a cold and drizzly day.
As his tweets above show, Mike does seem to be walking back a bit from his initial and irresponsible forecast. I'm sure he'll still find a way to justify hyping it a full 10 days in advance, but at least he got some much-deserved attention from it.
That has to be the primary goal, right?
Stay with The Lost Ogle. We'll keep you advised.
Stay in touch
Sign up for our free newsletter