Everything Else
Stitt goes full "Cheugy" and slays TikTok!
China must be very disappointed.
9:27 AM EST on December 9, 2022
Yesterday afternoon, Governor Stitt signed an executive order banning TikTok from all Oklahoma state devices in the name of cyber security, which I guess means state employees will now have to use their personal phones and computers to waste time, compromise their personal data, and make themselves dumber.
The order has more to do with grandstanding and falling in line with GOP propaganda than providing a solution to an actual problem, but as one who hates TikTok and thinks algorithmic short-form videos are the crack cocaine of social media and poison the human brain, I'm all for it. 
Yep, take that China! 
We're fine with you sending your organized crime gangs here to buy Oklahoma farmland, set up black-market marijuana grows, and create bloody crime scenes, but if you want to steal information about the Oklahoma government and its people, you'll need to gather that from personal devices!
The ban on TikTok on state devices and networks does have some real-world consequences, as many state agencies actually use the platform to reach mindless lemmings who are trapped in an infinite doomscroll and unable to escape. 
For example, the State Wildlife Department has 175,000 followers on TikTok and has accumulated 4-million video likes. I guess with Stitt's ban, we'll no longer be treated to enthralling and informative videos like this:
The ban also affects higher education in the state. State universities have tried to use TikTok in a sad attempt to reach prospective students who are addicted to algorithmic media dopamine rushes and unable to put down their phone, but they're now sending emails to staff warning them of the ban.
For example, check out this email Rogers State in Claremore sent to faculty: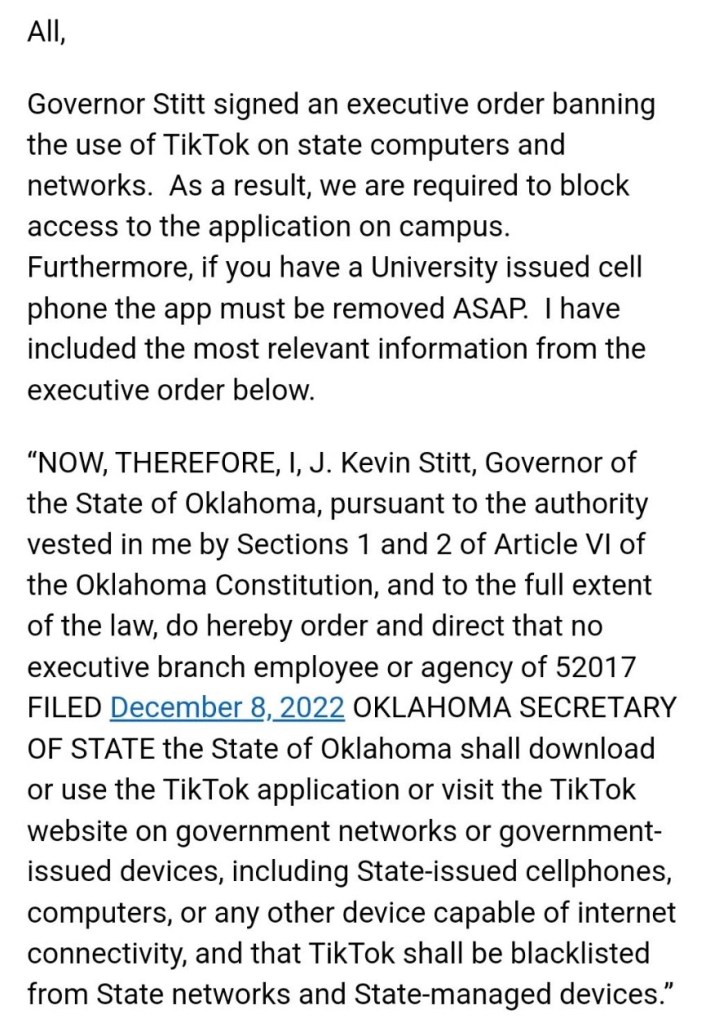 Yep, thanks for nothing Stitt. With the ban, we'll no longer be treated to amazing videos like this...
Rogers State isn't the only Oklahoma college using TikTok to reach people who chronically rely on digital poison to bring them joy and happiness. Closer to home, I guess Stitt's ban will mean no more exciting clips like these from Rose State, and my beloved alma mater, OCCC. 
Although Stitt's banning TikTok from government devices, I guess he's okay with American-owned social media conglomerates using algorithms to harvest data, manipulate people, and control society. 
For example, YouTube is still allowed on state devices. I guess you can't blame him for that. How else will employees be able to watch his OANN-inspired Top 10 news?
Anyway, we send our condolences out to all state employees affected by this news, and hope they find some other way to soothe their short-form social media video addictions. 
Stay with The Lost Ogle. We'll keep you advised. 
Stay in touch
Sign up for our free newsletter