Everything Else
Shawnee Mall pulls Nazi artwork from holiday community exhibition…
1:45 PM EST on November 28, 2022
Christmas shopping for your favorite crazy right-wing uncle just got a bit more difficult!
Thanks to cranky cancel culturists who don't like to see Nazi symbols while out Christmas shopping, Shawnee Mall's "Community Art Gallery" – Oklahoma's number one spot for alt-right-approved oil and canvas – removed a series of paintings from its autumn mall exhibition that equated a who's-who mix of conservative villains (tech titans, liberal politicians, members of the media, late-night comedians) to Hitler's right-hand man Joseph Goebbels.
The paintings were called "Goebbels Girbles." 
KFOR released photographs of the paintings along with the artist's statement. Check this out: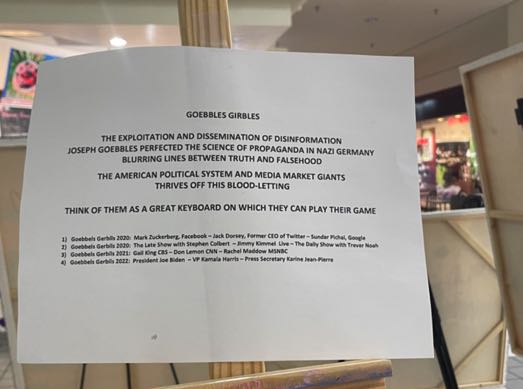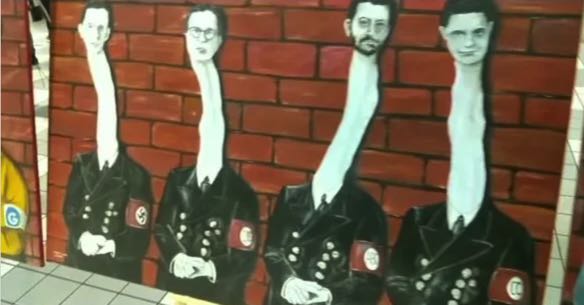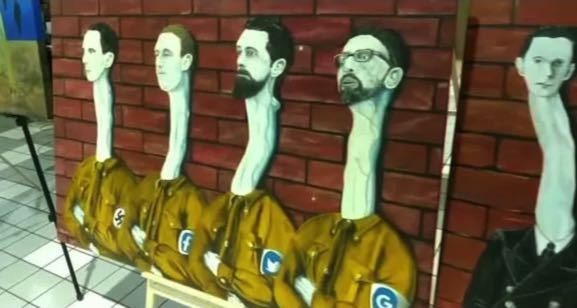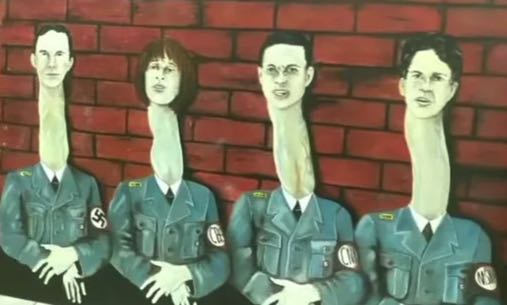 Yikes! Remember the good old days when the only bad artwork you'd see at the mall was inside the Thomas Kinkade gallery?!
Now you have to subject your eyes to warped portraits of politicians and comedians with long necks wearing Nazi regalia while standing in front of walls with disproportionately large bricks!
Seriously, I'm not sure what's more disappointing here. The alt-right themes and Nazi imagery or the artistic standards of the Community Art Gallery! 
Actually, that's an easy call. It's the alt-right themes and Nazi imagery.
KFOR talked to the owner of the art gallery who approved the display. He didn't see any issue with it:
"I don't see any issue with it," said Scott Baird. Part owner of the art gallery that put on the exhibit. "But, you know, art can be a touchy subject."

KFOR spoke with Baird over the phone Tuesday.

"I believe in freedom of speech as well as freedom of art because art is the first thing that goes down when tyranny takes over," Baird said.
In a matter-of-fact type of way, I agree with Baird. 
As conservative efforts to ban books in Oklahoma libraries have taught us, art is one of the first things to go when tyranny takes over. 
Plus, I think all artists – including hypocritical ones who craft politically charged paintings that equate liberal politicians and media elites to Nazi propagandists, all while ignoring the efforts of conservative figures like Donald Trump, Tucker Carlson, and others in the right-wing ecosystem who create propaganda with the specific intent of appealing to the biases and prejudices of white nationalists, racists, Nazi sympathizers, etc. – should have the right to make art and express themselves.  
That being said, it doesn't mean art galleries are obligated to display the art in mall corridors during the holiday season. Save that stuff for Old Paris Flea Market where it belongs!
According to Baird, the mall told them Sunday that they started to hear from people taking issue with the display. They told him to take it down and he said he did.

"We're not taking any punitive action against the artist," Baird said. "It's like TV, you know, sometimes it's ugly and you don't have to look at it, but it's there because it's a viewpoint of him."
Anyway, I guess if you find any right-wing artistic propaganda while out Christmas shopping this year, snap some photos, send it our way, and then buy it for your crazy right-wing uncle. I'm sure he'll love it. 
Stay with The Lost Ogle. We'll keep you advised. 
Stay in touch
Sign up for our free newsletter