Everything Else
Carly Atchison clarifies Stitt wanted to build a new $6-million "private residence." Not a big mansion.
12:54 PM EDT on October 27, 2022
On Tuesday night, in an effort to further capitalize on the attention, ratings, and controversy they recently created, the news sleuths at KFOR Channel 4 filed a follow-up to their much-hyped Stitt Mansiongate-report. 
In case you forgot, the original 8-minute-long story – which included sinister music to the annoyance of Storme Jones – exposed the somewhat secretive effort by Kevin Stitt, the Oklahoma Ruling Class, and his Young President Organization (YPO) buddies to build a new $6-million Governor's Mansion for the first family.
Here's a rendering of the proposed structure: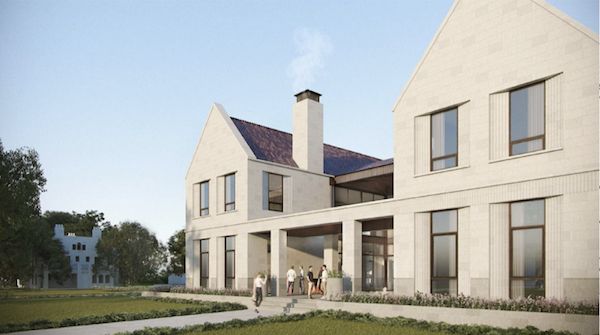 Although the follow-up report didn't break anything that was super new or earth-shattering, it did lead to this comical Tweet from Kevin Stitt's Communication She-Troll – Carly Atchison.
She tried to land a legendary 900 in political spin:
Yep, don't get things twisted Oklahoma Media. 
It's not a Governor's Mansion, but a $6-million private residence for the Governor's Family. Huge difference. As Mike Gundy would say, "Get your facts straight!"
In all seriousness, I know Carly gets paid very well to try to spin lies into false truths for her boss, and property values have risen across the state over the past couple of years, but that's a semantic reach, even by Communications She-Troll standards!
In fact, if you're a Republican politician spending $6-million on a house in Oklahoma and it's not a mansion, then it should probably disqualify you from office!
Well, unless Brent Swadley is the contractor. Then it would make sense. 
But really, $6-million can get a huge ass mansion in Oklahoma!
For example, check out the 8,000-square-foot Oak Tree mansion Stitt bought last year. It only cost him $2.2 million.
And don't forget about Stitt's previous mansion. It was also over 8,000 square feet and worth $4.5-million:
As I mentioned, the KFOR report didn't mention anything super new or earth-shattering about the mansion stuff.
I guess they did catch the Governor kind of lying, but that's nothing new.
They also reported that Saxum CEO Renzi Stone – the guy who led our state's rebrand efforts and has made $15-million in state contracts over the years – and Bob Gaylord Ross – the Inasmuch Foundation President who uses Gaylord money to support and control local media, education, and social causes – were two of the guys who pitched Stitt on the new "private residence."
They, like most of Stitt's cabinet members, agency heads, and board members, are members of a mysterious group called the Young Presidents Organization. The group has a lot of control and influence over the direction of state government and how taxpayer money is managed and spent. In fact, they have so much power and control that maybe Ali Meyer should look into them next!
Until then, I guess we'll keep our ears to the ground. 
Stay with The Lost Ogle. We'll keep you advised.
Stay in touch
Sign up for our free newsletter