Food
Lost Love and Fried Catfish at the Neighborhood Casino…
5:10 AM EDT on September 7, 2022
Before my stroke in February—two days prior to my hospitalization, when I think about it—I had a date with a woman at the Lucky Star Casino in Concho. We had been dating for a couple of weeks and it was a "make-it or break-it" thing.
Basically, it was my way to see if we had hit the jackpot. Sigh.
For dinner that night, we decided to dine at the casino, wanting to try their Indian Tacos. I had them, of course, but I don't remember anything about them—and really anything about the date in general. In fact, I remember practically nothing about that night.
A few weeks later, I was in the "after-care" portion of my long stay in the hospital. I charged my derelict phone and found about a thousand texts. One was from her, telling me I was a real asshole for "ghosting" her.
I wanted to reply to my sweet nothing, and explain what happened, but I only had use of one arm and still had difficulty formulating words. I guess it was not meant to be.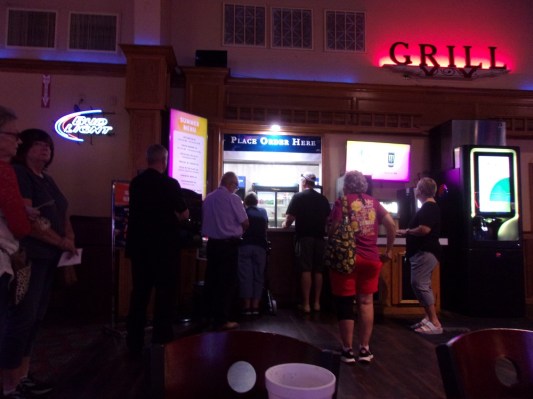 I still think about that date, I still think about her, and, naturally, thought about it all last week as I stopped by my neighborhood Thunderbird Casino, 15700 East State Highway 9, on the outskirts of Norman. I wondered if they still had that Frybread and Company…but I guess the toll of Covid took it out.
Deterred, I took a swig of black coffee and looked for the Wheel of Fortune slots, when my eyes caught something fried and special – the catfish dinner was that day's special.
Catfish seems to be in a well-deserved renaissance of late, with the chuckleheads lurking on just about every restaurant menu in the state. That works for me, as I believe catfish is only second when it comes to the best Oklahoma food staples, and one I haven't had in a while thanks to that damn stroke and my new dietary restrictions.
So, for my medically-cleared cheat meal for the week – you're welcome, armchair physicians – I went with the Catfish Dinner ($7.99), complemented with the appropriate hush puppies and French fries.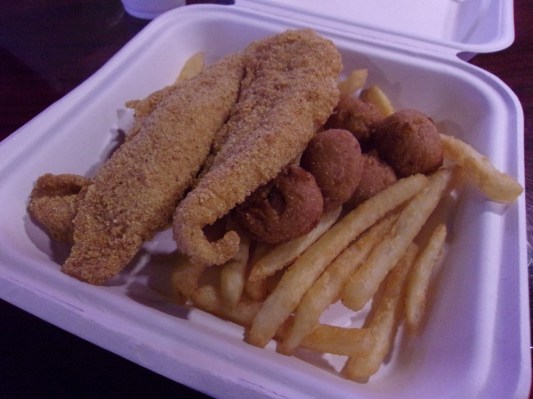 Usually, the fried accompaniments for a meal like this are bogged down in rancid grease, but here, they are light and crispy. And, even better, it was a joy to find tartar sauce on the table. Bottoms up!
But the fish…man, that fish.
Three of the suckers surrounded me, waiting for me. Like Poseidon's trident, I pierced the beast's regions; the breaded-coating and flaky flesh settling for my hungry net. As small spurts of vinegar rained down for the heavens, I was a human sandbar, eating up what I could, and then scooping what was left into my box of leftovers.
The experience left me overwhelmed with aquatic emotion. This fish—whether fresh-caught or deep-frozen—was the taste of my adopted home, the underworld of Atlantis by way of legendary Thunderbird Lake. The entire meal was a crude fandom of a catfishing full-circle circle-jerk, for all to witness.
Although I wasn't able to sample an Indian Taco – which is fine, because Grand Casino's Fry Bread Taco sets the standard for that delicacy – I can get behind Thunderbird's catfish.
And, to the lost object of sicky affection through the course of malady, have a plate of on me.
Cómpralo ya!
_
Follow Louis on Twitter at @LouisFowler and Instagram at @louisfowler78.
Stay in touch
Sign up for our free newsletter