Food
TLO Restaurant Review: Butcher BBQ Stand
9:51 AM EDT on May 4, 2022
Editor's Note: Before we get to this TLO Classic Food Review, I wanted to pass along that, all things considered, Louis is doing better! He's still working hard with physical rehab and speech therapy, and as he continues to recover from his stroke, we're going to republish some of his classic reviews from over the years.
With average BBQ still simmering in the local news cycle, I thought we'd take a trip back to Louis – and Sean's – May 2021 trip to the famed Butcher BBQ Stand located off Route 66 in Wellston. It may not give you meat-sweats, but it will definitely leave you feeling hungry.
Enjoy...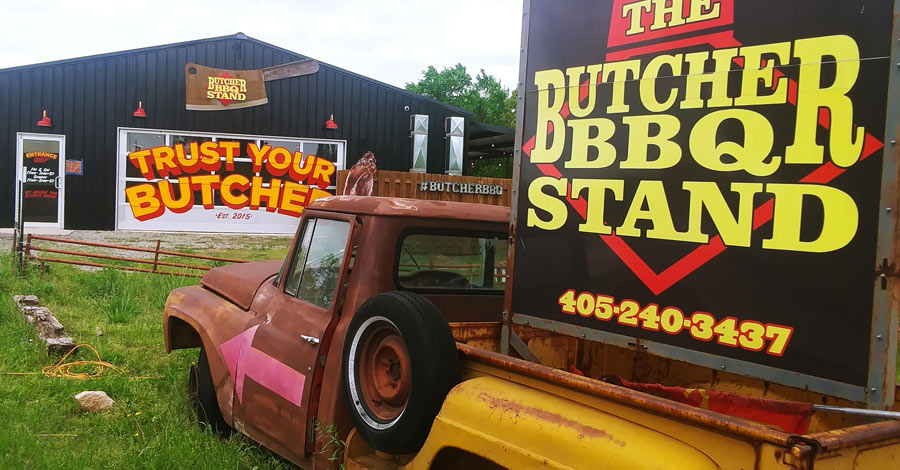 Country Meat: A Long-Awaited Lunch at the Butcher BBQ Stand
Well over a year ago, when pandemics like Covid were barely a dripping-wet newborn calf, Patrick asked me to go out and try the famed Butcher BBQ Stand, 3402 OK-66 in Wellston, interested if the accolades and awards they've accrued were well earned, at least by my gelatinous gullet. Of course, I missed my opportunity then.
Famously featured on the TLC (and eventually Destination America, whatever that is) television show BBQ Pitmasters, Butcher BBQ gained fans from all over for their winning meats and sides courtesy of David Bouska and his son Levis, earning a sauce-covered name in Oklahoma for their roadside stand.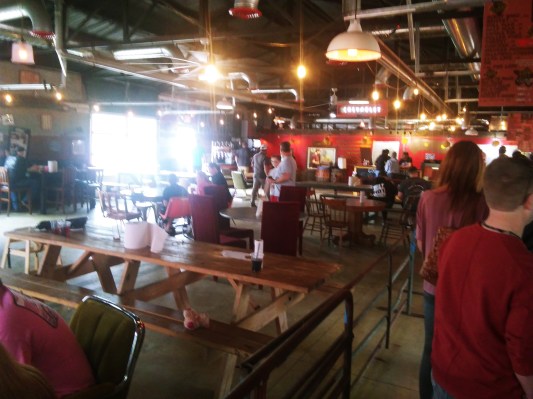 Traveling down Route 66—America's highway—it was a little after two when we got to Butcher BBQ, and they close at three or until they sell out—I secretly said a prayer to the Lord above that they have some ribs left this late in the game. Pulling into the gravel parking lot, many hungry locals were heading in; we entered and stood in the back of a long line that nearly went out the door when a voice boomed from the front "We're out of nachos!"
I wasn't able to see what meats were left as the chalkboard, scrawled with the day's sell-outs, was way up front, but I figured I'd make do with whatever they had—I mean, I'm here already and I'm first-world starving. Standing in the interminable line, with about a half-hour of small talk and other time-wasters, we finally made it up to the counter, plenty of time to prepare my mental order, even if I did forget it at first.
My friend and I each ordered the highly recommended 2 Meat Plate ($17.00), a good sampling of, as you could figure, two meats each as well as two sides, a slice of bread and a Twinkie because, as their menu states, they're "BBQers, not bakers," which I can understand, although many places do serve at least a slice of homemade pie for dessert.
But, then again, I haven't won anything from TLC, so what the Hell do I know?
As we received our wide metal trays, we took them outside, far from the unmasked regulars eating inside. Grabbing another plastic cup of unsweetened tea as well as my pup Sean from the car—he's just as good a judge of barbecue as anyone—I settled down at a ramshackle picnic table and gave the aromatic goods the once-over.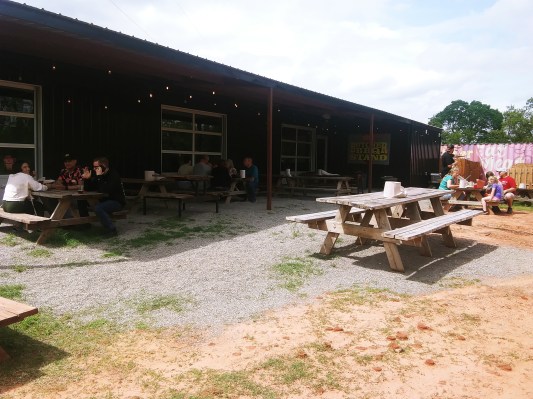 I had, thank God, the thick Ribs and a pair of smoldering Lava Links, along with paprika-covered Potato Salad and the Apple Pie Beans, something I was more curious about than anything else. With ribs being my favorite part of any barbeque meal, theirs were undeniably smokey with far more meat on them than expected, no sauce needed. The plump Lava Links, while not as hot as I was expecting, did the job just fine as well and were mostly enjoyable, better than my friend's desert-dry chopped brisket.
The potato salad worked for me too, a slight dusting of paprika sprinkled over the top adding a visceral touch that was the extra kick I needed this windy afternoon. But, if I'm being honest, those apple pie beans were probably the best thing on the menu, the sweetness of the (probably) canned apple pie filling coming through to create a dessert transformer that, while not as kitschy as a Twinkie, was the true sweetness of the plate.
Not too bad for around twenty bucks I thought as I licked yet another rib clean.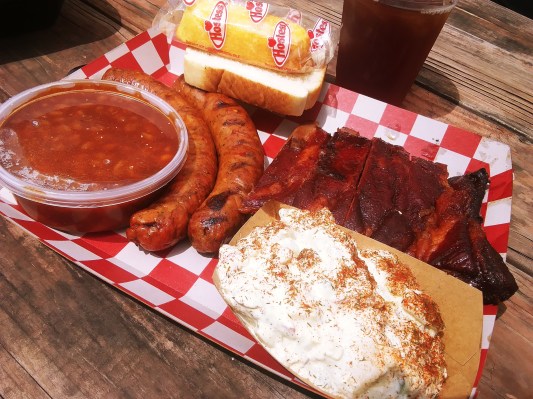 While I couldn't tell you if they're award-winning or not—a running joke with my friend is how much I love gas-station food and prize it above all else—this plate was definitely placing high in my engorged heart. With the sun beating down on us, I deboned a rib and gave it to Sean and he quickly ate it, not even tasting the spices and rubs that made it so good. Oh, to live the life of a lovable dog!
Wiping my hands on the paper towels provided to each table, on the way out, I noticed a large metal Bigfoot outside the building and wondered not only if Wellston has these hairy creatures lurking about, but how would they taste cooked on an open flame…someone let me know, please.
_
Follow Louis on Twitter at @LouisFowler and Instagram at @louisfowler78.
Stay in touch
Sign up for our free newsletter