Politics
Shocker! Oklahoma lawmaker who once paid for abortion votes to restrict abortion…
11:40 AM EDT on April 14, 2022
As you're probably aware, Oklahoma lawmakers and their pal Governor Kevin Stitt recently enacted a variety of new laws that will essentially ban safe and legal abortion in Oklahoma.
It's all part of their pandering pledge to make Oklahoma "the most pro-life state in the nation," unless, of course, you're poor, malnourished, and simply need affordable healthcare and medication. Then you're on your own, libtard sucker!
As Governor Stitt's own personal Cruella Deville pointed out, the anti-abortion legislation was very popular in the cesspool known as the Oklahoma legislature, with over 80% of lawmakers voting in favor of restricting a woman's rights to have authority over her own body.
That includes State Representative Eric Roberts.
On April 5th, he was one of 70 people in the State House to vote in favor of SB612, a draconian masterwork that "will make performing an abortion illegal in the state, with an exception only in the case of a medical emergency."
For some reason, though, he cast this vote despite the fact that he once eagerly paid for a former fling to get an abortion back when he was a young lad enjoying life in his 20s!
In October of 2020, when Roberts was running for State House, we were contacted by two women – Robert's ex-girlfriend and his ex-mistress – who wanted to inform us that despite Roberts's pro-life leanings, he once paid for the mistress to get an abortion while he was still with his girlfriend, only to get busted by the girlfriend when she found the receipt he left lying around.
Because I'm a big fan of pointing out the hypocrisy of pandering politicians, I thought it would be worthy to reshare that very same article today. Check it out in its original entirety below...
=
Pro-Life Oklahoma House Candidate Paid for Woman's Abortion
We have learned via the Ogle Mole Network that Eric Roberts – a pro-life Republican State House candidate for HD 83 – allegedly paid for the abortion of a woman he impregnated in 1988.
According to Shannon Mantrom of Austin, Texas, she and Roberts had a lengthy "friends w/ benefits" style affair, when they were both students at Southern Methodist University in Dallas during the 1980s.
It ended when she got pregnant, Roberts paid for her abortion, and Roberts' girlfriend at the time— who knew Shannon — accidentally found out about it.
Here's a snippet from an email exchange I had with Shannon:
"In the early spring of 1988 I got pregnant after one of our encounters. I was a senior and Eric had already graduated and I knew I was NOT going to let a pregnancy derail my future, especially by someone I had no desire to marry or even really be with anymore. So, Eric paid for an abortion at a local Dallas women's abortion clinic. I was five weeks pregnant at the time and we both knew that was the right thing to do. I would move on to graduating and he and his girlfriend could move on with their lives."
Shannon's account was corroborated by Roberts' then-girlfriend, Sara Marshall. She now lives in the New York City area and we spoke on the phone yesterday.
According to Sara, she was picking up Eric's apartment one weekend in 1988 when he was in Oklahoma City visiting family. While doing so, she stumbled across the paperwork for an abortion clinic located on Mockingbird Lane in Dallas. It had Shannon's name as the patient.
Yeah, that's right. The guy left an abortion receipt for another woman in his apartment, and his girlfriend found it. Whether you're pro-choice or pro-life, I think we can all agree that's pretty stupid. If he gets elected, he'll fit in well with the rest of the geniuses in the Oklahoma legislature.
Sara, Shannon and Eric were all in the same social circle at SMU, so upon finding the receipt paperwork, Sara immediately grabbed a phone and called Shannon. Here's how Sara describes that conversation:
"I called up Shannon and told her what I found, and said that either Eric was helping you out or he was part of the part of the problem. She then broke down and cried and said 'You need to call Eric.'"
And that's what Sara did.
According to her, Eric got defensive after being confronted and played the "Nothing's wrong because we're not official" card. Their phone call ended in an argument, but when he returned to Dallas, they smoothed things over. They would remain together for another four years. She even moved in with him in Oklahoma City for a few years in the 1990s.
So, why does this matter?
If you ask me, it's just another obvious example of the blatant, double-standard hypocrisy that conservative, primarily male politicians like Eric play when it comes to abortion.
Shannon and Sara agree.
Like most people from the analog age, they reconnected on social media a few years ago and became friends again. During a recent chat, Eric got brought up, and Shannon learned of his political aspirations. At that point, she decided to reach out to the local media and got connected with us.
"I was compelled to reach out because the hypocrisy is so glaringly stunning. Having put this decision and action in my past, I have gone on to marry and see my two beautiful daughters grow into adulthood. It is for them, and women everywhere, that I felt the need to speak up. Even if Eric is "born again," that does not mean he also enjoys the privilege of denial, even to himself, of our shared past."
This is the second time that Roberts – a Chamber of Commerce style Republican – has run for public office in the Northwest Oklahoma City metro. In 2018, he sought the Republican nomination for Senate District 30. He's a Casady grad, businessman, and — thanks to his family's oil and land holdings — firmly entrenched in the OKC ruling class, serving on a variety of boards and foundations and who knows what else.
Although Eric is not one of those gung-ho abolitionist types, he does toe the GOP party line when it comes to being in favor of restricting abortion rights, all while apparently taking advantage of those rights when it suits him.
Just check out these social media screenshots: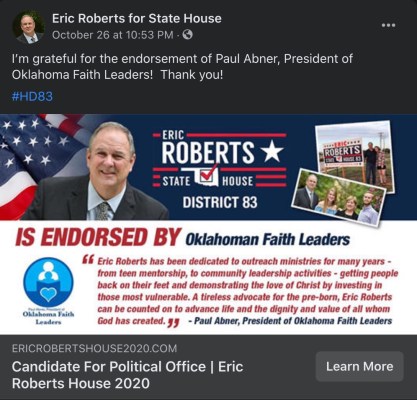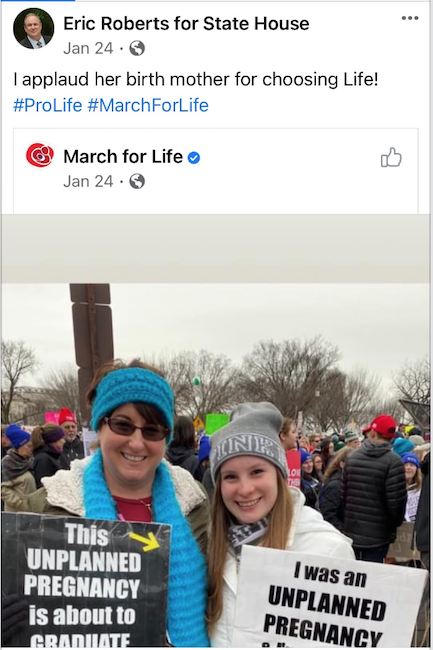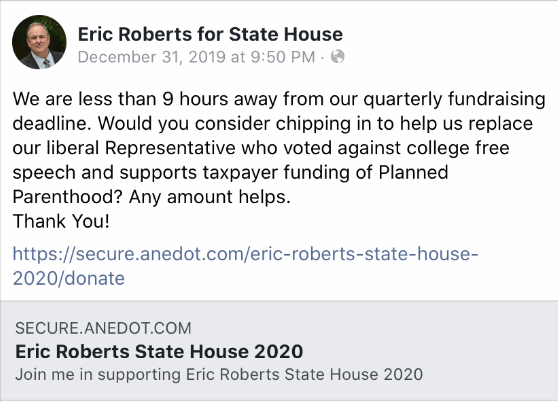 We reached out to Eric via email last night for a statement or comment about the claims from both Shannon and Sara. He has not replied.
Stay with The Lost Ogle. We'll keep you advised.
Stay in touch
Sign up for our free newsletter