Everything Else
Enid Library Board votes to ban Pride book displays…
9:36 AM EDT on April 12, 2022
Conservative cancel culture once again rears its ugly head!
Not content with simply banning books, prude right-wing Evangelical squares in the Enid area who want a monopoly on indoctrination are now setting their sights on library book displays.
Yesterday afternoon, The Enid Library Board of Directors voted to recommend to the city prohibit the library from creating custom decorative displays that promote hedonistic, non-Evangelical approved topics like "the study of sex, sexual activity, sexual perversion, sex-based classifications, sexual preferences, sexual identity, gender identity or that are of a sexual nature."
Basically, they want to make Enid home to the most boring library in the world.
Naturally, the reason for the proposal isn't to keep 50 Shades of Grey and Danielle Steele classics from the eyes of church-going Enid housewives. No, they want to prevent the library from doing things like making special book displays for things like Pride Month, because you know, the gay agenda or whatever.
Here's how the Board's chair, Joseph Fletcher, justified the decision. Via the high-flyin' Enid News-Eagle:
Board chair Joseph Fletcher said the policies reflected that sex and sexuality are private topics, but don't ban or limit access to books and materials already in the library.

Fletcher drafted the approved proposals that were considered alongside an alternate pair of policy proposals drafted by library staff.

"No public institution should inundate its visitors with issues of sex and sexuality when they walk in," Fletcher said. "Frankly, most people just don't want to see it, and especially in a venue so heavily used by children."
Fletcher brings up a fair point – right or wrong, there's a good percentage of Oklahomans who don't want to be inundated with issues of sex and sexuality when they go to the library. That's why I always make sure to serve up plenty of Patricia's ads on this site to annoy them: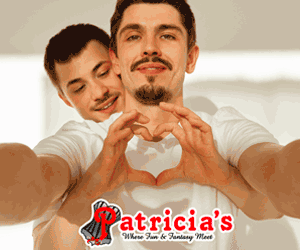 Although the proposal was introduced to cancel a Pride display, it doesn't come without some collateral damage. Because it would ban displays that "promote gender," the proposed ordinance could inadvertently ban displays that celebrate Mother's Day, Father's Day, and other Hallmark Holidays:
The library's interim director [Theri Ray] said in accordance with the new exhibit policy, the library no longer would have a display marking national LGBTQ+ Pride Month each June — when policies over the library's book displays last came before the public eye...

But what else would be affected at the library is unclear, as Ray said she would have to consider other displays such as "Mother's Day" and "Father's Day," which are both holidays based on gender and sexual identity.

"I'm not 100% sure at the moment," Ray said.

Current library programs likely would be left untouched, including an 18-and-older book club on adult romance novels set to begin meeting April 21, called Shameless Book Club, and an all-inclusive teen book club called HomoSapiens United.
First of all, I'm calling it now – Shameless Book Club and HomoSapiens United will faceoff in an 8-9 matchup the Ogle Madness XV.
Second, can you fucking believe it?!? The Evangelical Enid Right has declared war on both Mother's Day and Father's Day. That's something I never thought I'd see. If only they were Democrats, that would get some good culture war coverage on Fox News.
Anyway, the Board's proposal is currently sitting on the desk of Enid City Manager Jerald Gilbert. I don't know a thing about Jerry, but he should do the right thing, not be a regressive tool, and ignore the board's recommendation, which knowing what we know about Enid and its people, means he'll probably do the opposite.
Stay in touch
Sign up for our free newsletter