Food
TLO Restaurant Review: Dairy Lou Drive Inn
8:31 AM EDT on April 7, 2022
Editor's Note: As Louis Fowler continues to recover and rehabilitate from a stroke, we're going to republish – per his request – some of his classic TLO Restaurant Reviews from over the years. 
Today we take a look at his January 2018 excursion to Dairy Lou Drive Inn – an old-school burger and ice cream stand in Ada, Oklahoma.
We'll have an update on Louis and his incredible recovery efforts soon. If you'd like to help out and donate to his Louis's stroke recovery fund, please do so here. Now, to the review...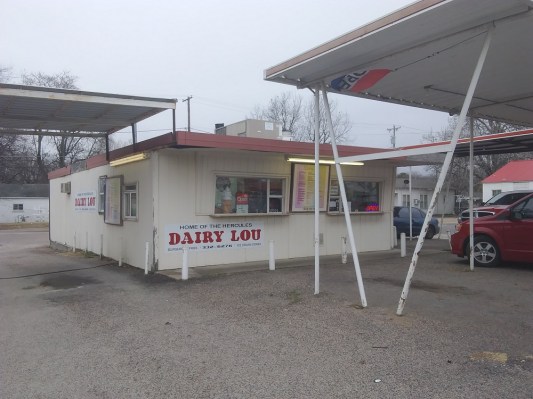 TLO Restaurant Review: Dairy Lou Drive Inn
Over the past few years, I can't help but recognize a heartbreaking trend running throughout many of Oklahoma's various rural communities and that's the death of the small-town restaurant. So many places I've driven through or visited recently seem to have more and more empty Main Street mom and pop joints, shuttered greasy spoons and dead and buried drive-ins, all seemingly replaced by Subways and more Subways.
So many Subways.
This became brutally evident during a recent trip to Ada. With such a large swath of the city still in business thanks to the college there, you'd think times would be profitable enough for restaurants and I guess in a way they are—fast-food chains new and old lined the streets almost to a fault—but damned if I could find just an old-school local eatery to lay my weary hunger down. Driving down a bustling Main Street, right through the heart of town was a pitiful endeavor. It was only half a mile from the Chickasaw Travel Center on the way out of town and out by the highway where I almost passed by the Dairy Lou Drive Inn, 831 W. Main.
Dairy Lou. With a name like that it was surely culinary kismet.
Pulling in a little before noon, the place was already jumping with locals picking up orders in time for lunch. A weathered white building that has seen better days, this classic drive-in was a living thing out of country music songs; I kinda wish I could be there with my 15-year-old girlfriend on a Friday night, loading up on burgers before the big game where I, dangit, bust my knee and lose that scholarship to State.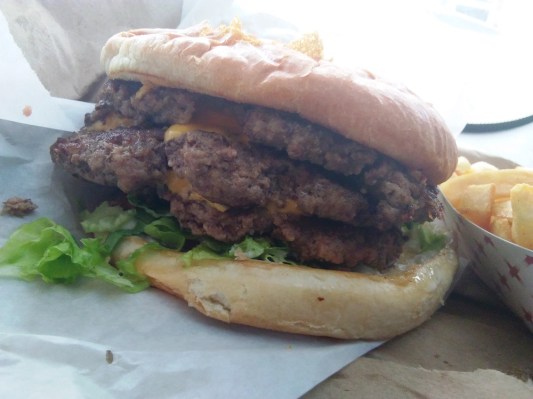 According to the signage, the Dairy Lou was "the Home of the Hercules," so even before looking at the menu on the wall, I knew that whatever that was, I was going to order it. A menu filled with cheeseburgers, Frito pies and fried fish dinners along with all the standard accouterments, I went ahead put in an order for the Hercules cheeseburger with everything, as well as a serving of their homemade, hand-cut fries, hand-battered onion rings and, Lord help me to control the things I cannot change, a heaping helping of Texas Toothpicks, just based on the name alone.
After about a fifteen-minute wait, the gal behind the counter brought my order to the car and when she handed the expandingly greasy white bag to me, I wasn't expecting the sheer heft of the thing; the weight of the Hercules ($6.00) caught me both physically and mentally off guard, albeit with a sense of prideful anticipation. What had I gotten myself into I asked as I split the paper bag open to reveal a sandwich of truly mythical proportions; a glowing sheen of gracious light reflected off my face as I unwrapped the Hercules, a labor of ingestion that I was more than ready to take on.
With three hefty, sweaty, glistening quarter-pound hand-pressed patties stacked between melting cheese as well as onions, pickles, tomatoes, and lettuce on a toasted bun, this is the absolute model burger for what you always hope and pray to find when stopping for these small-town eats. The Hercules is a true feat of gastric strength, a mighty mound of meat and cheese that is worth the journey to Ada alone. You just don't get to eat like this in the city very often, and maybe that's a good thing.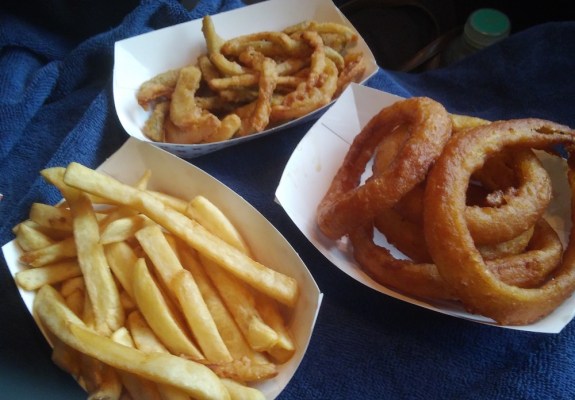 As for the sides, whoo-boy. Dairy Lou's thick, golden fries ($2.15), fresh from the fryer, are unlawfully plump and crispy while the zesty batter on the onion rings ($2.55) make the perfect accomplice to the cotton-candy like onions that just melt in your mouth with every single bite. As for the Texas Toothpicks ($3.50), these deep-fried cuts of batter-dipped jalapeno strands are every bit as mouthwatering as they sound, especially when paired with a cup of ranch to dip them spicy suckers in. God bless Texas.
All that was missing from this unintended dining diversion was one of Daily Lou's milkshakes or malts which, c'mon now, you just know are the bomb. But, sadly, with the temps outside reaching a high of 20 degrees at the time of purchase, I just had to pass and, yes, it definitely hurt to do it. But not as much as you'll hurt, metaphorically, at least, if you pass up the Daily Lou next time you're in Ada for whatever reason that is. ¡Cómpralo ya!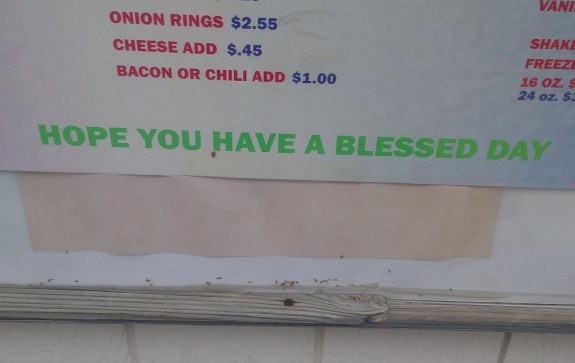 _
Stay in touch
Sign up for our free newsletter