Everything Else
Treasures Abound at El Reno's Annual Town-Wide Garage Sale
10:44 AM EDT on April 4, 2022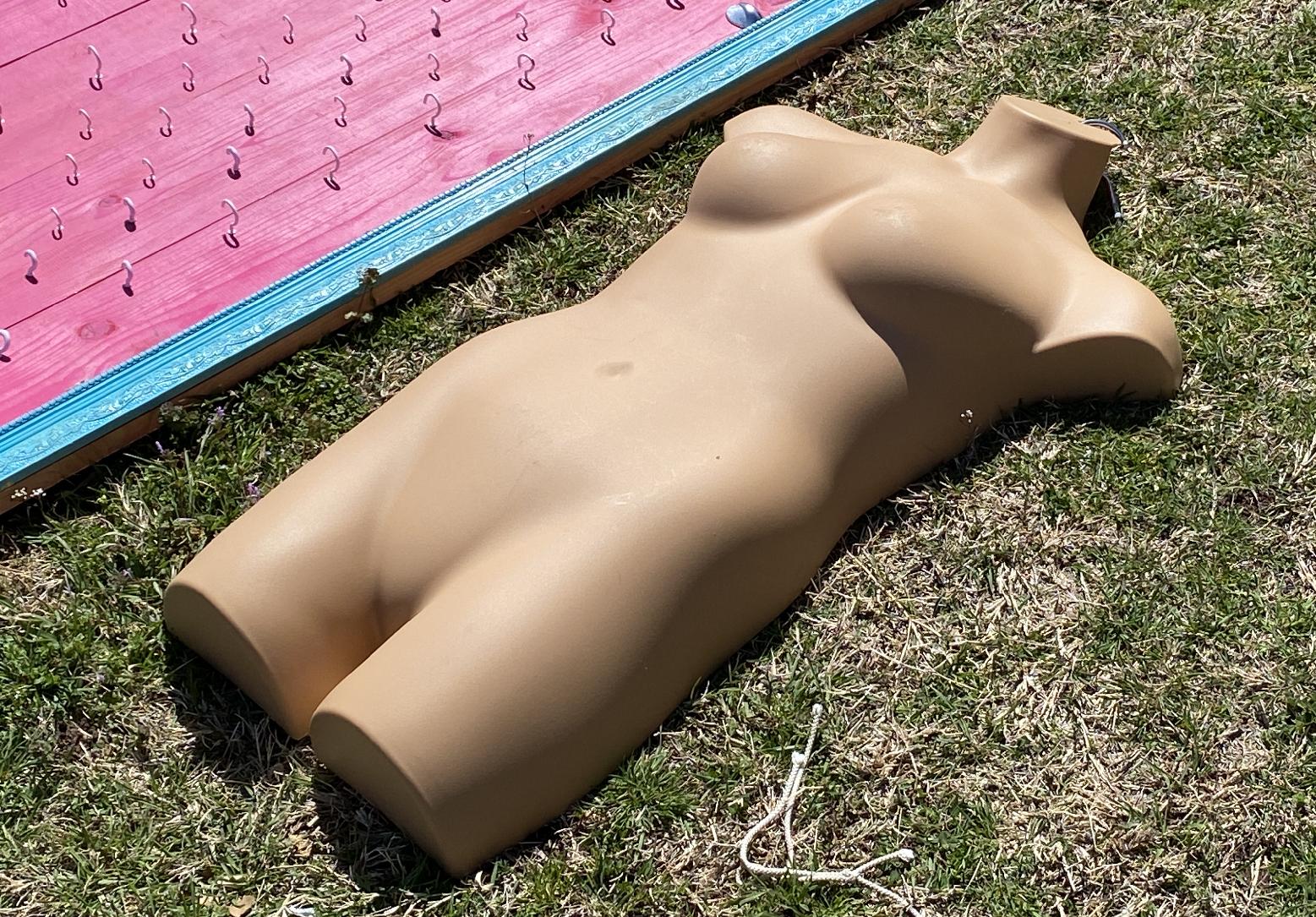 Spring is garage sale season in Oklahoma, and with gas prices being what they are, there is no better bang for your buck than multi-family sales or neighborhood garage sales!
Last weekend, the city of El Reno held their annual Town-Wide Garage Sale, which had nearly 80 registered participants.
With a tank full of gas and pockets loaded with small bills and loose change, my wife and I ventured west in search of adventure, treasure, and lemonade stands. The city of El Reno did not disappoint.
Below are just a sampling of the items we discovered and, in most cases, purchased at El Reno's Annual Town-Wide Garage Sale.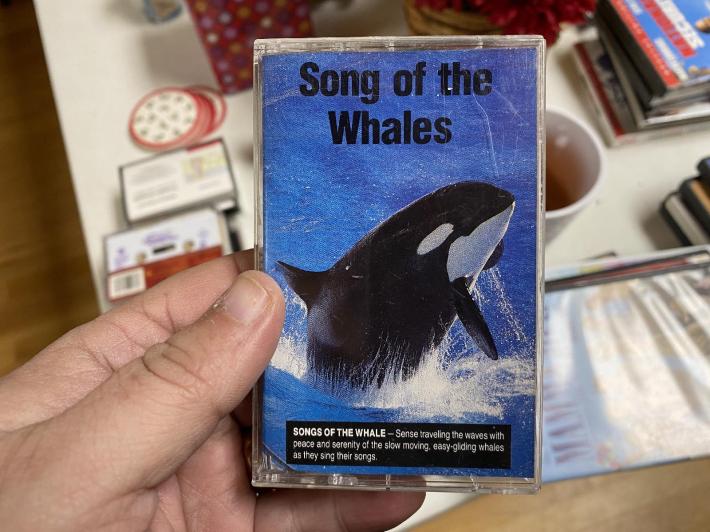 Song of the Whales Cassette Tape
Price: $0.25
If you have trouble sleeping and have tried everything from weighted blankets to white noise generators, the fine folks of El Reno may have cracked the code with this aquatic sonic treat. Years ago, every whale on the planet came together to record their version of "We Are the World," presented for the first and last time on this cassette tape. Featuring backup vocals from Shamu, Moby Dick, and "Free" Willy, Song of the Whales is guaranteed to soothe your muscles and relax your blowhole. For best results, press play on your boombox shortly before bedtime and then get back up to rewind the tape every thirty minutes when the cassette stops playing. At some point during the night, you're bound to pass out from exhaustion.
-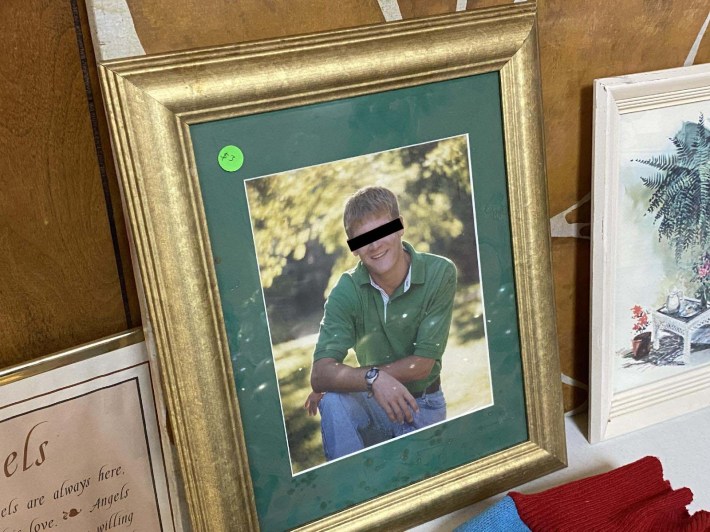 Framed Picture of Someone Else's Child
Price: $3
I saw many photographs of other people's children for sale in El Reno on Saturday, but settled on this one. I've named him Billy and I'm taking him to see Sonic the Hedgehog 2 in the theater next week, because going to children's movies by yourself can be weird.
Also, you can't blame people for selling photographs of their children to bargain shoppers. While raising a child can be expensive in today's economy, a much more affordable option is purchasing a framed photograph of someone else's kid. There are many advantages to owning pictures of other people's children over actually raising your own –  photographs of children don't lose iPhones, don't get angry when you ask them how their day went, and your insurance rates don't go up when they turn sixteen. Plus, nothing says "everything's fine" to your parole officer like displaying pictures of other people's children on your fireplace mantle.
–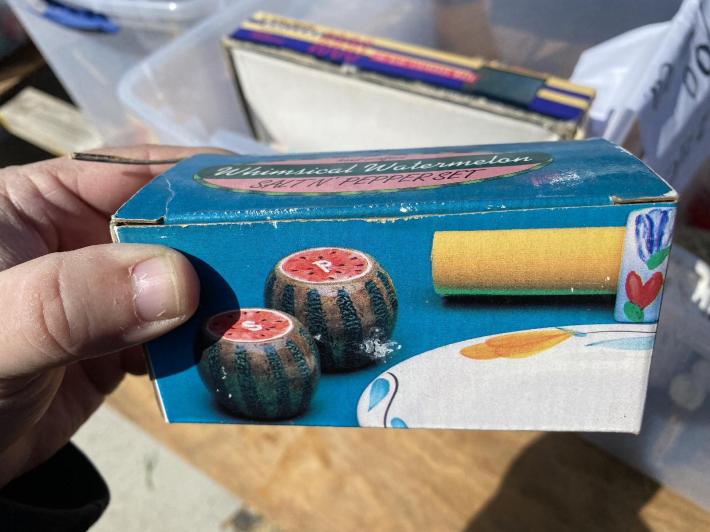 Whimsical Watermelon Salt 'N' Pepper Set
Price: $0.50
Weird things begin to happen as you age. You start buying reading glasses at Dollar General, your ears start growing hair, and before you know it, you find yourself collecting novelty salt and pepper shakers.
Google defines "whimsical" as "playfully quaint or fanciful, especially in an appealing and amusing way," and if that doesn't describe these miniature watermelon salt and pepper shakers, I don't know what does. I assume the previous owner kept these tiny treasures in the original box because he or she was a collector, but trust me, the first time we slice open one of those Oklahoma roadside watermelons this summer, I'll be using these fruity finds to salt it up. If I had any disappointment at all, it's that these weren't Salt 'N Pepa shakers. Those would push my new whimsical shaker collection to new heights. Push it real good.
–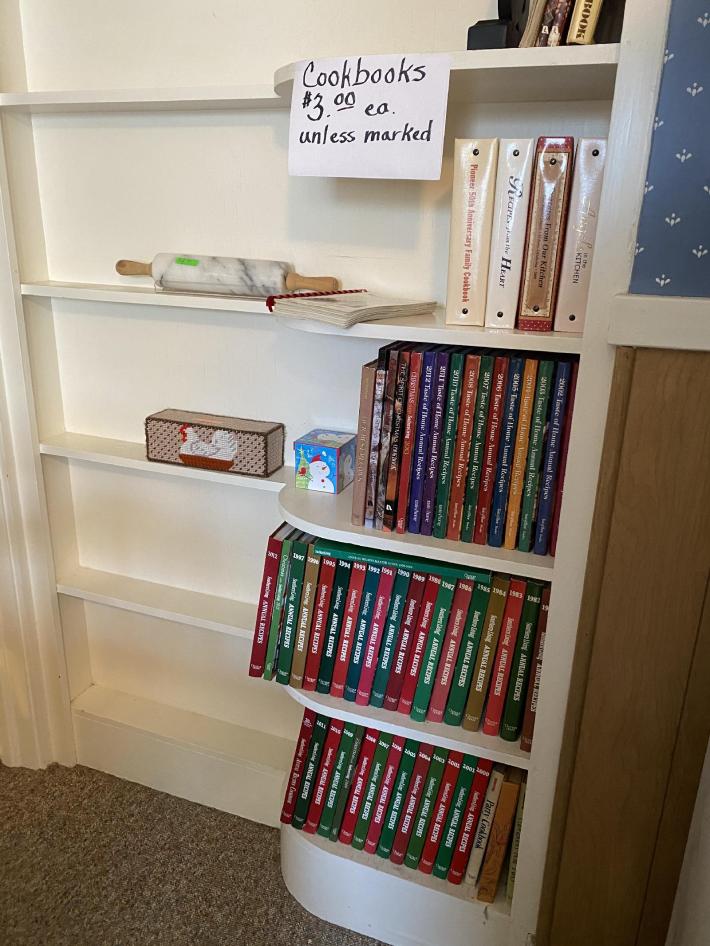 Cookbooks
Price: $3/each
No garage sale is complete without a pile of old cookbooks for sale, and boy – did we hit the culinary jackpot! I realize reading recipes from a book may seem antiquated, but if the internet and every computer is destroyed during World War III and also everybody on the planet gets amnesia at the same time, you'll wish you owned this copy of "Recipes from the Heart." At only $3 per book, this entire collection of cookbooks could have been yours for just under $200. I didn't have that kind of cash on me, but I did try to purchase that tissue box covered with the needlepoint rooster only to be told it wasn't for sale. When I began to cry, they offered me a tissue.
–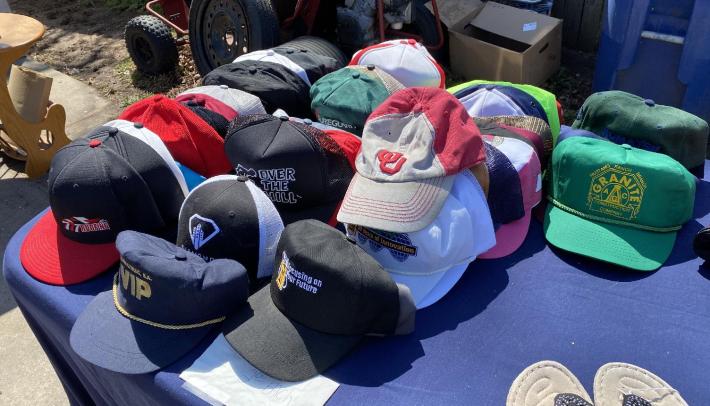 Baseball Caps
Price: $1/each
They say you don't truly know a man until you've walked a mile in his shoes, but I say an even better system is to buy one of his used baseball caps. Not everybody wears the same size shoe, after all.
For years I've dreamed of visiting all 77 counties in Oklahoma and buying a souvenir from each one, but now that we're all going back to work, picking up hats from garage sales seems like a better use of my time. From this garage sale alone I picked up hats from Ft. Cobb, the Choctaw Casino in Durant, and Fort Sill. That's three counties I can mark off my list! Sure, some of the hats have sweat stains and my head has been itching all weekend, but on El Reno's Town-Wide Garage Sale Day, there are no refunds.
–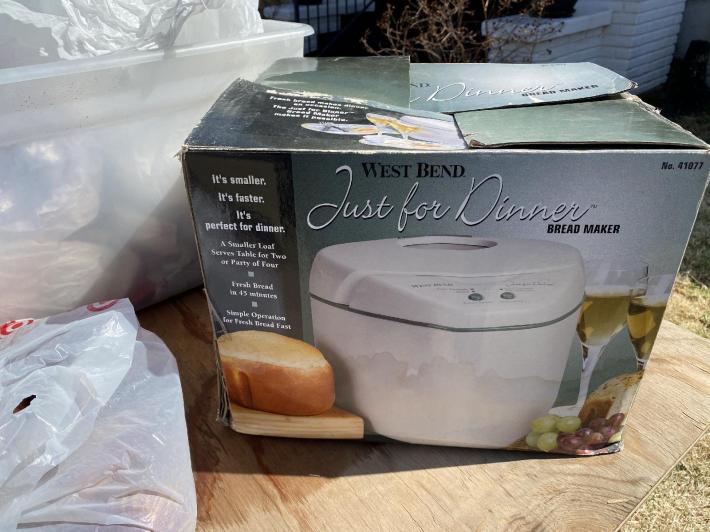 West Bend "Just for Dinner" Bread Maker
Price: $5
Like many people, I own a bread maker that never gets used. Unlike most people, now I own two. Unlike my other bread maker which can bake an entire loaf of bread in just under four hours, West Bend's "Just for Dinner" bread maker has the ability to bake smaller loaves in less time. Science, right? According to the box, this bread maker bakes loaves of bread that serve tables for two or parties of four, but based on that picture I question those people's appetites – unless one of your dining partners is a picture of someone else's child.
–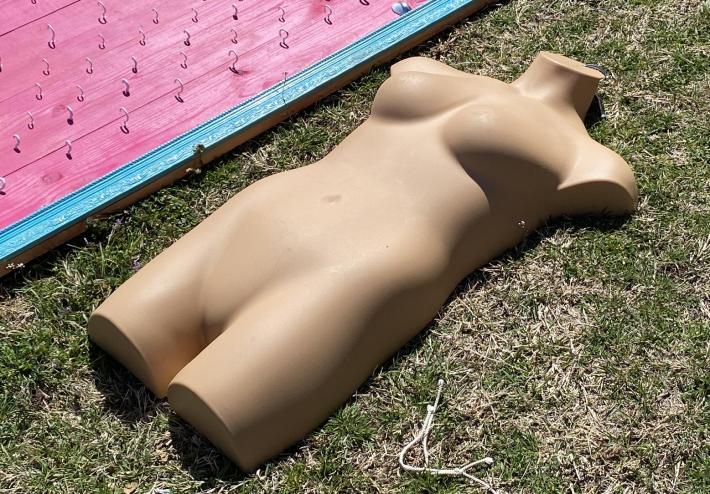 Mannequins
Price: $5
What I initially mistook for corpses from the road turned out to be mannequins, which are less messy and way more legal to possess. It's hard to say whether selling naked mannequins at a garage sale is more awkward than buying them, but sometimes you have throw caution to the wind and go with your gut. The seller offered me a deal to take both mannequins had had for sale, and while I wasn't sure what I would do with two of them, to be honest I really wasn't sure what I was going to do with one. Sometimes, luck arrives in pairs. If Oklahoma ever institutes HOV lanes, expect to see one of these ladies riding shotgun with me. Maybe I'll use them for a Halloween display. Maybe I'll put them next to the picture of someone else' child that's sitting on my fireplace mantle. Garage sale purchases can tell you a lot about yourself, and I'm a little disturbed at what I found.
–
Congratulations to El Reno for pulling off another successful Town-Wide Garage Sale Day. For residents left with unsold stained mattresses or old cookbooks, April 9 is El Reno's Bulk Dump Day from 8:00 a.m. to 5:00 p.m. at 215 N. Country Club Road.
Stay in touch
Sign up for our free newsletter