Everything Else
Stitt's Education Puppet Gets Ratioed For Stupid Tweet
5:28 AM EST on January 12, 2022
The guy pictured above with racist OKC mayoral candidate Crazy Carol Hefner is Governor Kevin Stitt's chummy Education Secretary Ryan Walters.
In 2020, Stitt appointed Walters to be his Puppet of Public Education. As evidenced by Walter's glitzy overly-photoshopped headshot, flack-driven non-profit work, and the fact that he once wrote an op-ed saying the Governor doesn't have enough control over public education, it didn't take an honors student to see that Walters is a right-wing wolf in teacher's clothing, and was being groomed by Stitt and other GOP grifters to help privatize/sabotage public education in the state.
Knowing all that, we shouldn't be surprised to learn that Walters is now running for State Schools Superintendant, where he'll be able to do even more damage to public education.
We also shouldn't be surprised to learn that yesterday afternoon, as schools across Oklahoma canceled classes and went to distance learning due to Omnicron-fueled staffing shortages and student absences, Walter's hopped on Twitter to lecture and insult administrators, grandstand to right-wing voters, and score brownie points with his big bossman.
Check this out: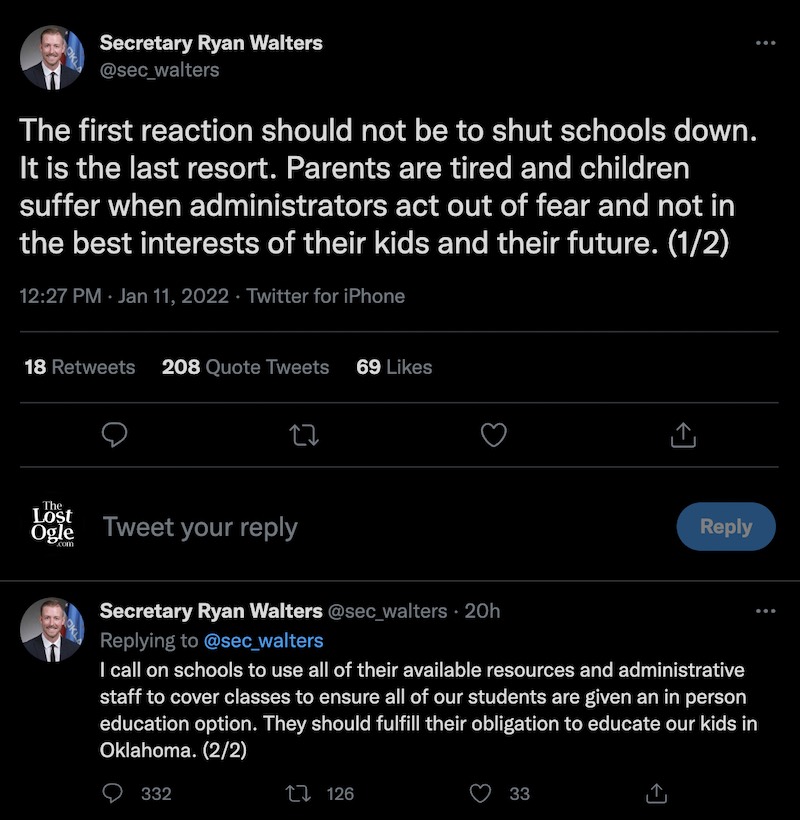 Yep, that's just the Secretary of Public Education throwing schools and teachers under the bus as they struggle to deal with a massive, exponential increase in cases of a serious and deadly virus that's currently ravaging our state. I bet Stitt was so proud he left a couple of caramel apples on Walters's desk as a little treat.
Naturally, Walters's stupid, tone-deaf, insulting tweet that shows that he has no clue what's really happening on the front lines of education in our state was quickly ratioed by parents, teachers, students, administrators, politicians, and many other people with brains.
The one that got the most attention was from Dr. Rick Cobb. He's the superintendent of the Mid-Del school district:
The reaction to Walter's tweet naturally got the attention of the local media. TLO Super Fan Barb Hoberock* and her pal Andrea Eger with The Tulsa World spoke with a wide variety of educators and politicians who all agreed that Walters basically had no clue what he was talking about.
The reporting duo also spoke with Walters. Being the Stitt grifter he is, Walters doubled down on his comments and suggested schools should simply partner with apparent Covid-immune churches to keep doors open.
Parents want an in-person option for their kids, and parents know what is best for their kids, he said.

"If they want an in-person option, we should be giving that in-person option to their kids," Walters said. "Pay subs more. Partner with local churches. My fear is the long-term impact on kids if we continue to close schools down like this."
I do agree with a few of Walters's points. We should probably pay subs more, most parents want in-person learning for kids, and I also fear the long-term impact on kids if we continue to close down schools.
I guess the difference is that I live in reality, and as one who's currently recovering from an Omnicron breakthrough, I understand that certain shitty measures must be taken when an aggressive virus that doesn't give a rats-ass about parental concerns plows through the state.
Although Walters was heartily criticized for showing his true colors, he did have some people stick up for him. For example, Stitt's social media she-troll – Carly Atchison – rushed online to remind people that he was once a "finalist" for teacher of the year.
Hey, one supporter is better than no supporters, even when that supporter is basically paid to support you at all costs.
Anyway, I guess we'll continue to monitor this situation. If you see any other Stitt henchman saying stupid stuff on social media, let us know. Stay with The Lost Ogle. We'll keep you advised.
*An earlier version of this article incorrectly credited fellow TLO superfan Randy Krehbiel for the Tulsa World piece.
Stay in touch
Sign up for our free newsletter