Food
Double Dip: I Braved Nichols Hills for Some Soup Soup
9:50 AM EST on November 18, 2021
I very rarely travel to Nichols Hills and when I do, almost never eat there. Growing up, it was always the part of the city that you never drove through, lest you're pulled over by their questionable law enforcement and are never heard from again. It's a lot like Valley Brook, with zero chances of ever seeing any well-earned nudity.
That being said, I was wanting to try one last soup place, a joint called Soup Soup, 7654 N. Western Ave., that seemingly specialized in that healing elixir that I've been carelessly craving lately. Though near the outskirts of the well-to-do neighborhood, it was still close enough that my eyes were constantly glued to the rearview mirror, just in case.
Located in a moderately boring shopping center, as I went into the eatery, I realized that it wasn't a restaurant but instead a kitchen where soup is made and sold in their large refrigerators, but there was a wide collection of fresh sandwiches that were made on-site, which seemed like a good enough reason to stick around.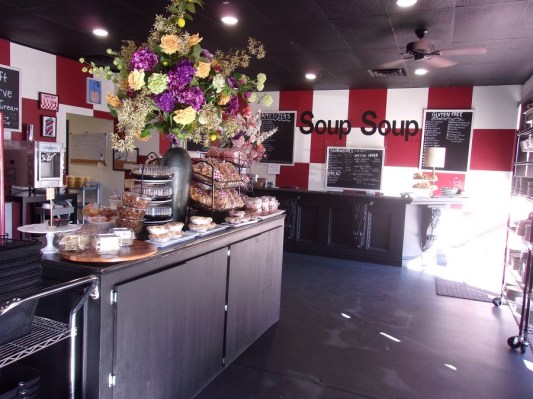 As I looked around, a woman—I guess it was the owner—seemed a bit put out that I was walking around, taking pictures; she asked who I wrote for and, as I truthfully told her, she wrote the address down. I hope that, at the very least, I made a new glowing fan and not another devious enemy.
Regardless, as I picked out a soup and ordered a sandwich—with a free bag of chips, natch—I stood around for a few more minutes, adding a cookie to the bill as the stares from customers were becoming insurmountable for me, no matter how cool I tried to play it off. When my sandwich came, I grabbed it and hauled ass out of there. Such is the life of an independent journalist with a questionable racial background!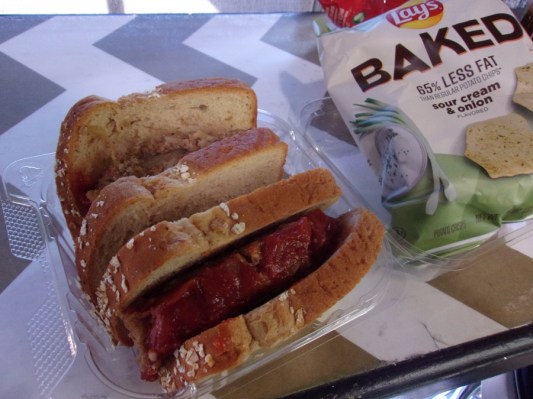 The Meatloaf Sandwich ($8.99) was served warm on wheat bread, with the hearty tomato sauce drenching my fingers as soon as I took it out of the plastic container. With a few spices that gave it an undeniable taste of its own, the meatloaf was truly paradise by the dashboard light, with the covert bits of tasty fat making this better than anything Subway could ever hope to offer.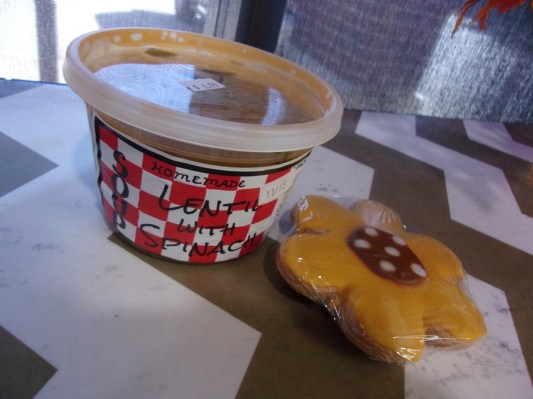 But, as you'd expect, it's the homemade soups that truly gives Soup Soup the right to that doubled moniker. I selected the Lentil Soup with Spinach ($6.99) for a little variety and, man alive, did I get it. A mixture of tastes that even I couldn't place at first, thankfully, the simple ingredients are listed right on the plastic container and all of it seemed quite above board.
Heated up and served warm on this chilly fall day, it was everything that I wanted from a primarily Nichols Hills-based soup distributor. The ample amount of lentils, onions, and surprisingly, green chiles, were perfectly swirled in the tasty beef broth, the spinach casting a wet leaf in every single spoonful. What more could I want?
Having about half of the bowl, I resealed the plastic container to finish later that night. As I took a bite of my shortbread cookie, made into the shape of a happy little flower, I was truly happy to find this soup outlet, one of the absolute cures for my recent bout of booster sickness. With the exception of keeping an eye out for the NHPD in the rearview mirror, I hope to make it back very soon.
_
Follow Louis on Twitter at @LouisFowler and Instagram at @louisfowler78.
Stay in touch
Sign up for our free newsletter