Food
TLO Restaurant Review: Mi Tierra Restaurant
11:15 AM EDT on September 28, 2021
A cool breeze blew through me. After months of being surrounded by oppressive heat, it felt good to have a bit of nice weather, if only for a while. So much so, that when I was walking my pup Sean the other day, instead of walking down N.W. 16th and turning on May Ave., we walked a little further down, to 3043 N.W. 16th.
We stopped for lunch at Mi Tierra Restaurant—subtitled Sabor Catracho, or Honduran Flavor—there on the corner, a place I had wanted to try forever.
Hidden from the view of many city folk, the place was fairly busy with Latinos that seemingly knew something special about the place, something that I would soon discover.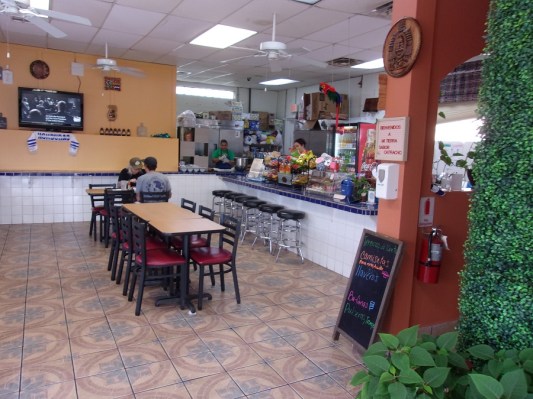 With plenty of sturdy concrete tables outside, I tied Sean up and I was quickly brought a menu and a glass of ice water. The server was absolutely delightful, offering up her favorites when I asked her what was good, starting with a cherry-infused glass of Refescos Naturales ($2.99), the perfect drink for such a perfect day, the sun shining down on me.
As I waited for my food, across the way at the Public Wholesale and Food Market—a place that I covered here years ago—there was a homeless fight that was brewing in the parking lot. I would have lost money if I placed a bet though, because even though shirts were stripped off and chests were bumping, it was just a lot of hot air as the men quickly ran off before any blood could be drawn.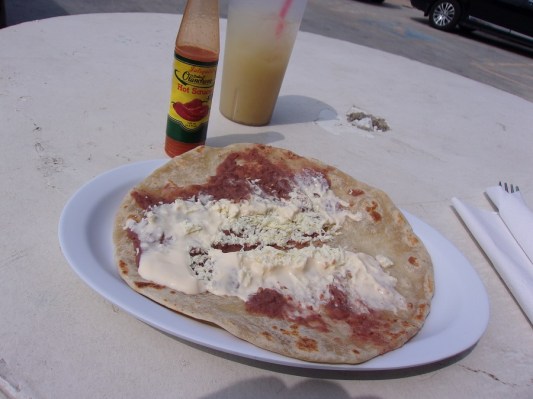 That's alright though, because I was brought my first item, the simple enough appetizer of a Baleada ($3.25), comprised of fried beans, cheese and Honduran sour cream on a thick toasted tortilla. A huge fan of beans and cheese like this, these are the stomach-warming concoctions that I live for, with the mixture held together perfectly with infused sour cream.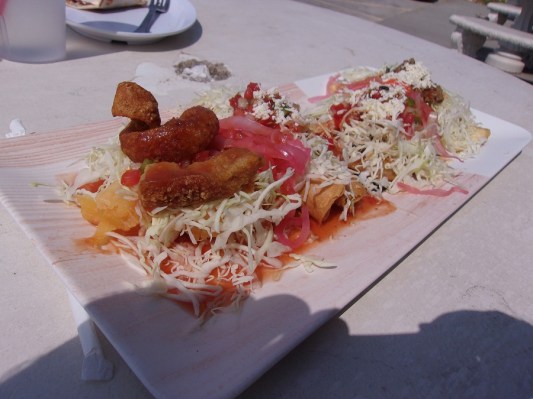 I only ate half of it though, because for my main course I was presented with majestic Plato Tipico ($12.99), a lunch that featured yucca root topped with pork cracklins, ground beef and fried green bananas, done up as an enchilada and with two chicken taquitos, beautifully arranged with the restaurant's proud slaw on top.
As my fork dug in deep, I took a large helping and allowed it to slowly caress my mouth. With just a little bit of a kick thanks to the Honduran hot sauce, it was perfection as the mixture of sublime yuccas graciously mixed with the pork cracklins, the spicy ground beef doing it up well with the tasty fried bananas, making me feel as if I was in the arms of loving angel with each and every bite.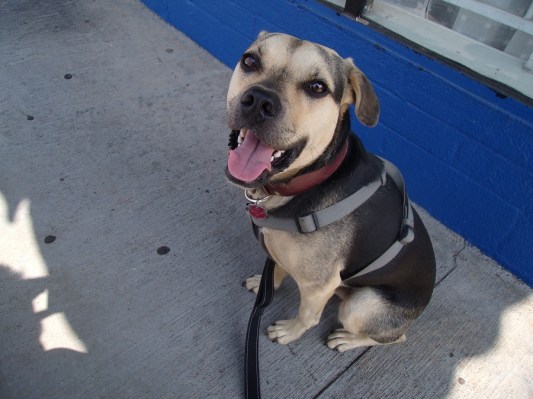 I gave a couple of bites to Sean, and by the way he kept asking me for more, I think he loved it too.
Thinking that I was done, the server told me that she hopes I'd come back and that I'll try their fried chicken—the Pollo con Tejadas o Chuco ($12.99) on the menu—apparently their house specialty. Being the gentleman that I am, I told her I would. However, the nagging sensibilities of this specialty hanging over me, I went inside an asked for an order of it for dinner that evening.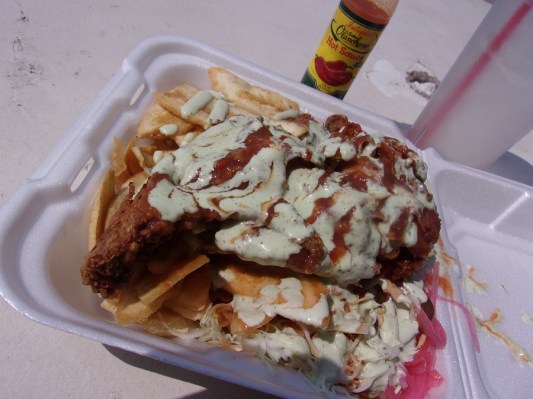 After a few minutes, the dinner arrived in a styrofoam container. I peeked in to see half a fried chicken, with fried green bananas, a cabbage salad topped with pico de gallo, pickled onions, and a drizzled helping of their house dressings. Like a telltale heart, I could feel it in my backpack on the walk home, begging me to eat it then and there.
But I was able to use the responsible grace that God blessed me with to wait until later that evening. When I did though, it was like uncovering the Ark of the Covenant, as that darkened chicken, fried to Honduran perfection, begged me to take bite after bite of its delicious flesh, with a deliciousness so unheard of that I felt that this was made for me and only me.
The fried chicken mingled conspiratorially with the many fried bananas, creating one of the most wonderful meals I had ever had in my life. I felt as though I was being blessed with each and every taste, making sure that that promise to my server, that I would be back and soon, would be kept like an edible prayer card in the Bible of my thoughts. Cómpralo ya!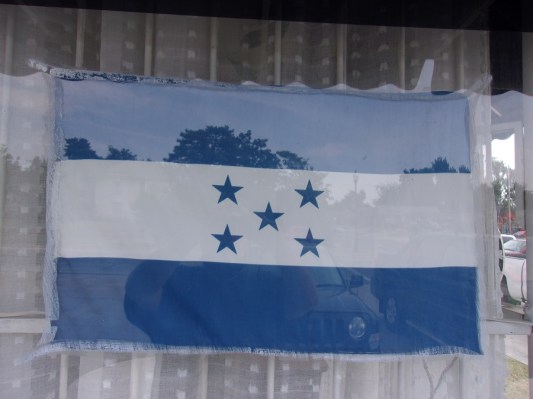 _
Follow Louis on Twitter at @LouisFowler and Instagram at @louisfowler78.
Stay in touch
Sign up for our free newsletter