Everything Else
Rez Recaps: Reservation Dogs Ep. 7
6:55 AM EDT on September 15, 2021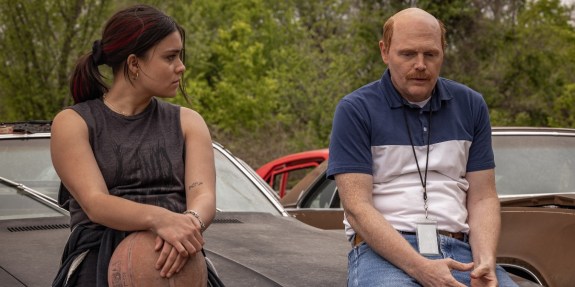 Seven down, one more to go.
Reservation Dogs the groundbreaking series created by Oklahoma filmmaker Sterlin Harjo and New Zealand filmmaker Taika Waititi, in a mere seven episodes has managed to craft and create a season of television that, hopefully, is the beginning of a new renaissance of Indigenous storytelling—real storytelling—for generations past, present, and future.
Starring Devery Jacobs as Elora Danan Postoak, D'Pharaoh Woon-A-Tai as Bear Smallhill, Lane Factor as Cheese, and Paulina Alexis as Willie Jack as the titular dogs, this show has exceeded all expectations to firmly plant itself as not just entertaining television, but as a visual record that, in the 21st century, Indigenous people aren't dead and aren't going anywhere.
_
Episode 7: "California Dreamin'"
The Plot: Elora is taking her driving test and, as she's ominously warned at the DMV, she had better pass it this time. The tester is her former basketball coach, Coach Bobson (Bill Burr). It goes sideways when Bobson tracks down his daughter to a methhead's motel room, leading Elora to confront her feelings on finding her friend Daniel a year earlier, hanging from a suicide in an old building.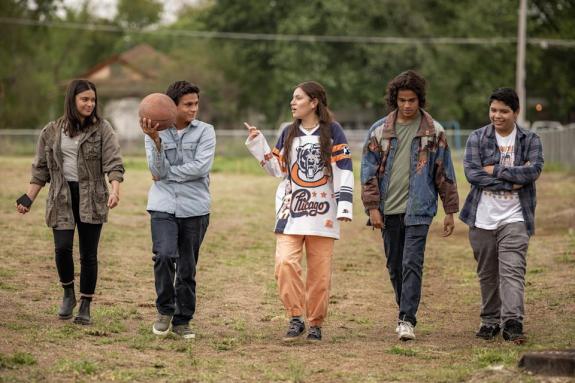 The Review: The line between comedy and tragedy is a difficult one to tread, but I'm amazed how well Reservation Dogs is able to do it. This episode, with its difficult themes, moved me to the point of tears, mostly because I saw so much of myself in it. Sorry if you've heard this one before.
While I don't know what it feels like to have a daughter on meth like Bobson does, I wholly related to Elora and the memories that she has because of it, mostly because I know the inner turmoil Daniel was feeling the night he took his own life. I've been there and, sometimes, I wonder how different life would be if I decided to end my own. Survivor's remorse by proxy, I suppose.
We learn that Daniel's home life is not that great, as we hear his parents fighting outside his house. Maybe Elora was his one escape from that place, as the tears of anger boiled over, leading him to mercilessly kill himself. It's a real problem for Indigenous youth and, I'll admit, it's been a problem for me since I was a very young man.
Bill Burr does a surprisingly exceptional job as Elora's old basketball coach, earning some extra money working as a tester at the DMV. While he has his own familial issues to work out, they seem almost trite when compared to Elora and the memory of finding Daniel dead, hanging from the rafters of an old building. There's no going back from seeing that and, at a young age, fucked up her life.
I have numerous scars up and down my arm, and that's something I have to live with. It's something that many Indigenous youth have to deal with, for a variety of different reasons. My abusive father dying when I was a teenager is where the deepest marks were made, still red as blood; I didn't know how to deal with the pain and, if I'm being honest, still don't know how to. But I have to try.
Outside of a "very special episode" on some tepid sitcom, this issue is rarely dealt with in a comedy. In the Native community, suicide is an epidemic that has been largely ignored, except for on this program, another first. Writer and director Tazbah Rose Chavez has, finally, put on the screen the colorless bruises of intergenerational trauma and the paths that they, sadly, lead many of us down.
Best Line: "Well, if not showing up back to work doesn't get me fired, shooting a methhead in the knee certainly will." – Coach Bobson
Funniest Moment: When in a discussion at the junkyard about fixing Elora's shot-out taillight, Kenny Boy (Kirk Fox) recites the tagline to License to Drive and proceeds to give a short history lesson on the two Coreys.
Oklahoma Soundtrack Pick: Jacob Tovar - "Cleveland Summer Nights"
_
Follow Louis on Twitter at @LouisFowler and Instagram at @louisfowler78.
Stay in touch
Sign up for our free newsletter