Food
Medium Rare: Mackie's and the Return to the Steakhouses of My Youth
5:20 AM EDT on September 2, 2021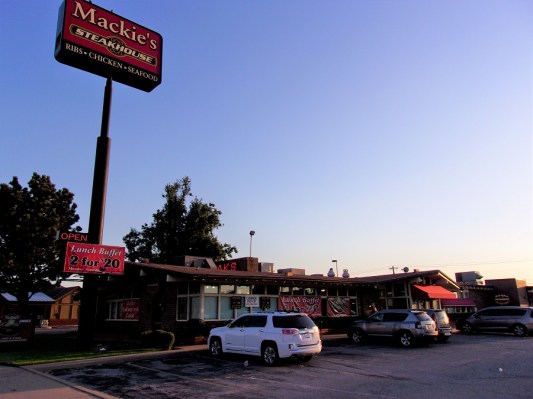 My parents never went to a "good" restaurant, at least as long as I knew them.
Instead, they would typically settle for steakhouse buffets, eating more than their fair share for a very low price. Places like Sirloin Stockade, Western Sizzlin' and K-Bob's were on the weekly rotation every Saturday after church in Waco, Texas, and continued on into my chubby teenage years here in Oklahoma City, with the long-demolished Smorgasbord on Northwest Expressway making plenty of appearances.
My family never looked at food as an actual experience and, you know, they still don't. As a matter of fact, when Golden Corral recently opened select locations back up from their Covid closures, you would have thought my mother—a slim Mexican woman, mind you—had won life's lottery, eager to pick up a dinner plate with a selection of culinary choices that should never, ever be mixed.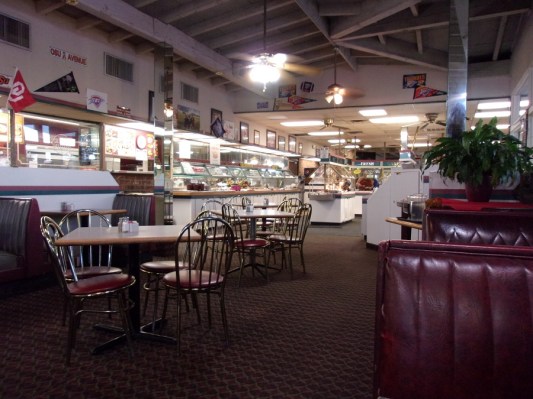 This past week, however, I've been thinking about those steakhouses and how I, as a child, was never allowed to order off the main menu like my parents were, always stuck in an all-you-can-eat trough of doughy pizza, mashed potatoes and macaroni and cheese. In order to rectify this and mentally move past this buffet blockade, I decided to dine at one of the few old-school steakhouses left in town, Mackie's, 1201 S. Meridian Ave.
With a dated décor of rustic late '80s dining sets and a color-burned menu to match, I felt like I was back in one of those Texas steakhouses again, to fully terrifying effect. As a matter of fact, judging from the failed removal of old stickers that dotted all around the joint, this too used to be a Western Sizzlin' sometime in the past. I guess no matter how far you run, you truly never leave your past behind…
My former neighbor Amy was in tow with me, probably thinking that my offer of a steakhouse was a grand gesture of a far better evening out, although she didn't let on, which I appreciated as we looked over the illuminated menu against the wall; it was ultimately pointless though, as I knew what I wanted already. (To be fair though, the lone sign letting me know fried peaches were available was most welcomed, as I ordered them as a surprise appetizer.)
Before being seated at a random shaky table with brass chairs on this lonely weeknight, I took a gander at the simple buffet, if only for the spirit of recollection. True to my memory, there were the mashed potatoes and the macaroni and cheese and that cheese pizza, as well as specialty items like seafood salad—I think it was seafood salad, at least—mixed among the lightened greens and carrot slivers.
When I came back to the table, the Fried Peaches, six of them for $2.99, were waiting. Heavily coated with a brown dusting and the sweetest glaze possible, they were a true benchmark of the fine mass cooking here at Mackie's, each bite spilling the incredibly hot, moderately goopy peach in my mouth like an erotic toxic waste spill.
But, as my true reasons for being here tonight came to the table—the meats—I laid down the bastardized fruit and admired what was set before me: a perfectly cooked cut of "Mackie's Favorite" 5 oz. Sizzling Sirloin ($9.99), with a separate bowl of mashed potatoes lightly soaked in the country white gravy.
Before that, however, I wanted to try Amy's Country Fry: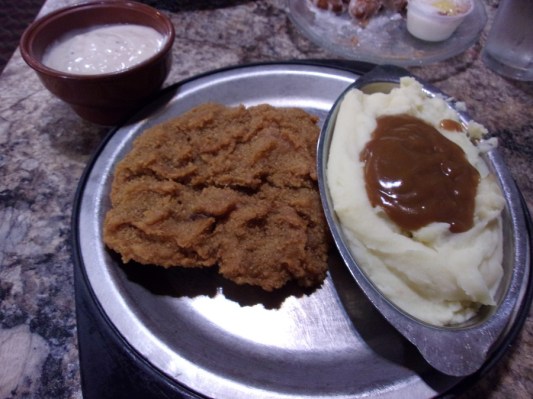 Like a page from Southern Living Magazine, the Country Fried Steak ($11.99) was a 6 oz. thing of beauty, fried to a golden brown and sided with—what else?—mashed potatoes, hers with the far more cosmopolitan brown gravy. I cut a strip of somewhat rough and tumble meat, the fried casing spilling over to the sides, fitting delicately on my fork.
It was a tremendous taste for what it was, although my quiet hankering for the sirloin in front of me wouldn't let me truly enjoy it. So, after a quick swallow, I immediately placed my knife into that strong muscle of well-seasoned flesh and cut deeply, using my fork to dissect a section for my immediate review; it wasn't all that tender, it wasn't all that juicy, but man…it truly is what cheap meat is supposed to taste like.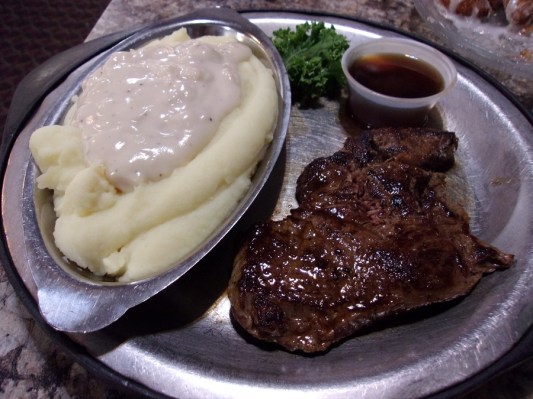 Could I have handled it as a kid? You bet.
Instead of shoveling the starches and carbs on my plate, if my parents had let me have the steak that I so desperately craved instead of going on this absolute power trip like they so desperately did, perhaps my life would have gone down a different path and I would be someone different than the gravy-stained monster you see before you.
Of course, I say that, but then I remember my youthful love of Pancho's Mexican Buffet and realized that there truly is no road less traveled for this death-affirming appetite.
_
Follow Louis on Twitter at @LouisFowler and Instagram at @louisfowler78.
Stay in touch
Sign up for our free newsletter