Food
A Chef's Kiss: An Evening Trip to Sergio's Italian Bistro in Norman
4:49 AM EDT on August 26, 2021
Maybe I do like Italian food. That's the only rationale I could internally come up with to fully realize and thoroughly explain my saucy actions during a non-pizza outing to Sergio's Italian Bistro, 104 E. Gray St., in Norman, last Saturday.
You see, this past weekend, a friend that has been having a hard time with a few things in her life, especially over the past few days, asked if she could see me for a little while. What those problems are is really none of your business, but know that she was visibly shaken and needed a friend to hang out with, something that I was happy to help her with, as I typically am.
Around seven o'clock, however, I started to feel that dreaded grumble in my belly and needed a place to feed those sorrowful pangs of hunger; having covered many places in Norman I've always wanted to a few weeks ago, I remembered that there was one place that I wanted to try but, sadly, never did: Sergio's Italian Bistro.
(Also, I'd be lying if I didn't admit that they also housed a spacious patio, which entered very largely in the dining decision.)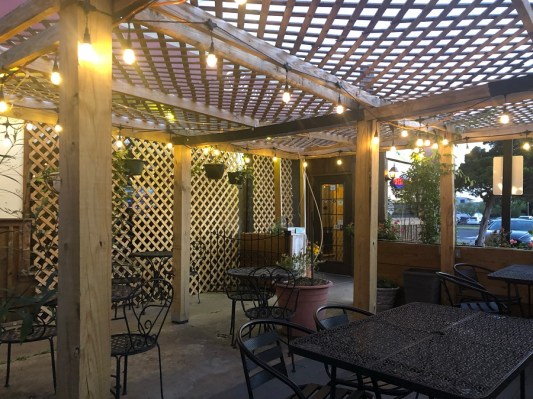 From the outside, it is very much an Italian restaurant of classical design, the kind you'd see in foreign movies from the early 1970s, with aged lattice surrounding us, really the way that outdoor seating should be done. As we looked over the menus for the evening, a couple of middle-aged drunks stumbled out, the smell of vino heavy on them.
Originally for an appetizer, I wanted calamari—a longtime favorite of mine, if I'm being completely honest—but, out of eternal kindness to a hurting soul, I instead ordered the Gnocchi ($9.50) instead, a potato-based specialty that had us debating through much of the dinner the proper pronunciation on the food.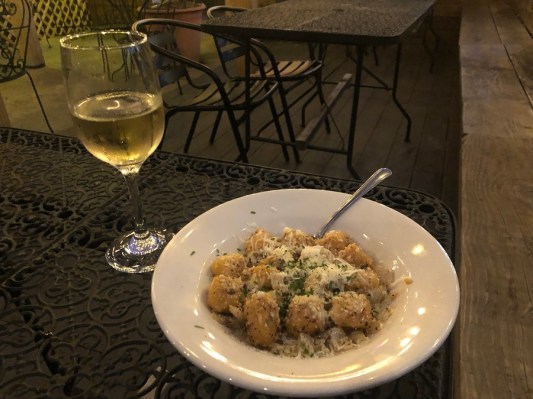 Dancing tongues and lingual debates aside, the Gnocchi, perfectly crafted sweet potato pasta shaped into oblong spheres and sauteed with onions, garlic and butter, was a true revelation of damned flavor, one that I was truly in love with; I couldn't tell you if it was the flattering sweet potato or a correlation of pungent herbs—or both—but it was a mighty fine balm.
As devious snipes were made at my previous prejudice towards Italian food—mostly by me—our waitress brought out the grand main dishes: the whimsically created Eggplant Parmigiana ($14.00) for the lady and, for my own slowly decreasing hunger, the Spinach and Goat Cheese Ravioli ($13.50), combining two of my favorite tastes together in one primo dish.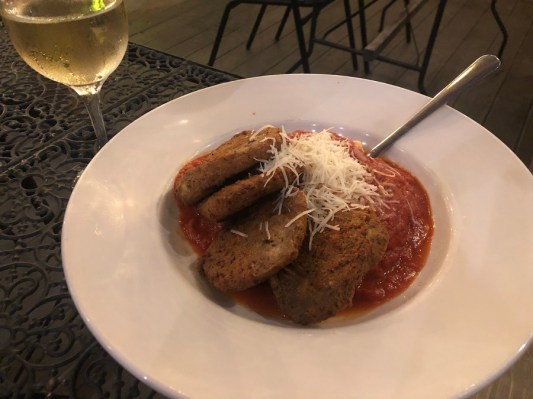 Her Eggplant Parmigiana, a dish that I'll admit I have never had, not even once, was purely magical, the kind of eats that someone would inspire someone like famed opera singer Enrico Pallazzo to both belt out an amazing aria and save the Queen of England.
The delicately breaded eggplant slices danced on my Texas tongue, as the accompanying angel hair pasta, with its accompanying sauce, as tart as could be, was a true treat to try; I'll be honest and admit that, for a single moment, I felt like I should have ordered this as my own meal.
But, no, I had my own goat-headed tribunal to edibly destroy.
The porcelain bowl that held my spinach and goat cheese ravioli had a wide brim, with a center-circle that contained the specifically large bits of specially made pasta in its place. Each stuffed pocket was filled with, of course, goat cheese and spinach, then tossed in a homemade basil sauce with feta cheese and topped with a tomato salad to boot.
I take it back: I was so glad that I ordered this for myself. The warm goat cheese, the genius of basil and other assorted spices liquefying in my mouth, causing me, I'm sure, to stand up and sing a stiffing aria. Lacking talent, however, I kept seated in my patio chair, closing my eyes to take me back to the old country instead—wherever that may be.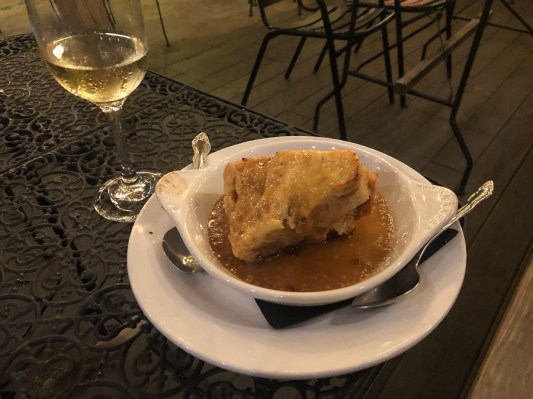 With a cascade of laughs had—some improper, some not—I hope that my friend was able to forget her troubles for, at least, a while. With a little room left for dessert, we splurged and, thanks to the selling techniques of our waitress, had the not-yet-on-the-menu Bread Pudding, each forkful a perfect capper to a perfect dinner.
So, now that I've had this experience at Sergio's, I guess I do like me some Italian food, especially after sampling some of the best around.
_
Follow Louis on Twitter at @LouisFowler and Instagram at @louisfowler78.
Stay in touch
Sign up for our free newsletter