Everything Else
Peace, Love & Thunderstanding: The Draft
12:20 PM EDT on July 21, 2021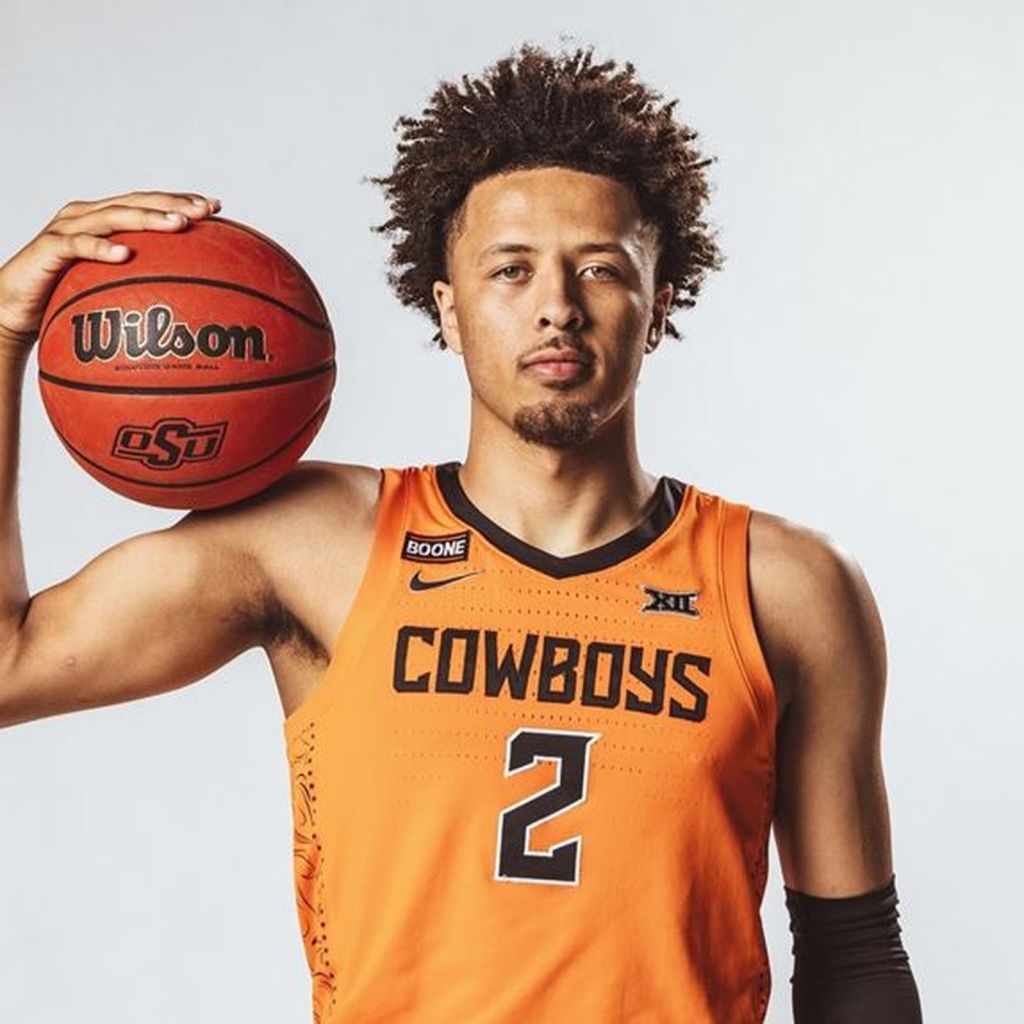 How good is Cade Cunningham?
Cade Cunningham is so good that Oklahoma State coach Mike Boynton hired his brother, Cannen, as an assistant coach to convince Cade to play at OSU.
Cade Cunningham is so good that the NCAA banned OSU from the postseason for a minor infraction, likely with the intent of enticing Cunningham switch his commitment to a blue blood school (i.e. Kentucky or Duke) in his one season of NCAA basketball.
Cade Cunningham is so good that when he stuck to his OSU commitment, the NCAA slow-played the appeals process so that OSU could play in the NCAA tournament last year.
Cade Cunnigham is so good that Patrick made him a 10-seed in Ogle Madness XIII – high praise from anti-OSU gooner...
A 6'8" point guard, Cunningham displayed his talents an hour down the road from the Thunder front office this past year. He was the only freshman to be named a consensus First Team All American, and he did it by carrying a mediocre roster in Stillwater to a 21-9 record with wins over Baylor, Kansas, Texas, Oral Roberts, and Arkansas as victims. Every game, Cunningham did what the team most needed from him, whether that was lead them in scoring, conduct the offense, lead the team huddles, or even fill the middle of the zone against post players. He did all of this while conducting himself with the demeanor of a ten-year NBA veteran.
While conducting what my friends at the Uncontested Podcast dubbed "Fade for Cade," Thunder GM Sam Presti was doing everything under his power to position his team to take the local college star. Many Thunder fans dreamed of winning the lottery and taking Cunningham to form a dynamic backcourt with Shai Gilgeous-Alexander.
It didn't happen.
Considered by most to be the first guy who will hear his name called on Draft Night, Cunningham would have to slide by five teams for OKC to select him at #6. That won't happen. So, now Presti will have to choose from candidates who he needed plane tickets to evaluate in person.
Can the Thunder trade up to take Cade?
Short answer: no.
Theoretically, the Thunder have the assets to make a deal happen. With dozens of draft picks at his disposal, Presti could put together a package that is more valuable than what it takes to get an established superstar…for instance, most everything OKC got for Paul George is still on the table.
The problem is that future draft picks are not as valuable when targeting pole draft position. If the Detroit Pistons, who currently possess the first overall selection, were to take future picks from OKC, they would be hoping that those picks might land in the lottery and put them in a position to take a game changing talent like Cunningham. Or, they could just take Cunningham. It's the fabled bird in hand situation.
If Detroit were amenable to swap with OKC, it would probably take an established player from OKC to make them interested. The Thunder roster is not loaded with players of the caliber it would take. In fact, there is probably only one, Shai Gilgeous-Alexander.
If Presti would consider sending SGA and some picks for Cunningham, that would mean he is certain that Cade will be an all-time great.
What other players could OKC take?
For the entire college basketball season, the consensus among NBA draft reports was that this draft pool was loaded at the top with five players who were evaluated as a "Tier 1 prospect." A "Tier 1 prospect" is one that basketball scouts believe will be a future all-star, at minimum, and a franchise-changing player, at best. Those five players were:
Cade Cunningham: discussed above
Evan Mobley: A 7'0" big man for USC, Mobley is the prototype of the modern NBA center. He does all the things a traditional seven-footer is expected to do (grab rebounds, protect the rim), but he has the mobility to defend on the perimeter and a good jump shot. The most common comparison he receives is Chris Bosh, but stronger.
Jalen Green: A 6'6" shooting guard that played in the NBA's G-League experiment this past season. Green was actually ranked a little higher than Cunningham as a high school recruit. Instead of going to college, though, he took a paying gig with the G-League Ignite, a team that played against teams of NBA development players, but featured players who were not yet eligible to play in the NBA.
Theoretically, Green's path was actually a better way of evaluating his talent and ability to make an impact in the NBA. While Cunningham and Mobley were going up against players who a majority of which will never sniff an NBA Summer League team, let alone training camp, Green was competing against players who had NBA experience, some first round picks.
In that environment, he averaged nearly 18 points on 36.5% shooting from three and 83% shooting from the line. He is an athletic freak and is expected to compete for scoring titles throughout his NBA career.
Jalen Suggs: The best/worst thing to happen to Jalen Suggs was nailing a three-quarter court shot to send Gonzaga to the NCAA Championship game. It is bad, because now he's mostly associated with a shot that was more lucky than skilled.
Prior to the shot, Suggs, a 6'4" guard, was known for his ultra-competitive fire who was heavily recruited to play quarterback for the top football programs in the country. Wanting to prove that he was totally committed to basketball, Suggs chose Gonzaga for college partially because there wouldn't be a football program. On arguably the most loaded roster in the 2021 season, Suggs was usually the best player.
Jonathan Kuminga: Another G-League Ignite player, Kuminga should have been a high school senior this past year, but "reclassified" to be eligible for college this season. There are no questions about his athletic prowess.
Kuminga started off with hot shooting in the G-League bubble and was considered by some as the second-best prospect in the draft. He cooled off, ended the season shooting less than 25% from three, and seemed to lack basketball IQ. Now, as a high-risk/high-reward prospect, there are questions about if he is legitimately a top-5 candidate.
In addition to those five, there are now a few candidates that have come into the consideration for top-5:
Scottie Barnes: The 6'9" point guard for Florida State was a teammate of Cade Cunningham in high school, so his first chance to play point came in college. Scouts have been all over the place on him throughout the year. Some pointed out that his rebound numbers were low for his size and others think he lacks enough scorer mentality to be a top draft pick. Those that like him project him as a Draymond Green-type player that glues a team's strengths together and love his personality. No one denies that he is defensive juggernaut that was made even more appealing when he ranked near the top in the Draft Combine's athletic testing.
James Bouknight: A craft 6'5" sophomore guard from UConn, Bouknight missed a good chunk of the 2021 season with an injury. As a result, he was off the radar most of the year. In the past few weeks, somehow, his stock has risen. Another elite scorer, his highlight videos evoke comparisons to Ja Morant or Shai Gilgeous-Alexander.
Alperen Şengün: This guy is loved by advanced statistics gurus. Those gurus wonder why he is being rated as a mid-to-late first-rounder because he dominated a really good European league as an eighteen-year-old, and was named MVP of the Turkish league. The Athletic's John Hollinger, a former NBA General Manager, recently selected him number 4 in a mock draft, saying that Sengun's productivity at this age is similar to what Luka Doncic was doing. The traditional scouts compare Sengun to his fellow countryman, Enes Kanter, and wonder how he will fit in today's NBA.
Okay, well those are candidates, what would OKC do?
Supposing that Presti stays put at #6, there are two players most often associated with the Thunder: Jonathan Kuminga and Scottie Barnes.
The NBA Big Board's Chad Ford recently wrote an article where he predicted that Barnes would be ranked third on OKC's draft board, with Kuminga right behind at four. His reasoning was that the Thunder have a history of favoring players with long wingspans and strong athletic numbers. One of those two players is bound to be available at six, but based on their relative stock directions, the safe bet is Kuminga.
How does Kuminga move the needle for the Thunder?
In the first year, probably not much. Kuminga is the biggest project of the players available to OKC, but that may actually be one of the selling points in the draft room. From a potential standpoint, he could end up being the best player in this draft pool. His "floor" is scary, though. He has the biggest bust potential.
At the minimum, he should be capable of locking down four positions defensively. Deploying him and Lu Dort on the perimeter could make Oklahoma City an elite defensive squad. Meanwhile, his perceived weaknesses are things that can be improved through coaching.
That doesn't sound very exciting, what are OKC's options to trade up?
The problem with trading up is what are the Thunder's targeting? Trading to one has been discussed already and dismissed. Swapping somewhere between 2 and 5 is more realistic.
That said, it's hard to see who the Thunder would want enough to give up assets to get. While OKC is often tight-lipped about what they are planning on, there have been no hints that Presti covets Jalen Green, Jalen Suggs, or Evan Mobley.
For argument's sake, Mobley makes sense from a need standpoint. Houston, who sits at number 2, out-tanked the Thunder to get in that spot, so they clearly have a strong desire to make a pick there. Presti would probably have to spend a lot of his capital to convince Houston to make a deal. Lacking much in draft capital for their rebuild, though the Rockets may be amenable. They may also favor Jalen Green, though, who would not be available at six.
In the case Houston drafted Green, Mobley is still available at three with Cleveland on the clock. The Cavaliers have been the team in the top-5 whose pick is most rumored to be available. Of course, the reason for that is that they have been drafting near the top of the lottery for years and have an abundance of young guards. They are more in the market for established players, which OKC lacks. Besides, if Mobley is available, he would be a good fit there.
That leads to Toronto at four. They could choose between Suggs, Kuminga, Barnes, Bouknight, or Sengun. Maybe they're torn on where to go, and an offer from OKC for #6 and two more future picks is enticing. So, OKC makes the offer and takes…Barnes? That would get them a new, less offensively challenged, Andre Roberson. If not, let's say the Raptors go for Suggs to replace Kyle Lowry.
Finally, there is Orlando at five. What they want is hard to decipher but convincing them to swap one spot to assure Barnes might not be too expensive. Then again, Barnes is a Florida college product, so maybe the Magic really want him for marketing in addition to fit.
Is there any chance the Thunder trade down from six?
Much smaller than trading up. After subjecting their fans to this past season, they need to get something here.
NEXT WEEK: In the eve of the draft, we will preview how the night could turn out.
Clark Matthews is a world-class checkers champion, co-founder, and basketball editor-emeritus of The Lost Ogle
Stay in touch
Sign up for our free newsletter