Food
When Irish Eyes Are Hungry: Cooking from Sean Cummings Irish Pub Cookbook
4:59 AM EDT on July 8, 2021
I'm not a cook—at all, I know—but I was pretty darned surprised by how the recipes from the Sean Cummings Irish Pub cookbook turned out last Sunday. Maybe it was the luck of the Irish?
Most people know Cummings from his eponymous Irish restaurant, located at 7028 N. May Ave—at least that's how I know him, especially after my gal-pal Jodie and I went there for St. Patrick's Day celebrations a few years ago, when I fell completely in love with both the vibrant food and the overall celebratory feeling of the sacred spot.
But when I heard he recently published his own cookbook, I thought that I'd put the Pioneer Woman on the backburner for a while and turn the heat up with a couple of recipes from this Irish lad and requested a copy. Featuring meals like Bangers and Mash, Onion Gravy and so on, I decided I was going to try the two easiest things, Simple Irish Beef Stew and Irish Cabbage...
(To be fair, I did want to make the Rabbit Stew, but, honestly, I have no idea where to get rabbit…any tips would be most appreciated!)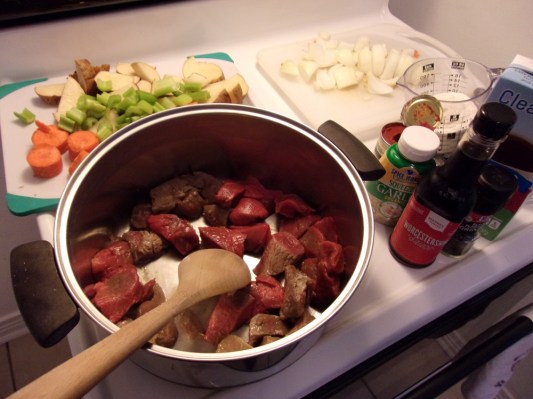 After buying the necessary groceries, when I got home, I laid out and separated what I needed, starting with the Irish beef stew. Lightly browning my stew meat in a large silver pot, I chopped the much-needed vegetables—potatoes, carrots, onions, celery and such—perhaps a bit larger than I was supposed to, but like it that way, reminding me of the homebound stews that my late father would often make in-between his violent rages.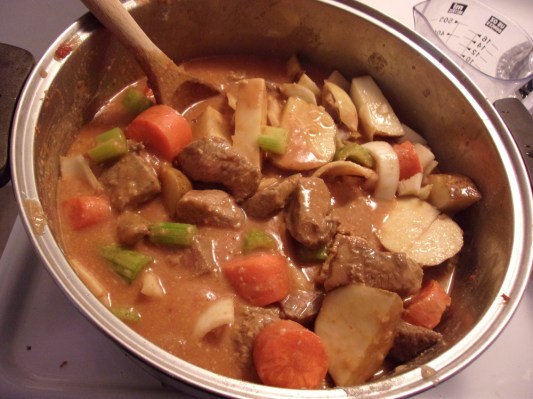 Beef quickly browned, for the most part, I added in the cut vegetables and stirred in a large box of beef broth and a small can of tomato paste, and then let it sit for around two or so hours, occasionally adding a bit of corn starch to strengthen the surrounding molten liquid, quietly bubbling and loudly stirring to make sure that none of it was sticking to the bottom of the pot, always a fear of mine that I stay afraid of.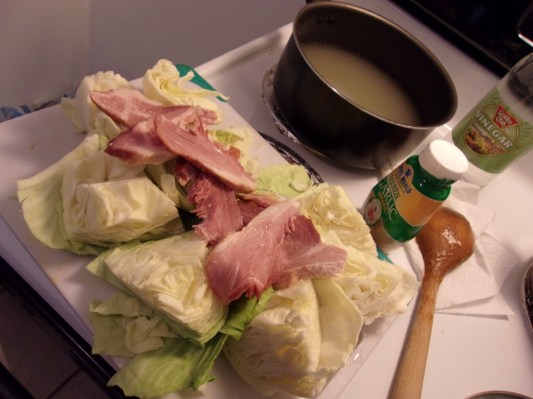 As the stew was quietly simmering, I waited a little while before I started the Irish cabbage. Now cabbage has always been a good friend to me, but I've never seen it get the ultimate respect that it truly deserves from others. As I cut the head into sections, the scent lingered, thinking about how my father would also make it quite frequently in-between his bouts of depression, the house filling with the lovingly acrid aroma.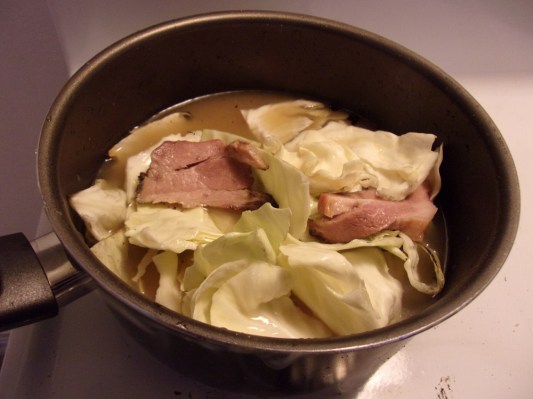 Cabbage not-so-delicately cut—and a few thick strips of smoked bacon thrown in there as well—I placed it all in a smaller pot boiling heavily with chicken broth and a few splashes of vinegar, consistently reminiscing about the scent when I was growing up, not appreciating it as much as I probably should have then. The heat all the way u, I let it boil for around twenty or so minutes.
As I settled back in the chair to wait a few minutes, I turned U2's Pop up a little bit more—sorry for being somewhat stereotypical in my Irish tunes, Erin-go-brah—and let the wonders of cooking for myself take hold, the streams of wafting smells infecting every part of my thoroughly hungry body.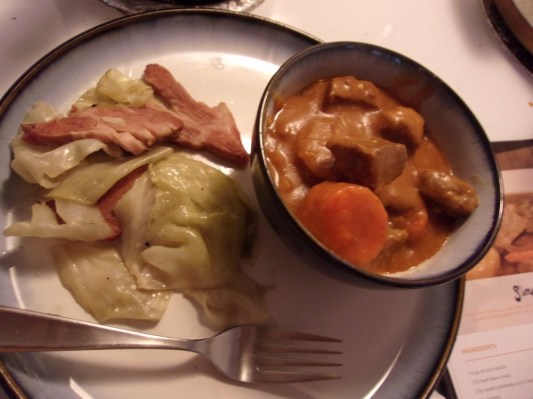 With a few small additions, seemingly well done, I plated the food and, after the requisite photography, sat down to enjoy my Xeroxed original…and, for the first time, felt mildly impressed with myself. The Irish beef stew turned out quite perfect, despite the meat being a bit rough—it was clearance beef—and the potatoes a bit undercooked. Regardless, I loved how it turned out and quickly has a second bowl.
The same goes with the Irish cabbage, a bit tart due to the unmeasured amount of vinegar, but, I have to say that I enjoyed it like that, the boiled bacon really adding to the dish. I'm cooking for only myself, I thought, and I'm not that harsh of a judge on my meals, or so I've been told, so I enjoyed it very much.
I think Bono would have liked it too. Maybe.
Sean Cummings Irish Pub is written in a clear, concise manner where even a culinary dullard or gourmet imbecilic like me can understand and competently create our own version of Irish cuisine—if that's really such a thing—grateful I passed by the Pioneer Woman for something a bit more worldly and, best of all, a whole lot more delicious.
_
Follow Louis on Twitter at @LouisFowler and Instagram at @louisfowler78.
Stay in touch
Sign up for our free newsletter