Food
TLO Restaurant Review: syrup.
8:27 AM EDT on June 29, 2021
One thing that has always kept me from sampling the breakfast restaurant syrup.—besides the somewhat irritating but wholly stylish punctuation in the name—was the fact that, for many years, people had told me that it was a front for a religious organization, much like the coffee shop cult I was once involved with in a popular Oklahoma City district.
Still, waking up hungry and looking for breakfast in Norman last weekend, I stopped by the hot spot on 123 E. Main St., mostly because I was craving pancakes of any denomination, religious indoctrination be damned. The fact it was located by Guestroom Records was just a fortuitous coincidence for me and, I'm hoping, God as well.
That mid-morning, my friend and I entered the long, narrow space and quickly found the only open table. Even though the place was quite full, our waiter had a hauntingly deep smile as he set down our waters and handed us a couple of menus. I quietly asked him about the supposed ownership and he leaned down and, quiet himself, told me it was owned by a church in South Africa.
Mildly confused by the news, we still placed our breakfast orders. I looked around the place, noticing many shiny happy people, all seemingly at peace with their heavenly morning meals, eating and enjoying them. As we sipped our coffees—one cold brew, the other steaming hot—our food was quickly brought out in blessed time, something that I honestly liked and praised effusively.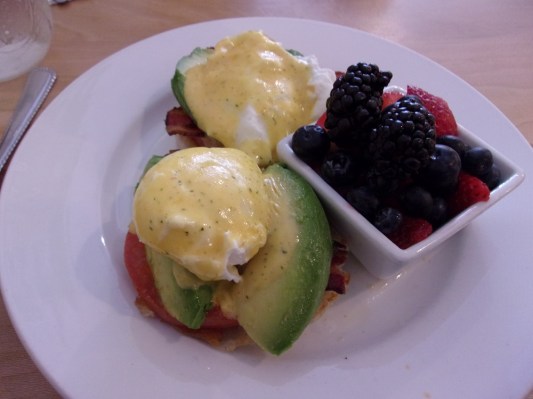 My friend had the spiritually fancy Eggs Benedict ($10.00), thankfully not christened with an irritating name like "The Benny," something that many heathen breakfast places would do. A solid English muffin topped with delightfully poached eggs and crispy strips of bacon, as well as favorites like avocado, tomatoes, and a well-rounded hollandaise sauce.
I'll admit that I have never had eggs benedict before, but it was definitely a delectable dish that I instantly fell on my knees for. The poached eggs wonderfully complimented the (what I'm assuming to be) homemade English muffin, so warm and toasty that, in a moment of sheer covetousness, I wish that I had ordered it—until I had a taste of my own order, the Sriracha and Honey Chicken and Waffles ($9.50).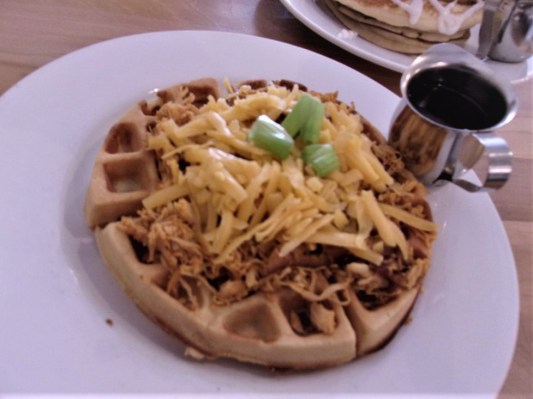 I have had chicken and waffles at the famous Roscoe's in Los Angeles and, for years, have tried to duplicate that religious experience, oftentimes failing and asking to be forgiven for my gluttony. But, here, they were a true Biblical treasure, made up of a thick waffle topped with grilled chicken, sriracha and bacon, cheddar cheese and green scallions, and, of course, the purest of honeys on top.
I devotedly bit into the sweet waffle, and as it mixed with the fiery sriracha, a tumultuous torrent of tastes arose in my mouth. I was particularly entranced with the pieces of chicken that were strung along the top. Typically, when I've had this dish, many of the sinners would just throw a piece of chicken on the side, but the strands that rested on top were, well, tops, leading me to finish it off quicker than anyone should ever know.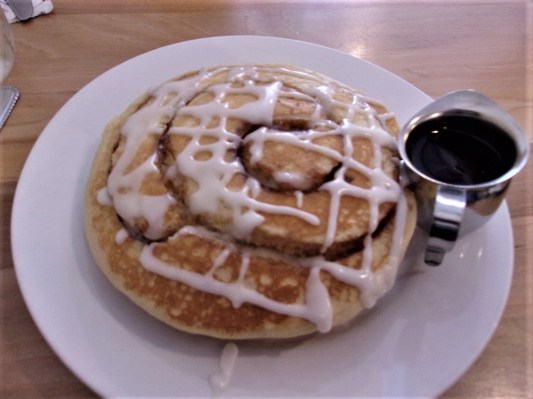 So far, I thoroughly enjoyed syrup., but it wasn't until the final divine treat, the Cinnamon Roll Pancakes ($8.50) that emerged from the pearly gates of their kitchen, four hotcakes that resembled a large breakfast sweet roll stacked on one another, loaded with a cinnamon streusel and a warm drizzle of white icing…how could eating thing not be a deadly sin?
"Goddamn!" I profanely cried to the masses as I took another forkful into my damnable mouth, the sweetness embracing it as though it was its only begotten son. Knowing me and my easily swayable history, if they had asked me to become a tract-carrying member of the syrup. fold, I would have done so unquestioningly, never going hungry, at least for breakfast, ever again. Cómpralo ya!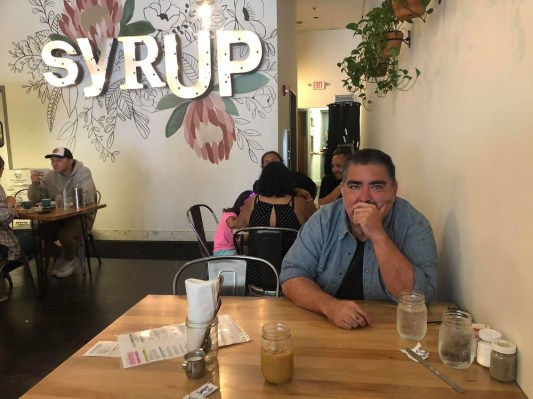 _
Follow Louis on Twitter at @LouisFowler and Instagram at @louisfowler78.
Stay in touch
Sign up for our free newsletter