Everything Else
More news, notes and fallout from Mike Hunter divorce / resignation scandal….
1:11 PM EDT on June 1, 2021
One of the first rules they teach politicians in PR 101 is to release good news– or damaging news about a rival or opponent – on a Monday. That way, the media will have a whole weekly news cycle to cover, analyze, and most importantly, promote the story, giving it the attention you want it to deserve.
The second, and perhaps more important rule, is to release bad news – or stuff you'd rather people forget – on a Friday, preferably before a holiday weekend when everyone, media included, are out binging on booze, sunshine and medical marijuana. That way, the story will more likely disappear into the mist like a diet at a cookout.
Mike Hunter apparently paid attention to that portion of PR class.
On late Friday afternoon, just two days after we first reported about his divorce and affair, and how it may all connect with the state's attempted bribery case against Stitt cabinet member David Ostrowe, Mike Hunter dropped the charges.
Via Oklahoma Watch:
Outgoing Oklahoma Attorney General Mike Hunter on Friday afternoon dismissed attempted bribery charges against David Ostrowe, Oklahoma's secretary of digital transformation.

A multicounty grand jury charged Ostrowe in December with two counts of attempted bribery over an alleged scheme to lower tax penalties for a company at the Oklahoma Tax Commission.

Hunter dismissed the indictments "without prejudice," which means they could be refiled at a later date. Hunter announced his resignation on Wednesday after allegations of an affair with an attorney working at another state agency. Hunter's resignation is effective on Tuesday. Gov. Kevin Stitt will pick his replacement.
If you read The Lost Ogle, this news shouldn't come as too big of a surprise.
As we, once again, first reported last week, Mike Hunter was apparently having a hot and steamy affair with Kim Bailey – a former higher-up with the Oklahoma State Health Department, and, as of today, the Chief Legal Counsel for the Oklahoma Insurance Commission.
Before becoming a state bureaucrat, Kim – just like David Ostrowe – apparently owned or operated some Burger King franchises around the state.
I don't know if they had a disagreement over Satisfries, or got mutually spooked by the Halloween Whopper, but according to one Mole, there is a "long history" between Kim and David. Due to that history, the word going around is that Ostrowe was instrumental in blocking Kim's advancement within state government, perhaps with the health department. As retaliation for that, Mike Hunter was apparently all too eager to indict Ostrowe when the opportunity presented itself.
Now, does that mean Ostrowe didn't attempt to bribe some folks while playing a game of politico? I'm not sure, but now that we know Mike Hunter was having an affair with someone connected with Ostrowe, I think we can all agree that Mike Hunter shouldn't be the guy who decides whether or not to indict him.
Then again, the next Oklahoma Attorney General will be a Stitt appointee. Do you really think that person is going to be super eager to indict one of the Governor's cabinet members? Their first line of business will be to prosecute the radical liberals behind the state's Chick-fil-A sauce shortage.
David Ostrowe seems to think he's in the clear. This is what he told Oklahoma Watch:
"I spoke to the governor this afternoon," Ostrowe said Friday. "This just goes to show that I have been innocent all along, and I will be seeking justice for what was improperly brought against me by Mike Hunter."
Yep, David Ostrowe is seeking justice! Mike Hunter better hope and pray he doesn't see this on his doorbell camera soon!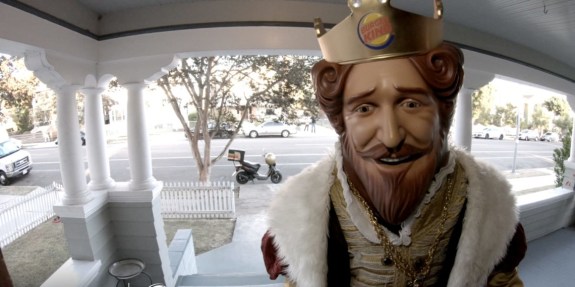 If I was David Ostrowe, I'd worry more about covering my own ass than getting revenge on Mike Hunter, but then again, I'm just the guy who runs The Lost Ogle.
On that note, here are some more tidbits about the fall of Mike Hunter...
1. Kim Bailey retained Enid Attorney Craig Box to handle her divorce...
Mike and Kim still haven't confirmed or commented on their relationship or affair. In case you're looking for more circumstantial proof to support it, consider that Kim – someone with no real connection to the Enid area – retained well-known Enid attorney Craig Box to handle her divorce that was filed back in April.
This matters because...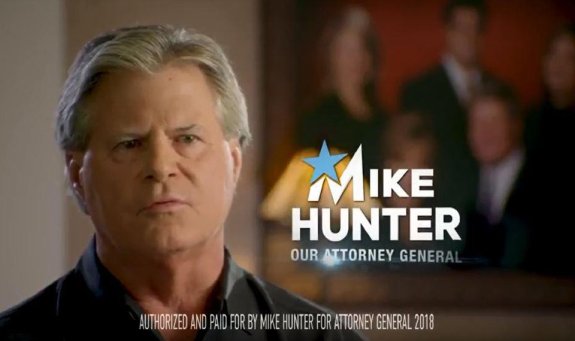 A) Craig Box appeared in Mike Hunter campaign ads in 2018, and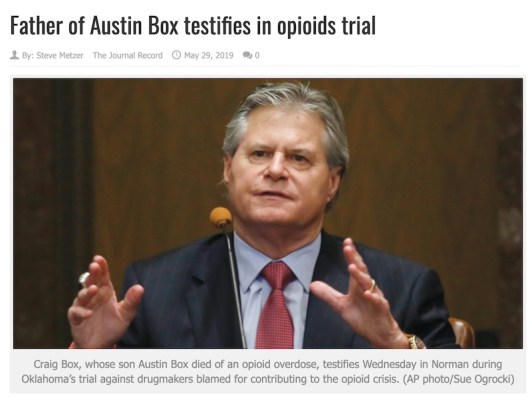 B) Craig Box testified in the opioid lawsuit led by Mike Hunter
Basically, it looks like Mike got one of his good buddies to handle his new love's divorce. What a nice guy!
-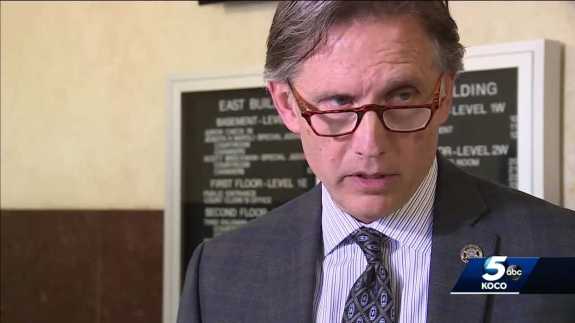 2. Mike is currently estranged from his friends and family!
According to the Ogle Mole Network, Mike has broken off contact with most of his friends and family members. I guess "old love" is more intoxicating than the young variety.
-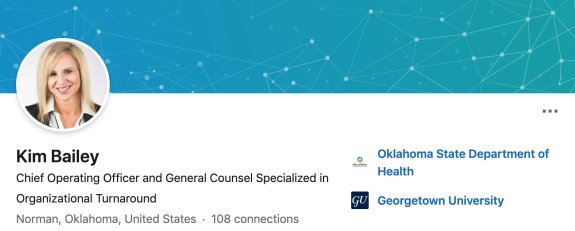 3. Kim Bailey is still employed by the Insurance Commission
Despite rumors to the contrary, I can report that Kim Bailey is still employed by the Insurance Commission. I know this because I called the Insurance Department today and asked. #Journalism.
-
4. TLO snubbed again
One fun sub-plot to this story is how The Lost Ogle, a super small independent news outlet run by a guy in over his head and a few other freelance contractors, once again scooped the local news industry on a big political story, and once again, didn't get any national credit or recognition for it.
Even though we were A) first to report Hunter's divorce and affair and B) Hunter resigned minutes after our story dropped, The Oklahoman went out of their way to take credit because "They emailed him questions the night before."
Attorney General Mike Hunter announced his resignation on Wednesday, less than a week after filing for divorce from his wife, Cheryl.
The Oklahoman submitted questions to Hunter on Tuesday night about an extramarital affair that the newspaper confirmed through people familiar with the situation. The sources said the affair was with a state employee, who did not work in the attorney general's office.
Their scoop d'etat apparently worked, as most national news sites, along with their valuable backlinks, connected back to The Oklahoman's story about the case. The same went for Twitter folks:
First of all, I don't blame The Oklahoman for trying to take credit for this story. If I was a long-time journalist in this market, I'd also be embarrassed by continually getting scooped by slacker online outlets like The Lost Ogle, especially when I had emails out to be answered! That would suck!
Plus, in all fairness, The Oklahoman did know about the divorce first. In fact, I'm hearing their reporters knew about the divorce the weekend after it was filed, but for some reason, never reported on it. Weird, huh? You'd think those hard-hitting journalists would want to get the word out fast that the second-most powerful elected official in this state was leaving his wife after nearly 40+ years of marriage. Outside of their own cozy relationship with the Attorney General influencing their reporting and giving him preferential treatment, I wonder what was holding them back?
Either way, congrats to The Oklahoman for finally emailing Hunter the questions the night before to score the big story they didn't break. It was a pretty smart idea. In fact, it was so smart that I'm going to log off here and email everyone in the Health Department a series of questions about the scandalous stuff that's rumored to be taking place between consenting adults in that world. That way, if the story breaks before I cover it, I can still call dibs! Who knew journalism was so easy!
Anyway, I guess this concludes this way too long update on everything. Stay with The Lost Ogle. We'll keep you advised.
Stay in touch
Sign up for our free newsletter