Food
TLO Restaurant Review: Nashbird Chicken
9:32 AM EDT on May 18, 2021
When I last visited Nashville a few years ago, the big thing around town—at least from the tourist's point of view, that is—was the then-current trend of Nashville chicken, a mouth-burning poultry specialty that everyone in the country was quick to jump on and utterly devour.
After having a tepid bit of the hot bird at our second or third choice—I can't remember—I thought it was merely okay, definitely not worth the press it had been getting. Sure, the trip there was a bit tainted—a rude customer here, a sour partner there—and while I'm glad I tried it, I really felt like I didn't need to ever have it again.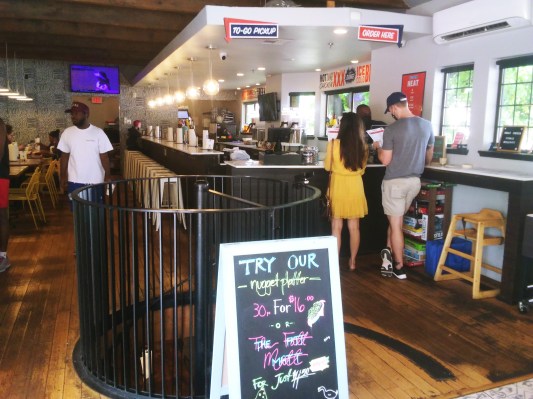 I think that's why it took me so long to try Nashbird, Oklahoma City's middle-finger to the Music City-branded eat, located at 1 NW 9th Street.
I went back there recently with the same Nashville friend—who now, thank God, had a remarkably different attitude—during a recent jaunt to Automobile Alley, located in what seems to be a real alley, just off the train tracks where a train seemed to go by every five minutes, necessitating the need for actual shouting if a person wants to carry on a somewhat decent conversation...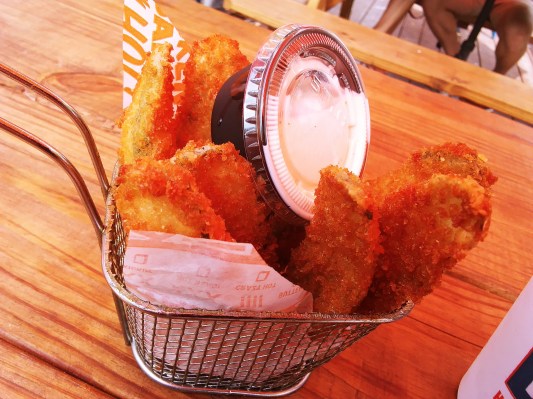 For an appetizer, per my friend's request, we had the Fried Pickles ($5.00). While years of the bland dill-dippers at Sonic had my expectations excruciatingly low, I was surprised as a handy basket came to the table, each still-crispy stacker covered in a spicy coating that brought a grin to my face and the taste an outright smile. Suddenly, I had higher hopes than usual for the place!
As part of their Hot Dang! Sandwiches line, my friend ordered the Hot! Chicken Sandwich ($9.75) with a side of Cucumber and Onion Salad. While, at first, they might not sound like they go together, the tart salad added a nice amount of medium cool to the Hot Dang! Heat level sandwich, the juicy chicken perfectly making love with slaw, pickles and lemon mayo.
Now Nashbird has four levels of heat: from the weakest, chirp, to the spiciest, appropriately called crazy hot. For the meal, I ordered the third highest, Hot Dang!, mostly to keep in line with their subtitle, Hot Dang! Chicken. And man, were my lips burning after each sample!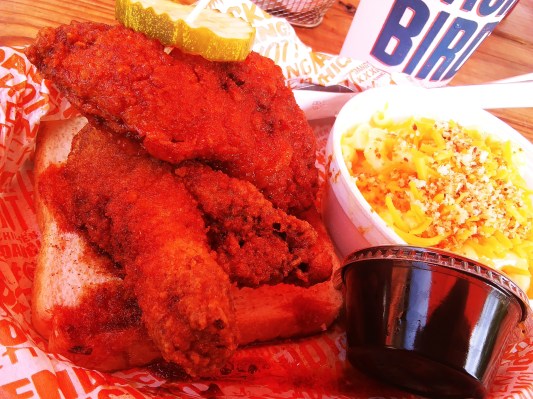 However, my order, a two-piece Dark Meat Basket ($9.50) with a cup of Mac N' Cheese to quell the heat, left me in a tempestuous thunderstorm of burning rain. As I bit into that shapely thigh, I let out a minor belch of lava intensity, a fire rumbling from the belly of this beast like a small flame straight from Hell.
"Hot dang!" I cried out to the world, unheard as another train went by.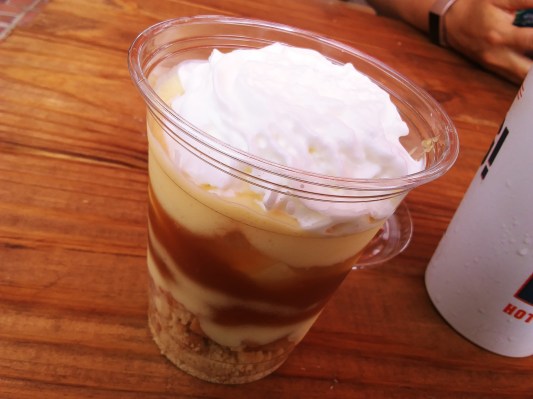 We sat there at our outside table, laughing about the trip to Nashville, ruing the fact that a small chicken joint in Oklahoma beat the feathers off that Southern bird and how. Finishing off the meal with a cool helping of Banana Pudding ($4.00), we reminisced for a few more minutes before gathering our dishes and heading out, our stomachs full of a true Okie heat. Cómpralo ya!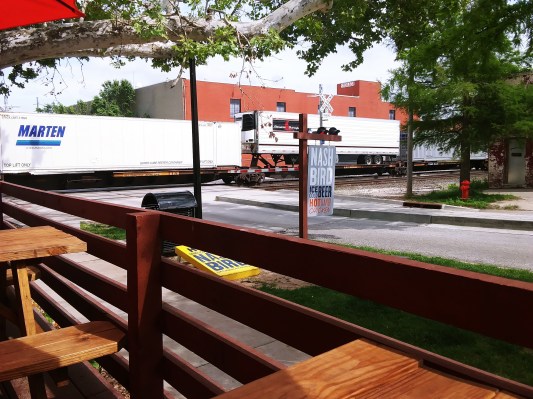 _
Follow Louis on Twitter at @LouisFowler and Instagram at @louisfowler78.
Stay in touch
Sign up for our free newsletter