Food
TLO Restaurant Review: Ponyboy
5:07 AM EDT on March 30, 2021
The last concert I saw was well over a year ago, Raul Malo at the Tower Theatre. Just as it has been for many of us, this past year has been tough on the venue, as well as their sister spot, Ponyboy. But, when I heard they were back—not to mention with a new menu—I had to get down to Ponyboy, 423 NW 23rd St., if only to be closer to the Tower.
My ex-girlfriend and I went there last week, happy to see that social distancing was still in full glory. It felt good to once again be inside of the place and, even though I wasn't seeing a show, at least I could finally try these tasty wares, something in the future I could order before or, more accurately, after a rather electrifying concert.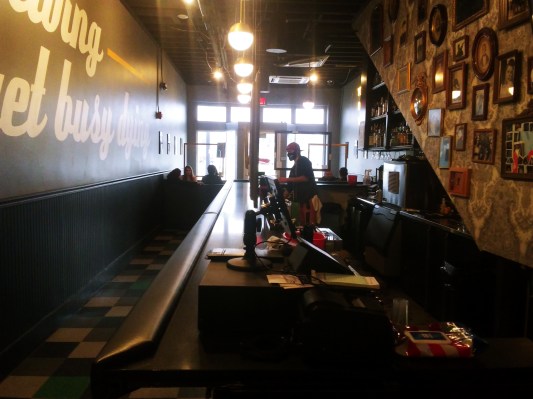 We seated ourselves in the back as the guy tending bar told us to scan the code for the menu to come up on our phones. While I'm far too plebian to handle this, the ex-girlfriend brought it up on hers in no time, a small but precise menu that read very well, our stomachs rumbling. As we were discussing the various eats, the Tower's Chad—if you see him, say hello!—came up and chatted, offering dining suggestions.
Of course we took them.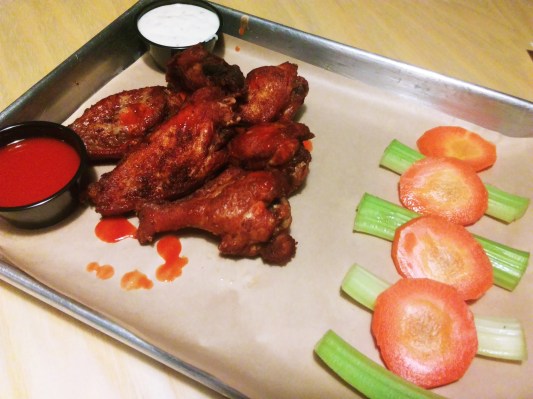 The first up was an artistically displayed appetizer of a bar favorite, Hot Wings ($10.00). Pickle brined and served with two different dipping sauces, as a hungry person that'll clean every bone into a shining white artifact, the meat munchers were definitely spicy but never overpowering; the homemade ranch was a nice touch, as were the fine slivers of carrots and celery.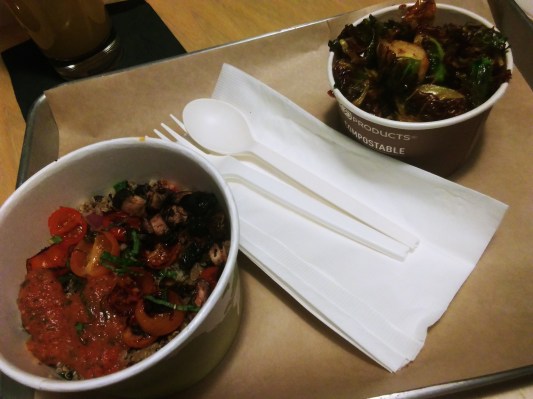 Wiping our faces of any leftover wing sauce, my ex-girlfriend started in on her platter, the Roasted Tomato and Quinoa Bowl ($9.00) with a side of Fried Brussels ($4.00). Sure, I know that may not seem like a very "sex. drugs and rock 'n roll" meal, but, really, it was only 7 o'clock and those are afterhours antics, at least in my pathetic imagination.
"Besides, I like quinoa!" I loudly slagged off as I tried a spoon of her perfectly cooked bowl, the flavors whimsically coming together for this new vegetarian experience. But what really caught my attention—and I can't believe I'm saying this—were the fried Brussels sprouts. While maybe not a new take for you, they were a new taste to me, my fork repeatedly jabbing a new one for just another bite.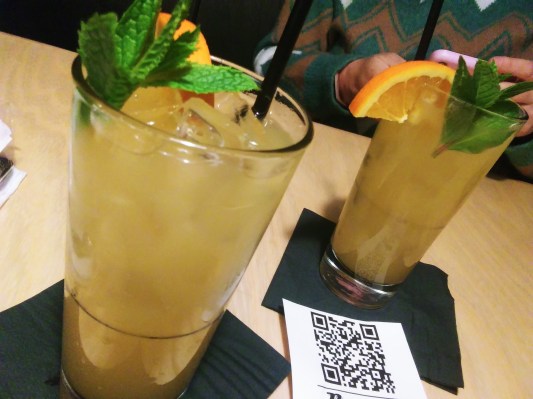 Not a drinker per se—too many bad experiences from angry alcoholics in my life—we ordered specialty drinks from the "No Proof" portion of the Ponyboy Originals drink menu, the lone non-alcoholic one being the passion fruit, orange juice and pineapple mix of a Tropic Plunder ($8.00), a tangy blend that was a sexy surprise with every gulp I unsexily downed.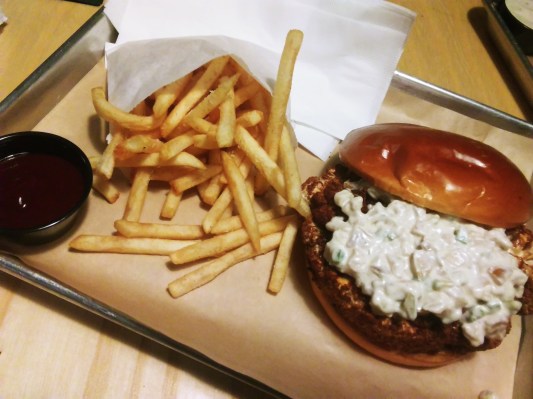 But, as much as I was digging that mocktail, I had to pause to enjoy my own dish, the Marinated Cauliflower Sandwich ($10.00), a veg-heavy creation that I'm sure would leave Kevin Stitt urinating in his Rustlers, as a thick cauliflower patty is marinated with the house soy ginger miso sauce and, per my request, dipped a few times in their inventive spicy blueberry ketchup.
Very rarely do I do this, but I ravenously ate that sandwich with no regrets for the sheer blasphemy to the supposed gods of my diet. Besides…it was vegetarian, right?
As we sat there, leaning back in our booths, my ex-girlfriend and I talked about the steadfast Tower and the glorious shows we'd seen here—and will see there again—and how important it is to not only us, but to Oklahoma City as well. I guzzled my final bit of Tropic Plunder and fought every mocktail-laden instinct to have another one. Stay gold, Ponyboy!
_
Follow Louis on Twitter at @LouisFowler and Instagram at @louisfowler78.
Stay in touch
Sign up for our free newsletter