Everything Else
Night at the Winchester: A Date in the Pandemic
9:18 AM EST on December 15, 2020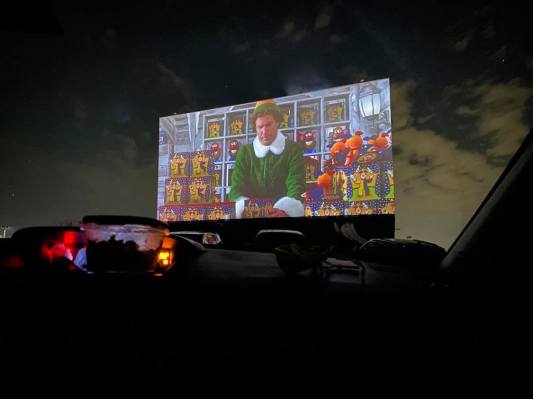 My husband has always been a proper romantic. In the eight years of our relationship, he has wooed me with considerate gifts, delectable words, and an overall willingness to put up with my ass. Which is why this past Friday when he offered to take me on a date to the Winchester Drive-In Theater, I knew it was a romantic gesture and not just a sly attempt to make up for clocking 85 hours on the new World of Warcraft expansion over the last couple of weeks.
If you have never been to the Winchester Drive-In, dare I say where have you been over the last 52 years? Surely you must at least be familiar with the neon salutations of the cowboy who waves from the side of the road, inviting drivers to stop by for the evening. Though the establishment has been a staple nestled off of Western and south 72nd street for over half a century, it's just the place we need in 2020.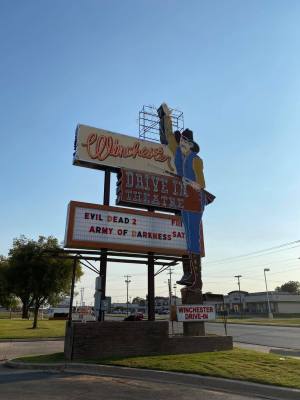 I know, I know. This picture was actually taken on our October date. The picture I took of the cowboy on Friday was blurry as hell. Sorry.
Being that I can count on one hand the number of times I've been inside of a grocery store since March and haven't filled my car with gas since October, it's safe to say I don't get out much nowadays. Thankfully, I didn't really have to get out to have a great night at the movie. We signed off from work at 5:00 on the nose, writing off anything left over as Monday's problem, and began prepping our picnic for the picture show.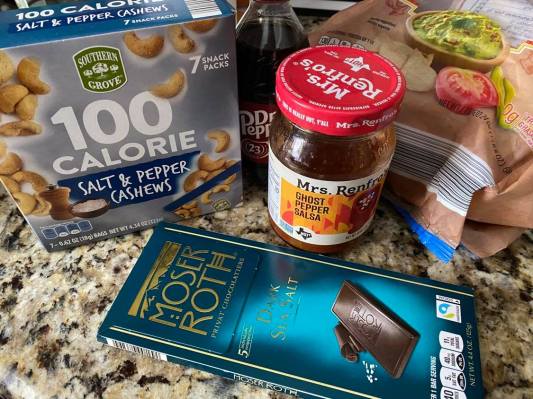 Now, the Winchester Drive-In does have a concession area plastered with late 90s/early aughts movie posts that serves reasonably-priced popcorn, candies, and other goodies. Plus, the staff always appear masked, safe, and socially distanced. But I don't trust any of you other movie-going mother-effers in line as far as I can throw you to not have COVID. So before we made the trek down south, I made a meal of hot sandwiches, cold drinks, and Aldi snacks to enjoy.
Friday's double feature consisted of two classic Christmas movies, Elf and Christmas Vacation. Due to what looked to be a pileup on I-240, we made it to the Winchester with 6 minutes to spare before showtime. The joint was busy, but the only contact we had with another human was the 30 seconds or so it took to pay the ticket and cooler fee to the masked attendant. We then followed his directions and parked at a yellow pole just as the pre-show was starting. Then we settled in snuggly in our seats, poured a bowl of salsa, and tuned our radio to 100.9 to hear the show.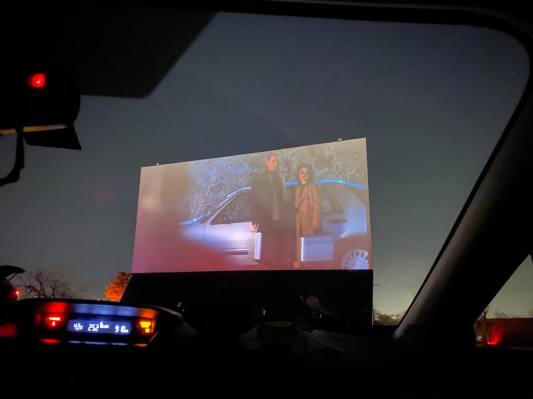 We giggled and reminisced as Will Ferrell shoveled a plate full of chocolate spaghetti into his gullet. We opened the sunroof between the showings to stretch out and feel the blast of cold, December wind on our face before hunkering down in our hoodies for the second round. We laughed and one-upped each other with crazy family holiday stories as Chevy Chase beamed on the big screen brighter than his home's Christmas lights. The parking lot seemed to be nearly full, but we felt like the show was put on just for us.
Whether it is because of the classic vibe of the joint or the beloved movies we enjoyed, life seems to slow down a bit at the Winchester. Coming to a stop at the end of the drive after the show, I asked my sweetie to head north up Western instead of making our way back south to I-240. The drive back up to Edmond may be a little longer, but that's a little bit longer I got to hold his hand.
-
Nothing like a hot date on a cold night with a hot cutie and a cold drink. Follow Hayley on twitter @squirrellygeek and become a contributing member of TLO here. 
In my spare time, I officiate secular weddings, read about dead people, and search for the American Dream.
Read More:
Stay in touch
Sign up for our free newsletter