Food
TLO Restaurant Review: Ray's Café
9:13 AM EST on November 24, 2020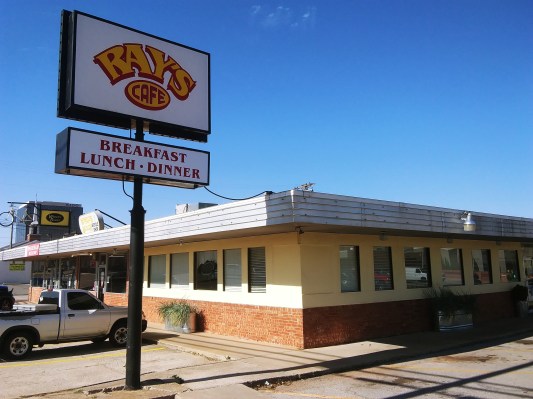 I've successfully avoided 2727 NW 50th for over twenty years.
I'm very well versed in the series of former restaurants that have called that space home, up until the time I moved far away. You see, when I was a chubby teenager trying to survive in an abusive home, being a couple of blocks away, it was always the scene of my spontaneous gorges and gratuitous purges. I especially enjoyed my post-dinner meal of then Pizza 44's dirt-cheap buffet.
That part of town has changed quite a bit since I left, with the exception of the building that holds the current tenant, Ray's Café. Still, its inherent dinginess belies a decent restaurant that has survived that cursed spot for many years, offering everything from Indian Tacos on Tuesday to Persian Nights on Friday.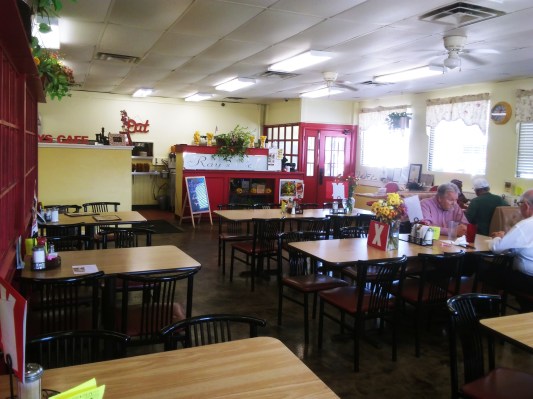 As my gal-pal Jodie and I walked in last week, a chalkboard advertised Italian Night starting around four o'clock that afternoon. The brutal irony wasn't lost on me.
As we found a seat, we both looked over the menu, immediately startled by the 1990s prices that every item on the menu seemed to proudly carry. "Thank God I still don't live around here," I whispered under my breath before our waitress took our to-go orders. Due to the sharp rise in Covid, we elected to eat our lunch over at a picturesque park not too far away.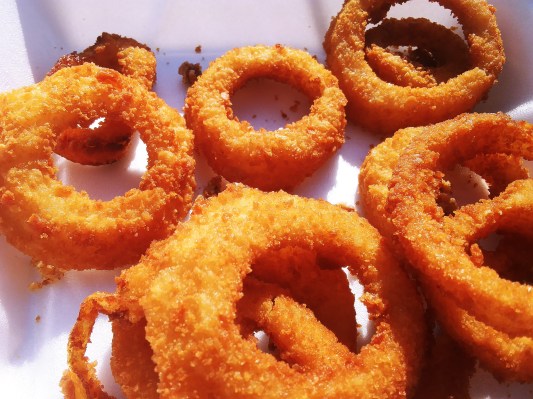 Digging into our plastic bags, fighting the hyperbolically gale-force winds, we opened up the styrofoam containers to see how we edibly fared, starting with the appetizer of Onion Rings ($4.95). The list of apps were small, so it was either this or chicken tenders and, sorry, but that feels more like an actual meal than a starter to me.
A very much by-the-book (and I'm guessing by-the-bag) order of onion rings, it was still crispy enough to pass lunchtime muster, giving the feel of a particularly good batch of fast-food eats; Jodie compared them to Whataburger's rings as she had a second one before heading right into chicken-fried steak territory.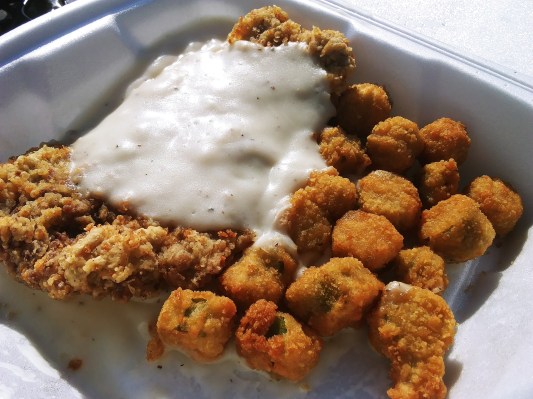 Ray's Chicken Fried Steak ($7.99) is very much a benchmark of their wholly Oklahoman menu; a suitable mid-quality cut of beef with a good enough amount of breading blanketing it, covered with more than enough gravy…but hot damn, that gravy!
It's simply irresistible. The creamiest white gravy with as many dots of pepper as there are stars in the sky, this chicken fry is a tasty testament to how sometimes something small and insignificant like this fatty additive can elevate the entire meal to something else, something special.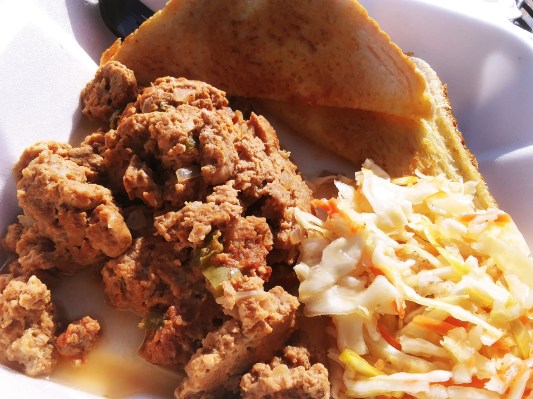 Though not pretty as the chicken fried steak, the Homemade Meat Loaf ($6.50) is clumped paradise by the bright sunlight. A hearty stack of grey meat filled with onions and peppers, Jodie and I lamented about how this was the type of handcrafted meatloaf we wished our moms had made growing up, both apparently deficient in this circle of compressed carne; I guess, in my case, it's probably a good thing she never did.
Sided with a couple of buttered toast slices and some truly sublime cole slaw—Herman's Slaw, natch—as I hypochondriacally felt the buttons on my shirt strain under the gratuitous heft of this powerful stuff, I couldn't help but take one more bite, leaving room for the Grilled Country Ham ($6.99).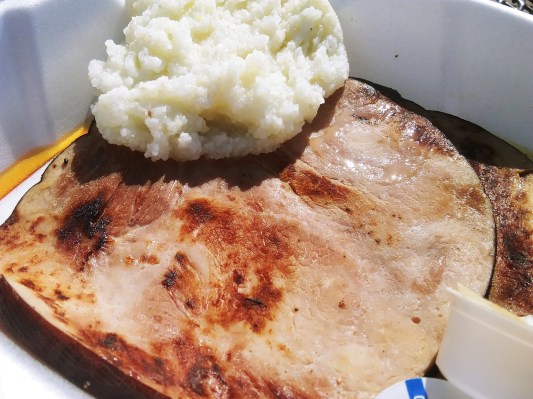 A heaving helping of two uncomfortably thick slices of cured pig-meat that dutifully work for either breakfast or lunch, it was not all that salty, like so much ham is these days. As I mixed some hot sauce into the large scoop of grits I got to go with it, it created a good little country-style meal, especially at that great little country price.
Noticing it was of the "no sugar added" variety, Jodie ordered a slice of Cherry Pie ($3.00) as the capper. I took a moderate bite out of it and savored it with critical aplomb. As I handed it back to her, I realized that it wasn't 2727 NW 50th that hurt me, but instead it was just the moment of time I was living in; I was just a kid dealing with shit the best way I could.
As I took a final sip of coffee, I figured I'd go try their Indian taco some futuristic Tuesday. Cómpralo ya!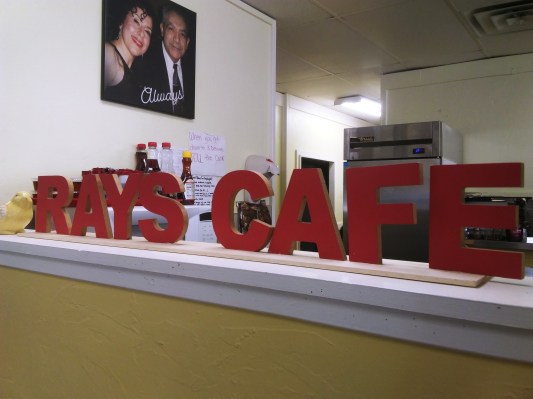 _
Follow Louis on Twitter at @LouisFowler and Instagram at @louisfowler78.
 Support TLO (and, by proxy, Louis Fowler) by becoming an Ogle Mole…sign up here today!
Stay in touch
Sign up for our free newsletter