Everything Else
Breaking: Kevin Stitt forgot to set up official Parler account
11:29 AM EST on November 12, 2020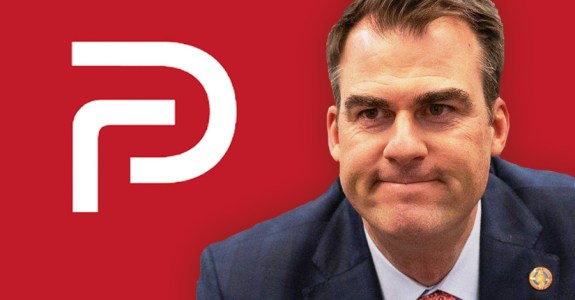 A few nights ago, Norman Transcript reporter Reese Gorman – the Buzz Killington newshound who busted up the OU super spreader tailgate back in September – let everyone know on Twitter that Oklahoma Governor Kevin Stitt had succumbed to temptation and created a Parler account.
If you're smart enough to stay off social media and not follow any news coverage outside of what you read on this website, Parler is the trendy social media app that's popular with the ultra-conservative, Derplahoman types because the platform won't interfere with their right to gleefully and willingly share, spread and consume biased, misleading and false propaganda that they believe is the truth.
Basically, it's social media for the 70% of conservatives who think the American Presidential election was a fraud, and don't want to be bothered with fact checks, criticism, truth and all that boring stuff that doesn't support their misinformed opinions, hunches and gut-instincts.
Naturally, the tweet took off in the left-wing Oklahoma outrage echo chamber. They were for some reason salty that a right-wing governor would create a social media account on a platform that's home to some of his most loyal supporters. But not too long after Reese reported the news, the Governor's communications bro issued the following statement:
Wow! Kevin Stitt doesn't have a real-life verified Parler account?! How embarrassing! I feel sorry for whichever one of his social media interns overlooked that detail! Hopefully they don't get expelled from ORU over it!
Although he was sitting on the scoop of the year – "Breaking: Oklahoman governor still doesn't have Parler account!!! – Reese deleted the tweet and apologized instead:
Sure, Stitt's account didn't have a little blue swastika – or whatever icon Parler uses to verify accounts – but you can't blame Reese for assuming the account was real. First of all, as I mentioned, it's more shocking that Kevin Stitt isn't on Parler. Second, what boring propagandist would want to create a fake Kevin Stitt Parler account? That makes me want to fall asleep just thinking about it.
Although Kevin Stitt has fallen behind on right-wing social media trends, some of our finest Derplahoman lawmakers are already on the platform. As Reese reported, our old pal Kevin McDugle – a guy who was accused of infidelity and anger management issues in his divorce decree – is on the platform apparently trying to weasel his way into the local ProudBoys chapter.
Oklahoma State Rep. Kevin McDugle, R-Broken Arrow, has used his Parler account to share posts from multiple debunked conspiracy theories, including QAnon. QAnon is a far-right conspiracy theory based on the premise that the government is run by a cabal of Satan-worshiping pedophiles, and President Donald Trump was sent to crusade against it.

McDugle shared multiple posts on Parler containing QAnon content. McDugle also tagged the Proud Boys, a radical, all-male, white supremicist group, in a speech he gave at the state Capitol on Saturday.
In addition to that, Rob Standridge – the brave patriot who wants to create an online militia to drown out the libs – also created an account.
State Sen. Rob Standridge, R-Norman, who has also joined Parler, said he believes these sites were created to allow for "total free speech." As of press time, Standridge had made one post on Parler, writing that he is "praying for our President, Donald J. Trump."

"I think you're going to see sites like Parler take a ton of traffic eventually because I think people crave a total free speech site," Standridge said. "Whether you're on the left or the right, I don't think people like [censorship]."
I actually agree with Standridge on one thing. People – especially the deranged ones who, thanks to decades of indoctrination through exposure to propaganda, long to spread false and misleading information on the Internet – do crave "a total free speech site" where they can say and spread whatever they want and not have to worry about being corrected by the truth. Parler seems like a good place for that. I guess that's why our favorite weatherman – a guy who, ironically enough, (unsuccessfully) sued us in an effort to stymie our free speech – created an account there earlier this summer.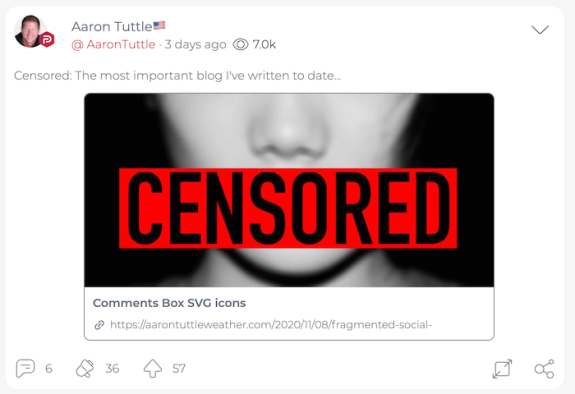 Anyway, I guess we'll continue to follow this situation and let you know when Kevin Stitt catches up to the modern age and creates a Parler account. FWIW, I created one for TLO to lurk and follow Oklahoma politicians for the material. If you're one of our right-wing readers who made the plunge, follow us today!
Stay in touch
Sign up for our free newsletter