events
Adele Wolf and the Oklahoma City Burlesque Festival Goes Virtual
5:12 AM EDT on September 24, 2020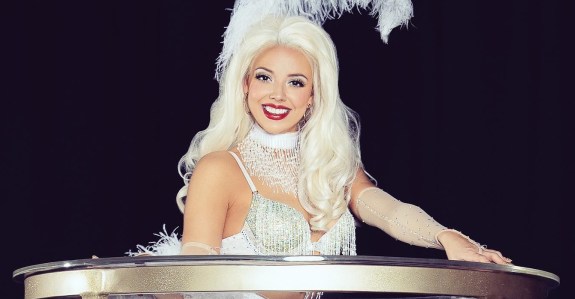 In Oklahoma's nouveau burlesque scene, Adele Wolf is a legend – the creator of a burgeoning movement that inspires just as much as it titillates, and giving her a career as an international jet setter, modeling and performing all over Europe.
But it's here in Oklahoma City where Wolf will always find her home, performing a multitude of variety shows before the pandemic struck. Still, under lockdown, she said that's when the "DIY attitude" hit her hard, leading her to hone this year's virtual entry in the 8th Annual Oklahoma City Burlesque Festival, hitting computers September 25th and 26th.
This year's festival will be a bra-busting lineup, with Friday a best-of-show, featuring an all-star selection of Wolf's favorite performances over the years, while Saturday will be a mixture of all-new content, some live and some created while in quarantine. Tickets are available at OKCBurlesqueFest.com.
I sat down with Wolf earlier this week to talk about her stage show, her political life and a whole lot of dirty dancing.
_
Louis Fowler: How do you define burlesque?
Adele Wolf: For me personally, burlesque in the historical context is variety entertainment. The old burlesque shows had musicians, comedians and striptease artists that were oftentimes the featured, headlining acts. As far as what we do, it's definitely an emphasis on the striptease part of burlesque. It's not the sanitized version with Christina Aguilera and Cher.
_
What is about burlesque that draws you in?
I came from a more traditional theater and dance background, so what appealed to me was the ability to have full creative control, to create my own story, my own character and design my own costumes. Everything is my vision, which also puts a lot of pressure on it because if people don't like it, well…it's all you. But it's rewarding for that reason too. That's why I keep doing it.
_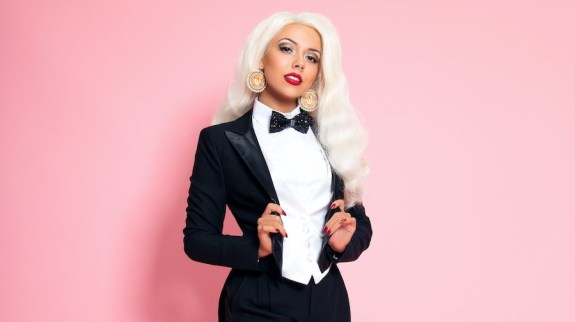 You've toured internationally. How are Oklahoma audiences different than the rest of the world?
Here, I definitely have a home audience and I have people that've been coming to see me for a decade at this point. I have a really warm reception here. One thing that's really special about my Oklahoma audience is that is they howl for me like a pack of wolves…it's the greatest thing.
But, as far as getting started in Oklahoma, it really was an uphill battle. People didn't really view what I was doing as a legitimate art-form. For us, this is what we do professionally for careers, and we're definitely coming at it as professional entertainers; whereas in Europe, when people ask what I do, if I say burlesque, they don't even bat an eyelash. One woman in France joked that if I were to nanny her kids, I could teach them to shimmy.
_
How do you deal with rowdy crowds that mistake burlesque for something a little more vulgar?
Luckily, at our show, we really don't have that problem because of the way I brand things. I also keep things pretty tight online, like if you want to see the full reveal, you have to sign up for the fan club or come to a show. In the way we market and structure our shows, the nudity can become an afterthought, where it's really about the show. We curate it like a Vegas-style review.
_
Because of the body-positive message of this art, do you think that women tend to like burlesque more than men?
Yes, I do. It's something that has really evolved throughout burlesque history. In the beginning, the audience was mostly men and they're going to burlesque clubs because strip clubs didn't exist yet—strip clubs and porn are actually what killed burlesque as a mainstream form of entertainment—but with the revival starting in the 90s, it became much more women-dominated audiences. Most of the people behind the scenes are women as well…it definitely changes the environment.
_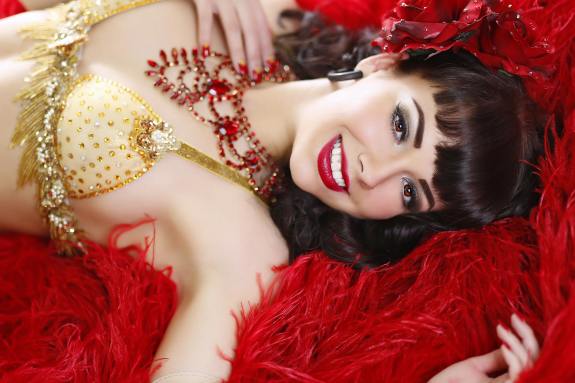 I heard on the Lost Ogle Podcast that you're Indigenous. How do you pay tribute to that heritage on-stage with being offensive?
I'm Citizen Potawatomi and Muscogee Creek. It's something that I haven't played with a whole lot yet, because it is a really fine line. But I definitely embrace it onstage. I remember last year at the festival somebody yelled out "Boomer Sooner!" and I stopped the show and said "We're gonna talk about that! We're going to talk about that phrase and we're not gonna say it at my show!"
For me, it's more about representing the identity as a way to raise awareness for our issues in Indigenous communities. But there are definitely things I do, little nods like wearing my beaded earrings on stage…things like that that can represent who I am. But it's a really fine line.
_
How has the pandemic hurt not only you, but burlesque in general?
You know, to be honest, I am very concerned about the future of the entertainment industry. We had to make this year's Oklahoma City Burlesque Festival virtual and, as of right now, we're planning to do that with my upcoming show season as well.
For our show, we have to have a few hundred people attend to break even on the costs and that's just not safe right now. So, I thought, maybe if we do a lower capacity show and had different talent and so on maybe we could do it, but then I realized we're changing the quality of the show itself. I just couldn't make it make sense, plus there's the risk for everyone involved.
Putting together this show has had some hard moments because I'm constantly thinking about all these people I've been working with my whole adult life and how they've had to change things and find new ways to make ends meet. You have people that have been entertainers their whole life and now they're trying to get customer service jobs.
For those of us where this is our skill set, investing all of our time and energy into the entertainment industry, we don't know what our future is. We don't know if these big shows will ever come back to in the same capacity…but I hope they will. I'm hopeful they'll come back bigger than ever because people are going to be missing it just as much as we are.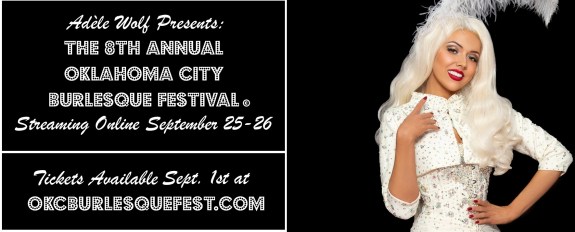 _
Follow Louis on Twitter at @LouisFowler and Instagram at @louisfowler78.
 Support TLO (and, by proxy, Louis Fowler) by becoming an Ogle Mole…sign up here today!
Stay in touch
Sign up for our free newsletter