Food
TLO Restaurant Review: Murphy's Original Steak House
11:00 AM EDT on September 8, 2020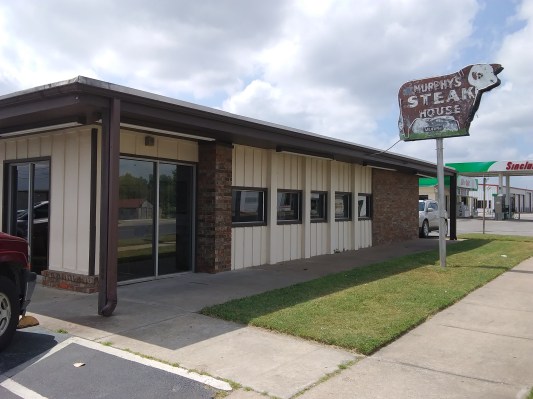 Wanting to get out of the city if only for a few scant hours last weekend, my ladyfriend and I took a random road trip to medium-sized berg of Bartlesville, Oklahoma. Thankfully taking over, she had planned the itinerary with a much-needed lunch stop at a fine local steakhouse known as Murphy's Original, 1625 SW Frank Phillips Blvd.
With signage that featured a weathered cow out front proclaiming it has been there since 1946, once we walked through the glass doors and passed the strange entryway that doubled as what is probably a storage closet, she became mildly disappointed that this was no fine steakhouse while I became absolutely thrilled that this was no fine steakhouse: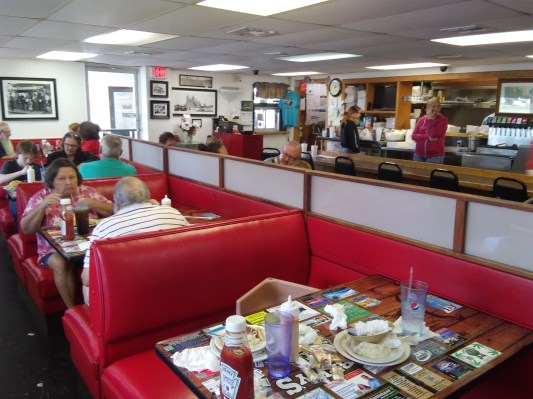 As I dropped to my knees and thanked the god of rural diners for this call to deliverance, a waitress in a pink t-shirt led us to our minimally wiped table, bits of French fries and other lunchtime ephemera were still scattered on the floor, but I didn't care. I didn't care at all, soaking up the pure Okie ambiance of the joint.
Looking over our small menus, I noticed that barely anyone around us were wearing masks—not the waitresses, not the kitchen and definitely not the customers. But, I remembered, I was in Bartlesville and it wasn't my place to correct a restaurant full of old men in their sixties wearing snap-button short-sleeves shirts and black ball-caps with their military service record on them.
I'll leave that to you and your Twitter, man.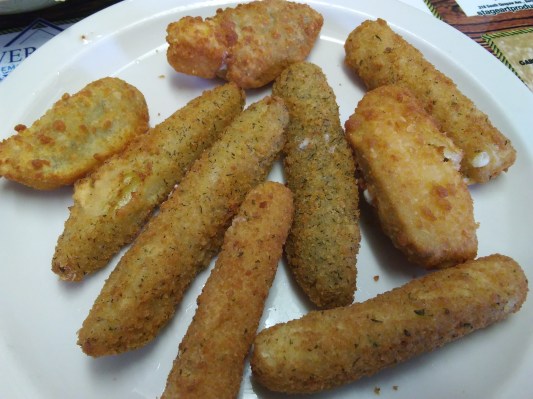 For a starter, I really wanted to try the fried pickle spears, but there was not a consensus around the table. So, instead, we ordered the Trio Appetizer Plate ($6.99) that included Fried Mozzarella Sticks, Fried Stuffed Jalapenos and, thankfully, the Fried Pickles I so desperately craved. Remarkably hot, I burned my tongue as the tart pickle juice exploded in a yelp of third-degree pain.
There was a selection of Open-Faced Sandwiches on the menu featuring slightly erotically-named eats like Hot Beef and Hot Ham. With a slight titter of immature laughter, I voyeuristically watched as my ladyfriend had the Hot Hamburger ($7.49) delivered to the table, featuring a half-pound of beef covered in fries and brown gravy, choking the absolute life out of it.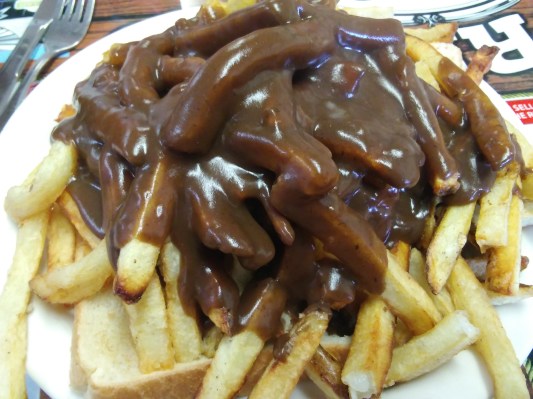 While it took a minor spelunking expedition to get to the meat under the mountain of fried potatoes, eventually she did and, even though she thought she'd be enjoying something far more hoity-toity this afternoon, was quite content with the runny results, even if there was no way she could humanly finish this brown challenge laid out before her.
But, being at a country steakhouse, I couldn't let the bovine mascot out front down and had to get an 8 oz. Sirloin Steak ($12.99), complete with a baked potato and what my ladyfriend described as "the most Oklahoma salad known to man" consisting of iceberg lettuce, sliced tomatoes and shredded cheese with a drizzle of ranch and served in a requisite plastic bowl.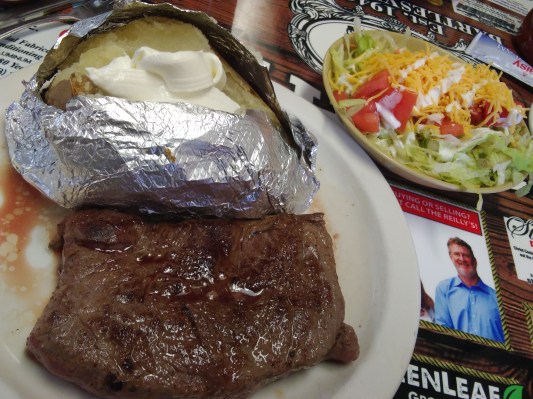 The steak, cooked medium rare and leaving a pool of red on the plate, was lightly salt and peppered with an undeniable taste of freshly butchered meat—hard to find in the city, I know—that was beautifully tender and wonderfully aromatic, leading to an afternoon of unslightly mastication, hitting all the perfect buttons needed to enjoy a semi-cheap small-town steak.
For dessert, we ordered an oddly hot slice of pecan pie to share that way lovers in Oklahoma often do. When I asked the waitress if it was homemade, she proudly told me "Naw, it's from Ben E. Keith." I gave her a slightly larger tip for the blatant honesty. Cómpralo ya!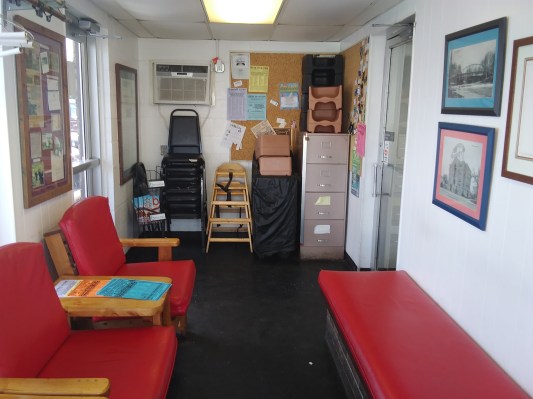 _
Follow Louis on Twitter at @LouisFowler and Instagram at @louisfowler78.
Stay in touch
Sign up for our free newsletter