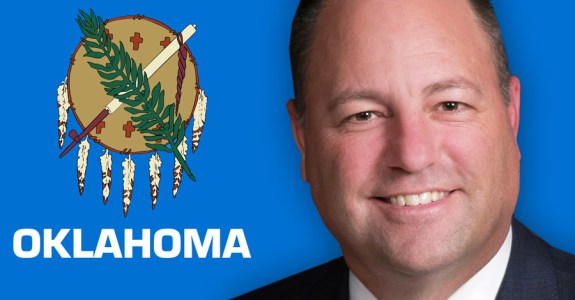 It looks like someone got their chair pulled out from underneath them!
Last night, GOP voters in south-central Oklahoma played a little prank on our old pal State Senator Paul Scott – the 15th ranked Derplahoman of the 2010s – by voting him out of office.
Here are details via The Duncan Banner:
After months of campaigning, the runoff for the State Sen. Dist. 43 Republican race is over as Jessica Garvin defeated incumbent Sen. Paul Scott with 51.56% of the vote.

Garvin started the night a little behind as early voting came in, but numbers from Stephens County started to roll in and other counties helped to give her first lead of the night...

Garvin, after spending the night with close family and friends and after hearing the final results, said she felt gratified with the results declaring her the winner of the Republican nomination.
As an Internet publisher who's always in search of good, clickable material to write about our dumb politicians, this news is bittersweet. Sure, Paul Scott is an immature right-wing nutjob and the less of those we have in office the better, but he's also been a master at generating content for us over the past couple of years!
Here's a look back at some of his greatest hits...
It all got started back in 2017 when Scott – as a newly elected Senator – threatened to remove Thunder taxpayer subsidies over Anthem protests, and then called us stupid after the local newspaper asked him about it. Give Scott credit – he was ahead of the times on that pandering issue.
In 2018, Scott targeted the societal pariah's known as "low-income pregnant women" with draconian legislation. He also got in trouble on Facebook for making fun of an upset constituent's spouse and sharing a Bill Clinton meme that made light of the sexual assault allegations.
Then, just last year, we broke the story that Paul Scott was forced to apologize to the State Senate for his "unprofessional behavior" on the chamber floor after he pulled a juvenile prank on State Senator Carri Hicks and didn't fess up to it. Remember that? He removed a wheel from her chair in the Senate chambers on the first day of the new session, causing her to fall out of the chair and to the ground when she tried to take a seat.
Here's the letter:
Yeah, you're definitely not going to act in that manner again on the Senate floor. Unless, of course, he somehow weasels his way back into the Senate.
Anyway, I guess in a strange way we're going to miss Senator Scott. We wish him the best of luck and hope he knows that even though he's no longer going to be an elected official, he can still do and say stupid things for us to write about.
Stay in touch
Sign up for our free newsletter