Food
TLO Restaurant Review: All American Dixie Diner
10:30 AM EDT on August 25, 2020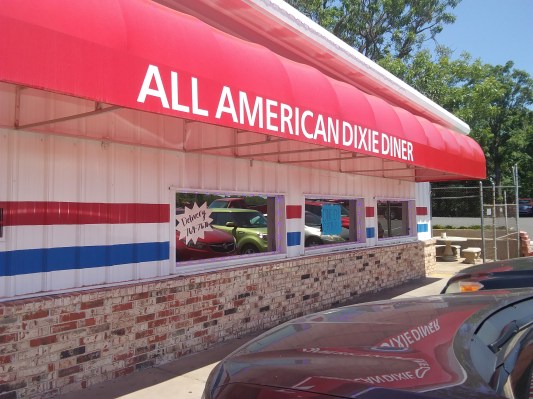 I recently co-adopted a lovable mutt that every few weeks needs to make a trip to Spencer to receive various puppy-based vaccinations that, I'm told, are quite important. And while waiting in the hot sun when he goes inside the rustic clinic isn't all that fun, when he's done we do enjoy driving through these small Oklahoma towns that I normally would have ignored.
Looking for lunch after last weekend's rabies shots, my ladyfriend told me about a place in Nicoma Park that she had driven by a few times called the All American Dixie Diner, 11201 NE 23rd. With that word "dixie" being a bit of a hot button lately, I thought that it would be a patriotic place to grab some eats for the way home, Chicks be damned.
I wasn't too far off.
I went in to order while she and the pup waited in the car. Walking into a red, white and blue motif, it was easy to stand up and salute as soon as I noticed the pin-up models on the wall with bizarre facial deformities that I'm sure wasn't social commentary. I sat at the bar and flipped through a menu, conveniently next to a brazen sampling of homemade pies and cakes.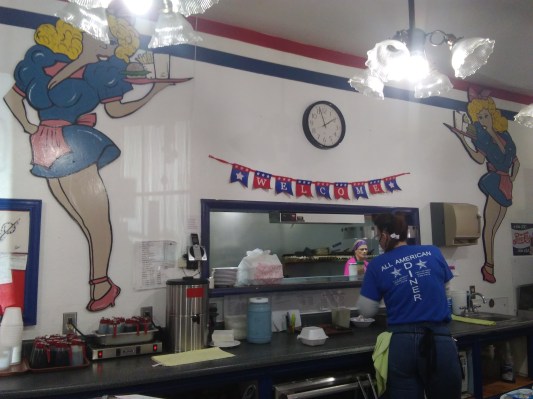 After a short period of culinary waiting as the skilled women in the kitchen filled multiple orders from one of those spinning metal racks of handwritten tickets that I had only ever seen on reruns of Alice in the past, my sandwiches were done but, with far too strong of a hold on me, I ordered a slice of pie as well, mostly because I'm an admitted sinner with little self-control.
Lunch loaded into the car, after a few miles we decided to find someplace pastoral to pull over and enjoy Dixie's bounty; my ladyfriend saw a dilapidated cemetery on the road home. We drove through the decrepit stone columns into a sundrenched world filled with tilted tombstones and lingering shadows that seemed to haunt the old graveyard. But, possible demons and devils aside, I was ready for lunch.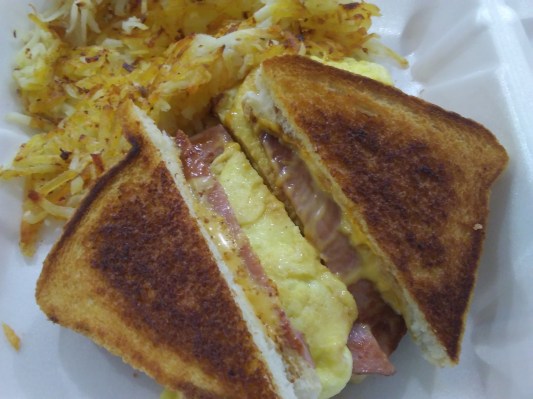 We started with Dixie's Toaster ($6.99), the perfect breakfast sandwich if there ever was one. Packed with multiple slices of ham, Swiss and American cheese as well as scrambled eggs on two greasy pieces of Texas toast, we shared half of this triumphant morning meal, eschewing the good amount of hash browns for possibly breakfast the next morning.
As the little dog behind my shoulder licked his tiny lips in the hopes of even the smallest bite, my ladyfriend bit into her traditional Hot Ham and Cheese Sandwich ($5.39), a melty masterpiece of gooey cheese, crisp tomato and lettuce and, of course, two or three very thick slices of ham. Served with hand-made French fries, she felt satisfied with her order.
I was enamored with my edible regalement as soon as I lifted up the styrofoam lid showcasing the Dixie Club ($6.49), a sandwich like I had never seen before in these parts; cheese, ground beef, bacon, lettuce and tomato served on multiple slices of toast then cut into four massive corners, I could only get through one sliver and a handful of fries before I was wholly satiated.
As the dark dankness of the tree we were sitting under shifted with the sun, I guess I wasn't paying attention because as I was consolidating the leftovers, they spilled from my greasy hands all over the ground, creating a tasty mess of sandwiches and fries that left me momentarily stunned. My dog however, always the voracious canine, sprung into action like a furry vacuum and started sucking up every bit of what he could before I responsibly pulled him back.
He retired to the back seat of the car, a narcotic-like smile curling on his lips from a day of vaccinations and floor-meat. A single slice of Millionaire Pie ($3.65) sat untouched in a container on the dashboard, our only memory of this definitely delicious but wantonly wasted lunchtime excursion. Cómpralo ya!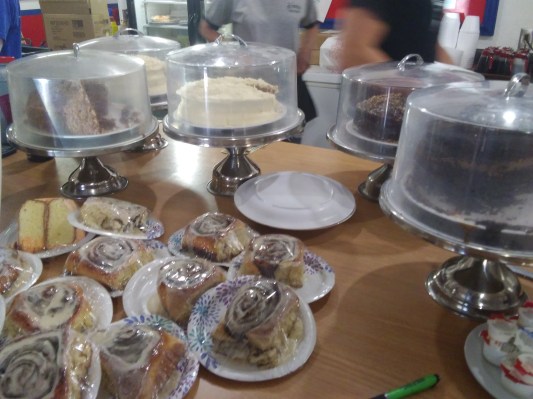 _
Follow Louis on Twitter at @LouisFowler and Instagram at @louisfowler78.
Stay in touch
Sign up for our free newsletter