Everything Else
Fair Game: The Corny Carnie's Guide to the 2020 Virtual Oklahoma State Fair is Now Available
10:30 AM EDT on August 13, 2020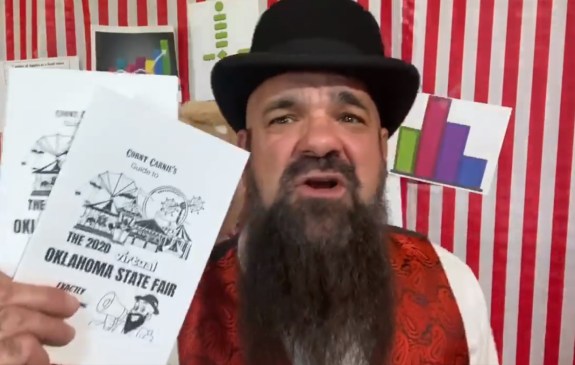 Many Oklahomans were bummed by the announced cancelation of this year's Great State Fair of Oklahoma, including Sam Stucky. As a native Oklahoman, the self-appointed Corny Carnie of the Inflatable Carnival empire—serving everyone everywhere from here to Guthrie with bounce houses, amusements, concessions, and games— he grew up loving the annual event, in the most unnatural way possible.
"The State Fair and I are in an unhealthy relationship," Stucky said. "That nostalgia is strong…I always walk away feeling like I spent too much money and ate too much terrible food, but I keep coming back for the abuse. Now that I think about it, can I get counseling for that?"
Driven by this massive loss to the state, instead of whining about it on a random internet forum, Stucky went back to the old days of self-publishing and wrote The Corny Carnie's Guide to the 2020 Virtual Oklahoma State Fair, a comedic coloring and activity book meant to take the place of the Lost Ogle's halcyon days of making fun of unsuspecting fairgoers.
"Since you guys made the change to not picking on fairgoers, it left quite a void and a very low bar," Stucky said. "I thought to myself "Maybe I could get over that bar!" and I think I only missed it by an inch or two…so close.  Third place is still a place, though."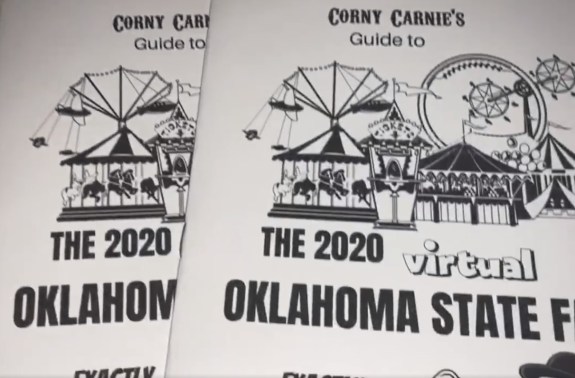 While Stucky was writing the guide, he said that the "dumb thoughts" he usually had while visiting fairs past were the main inspiration behind it, genuinely worried and wondering aloud how would he and many Okies see their yearly allowance of the famed hairstyle known as a mullet this year. He hopes that the book does a passable job of reminding people of the sights, sounds and, more importantly, smells of the event.
"It's a smell that automatically clogs your arteries and takes years off your life; it's like catnip to all of us that are under its spell," Stucky said. "I'm a people watcher and all the colorful people love to peacock out at the fair. I'm also very random and I see lots of things that most people willfully ignore and that makes me laugh, which is why those things appear in my book; if it made me laugh it went into the book."
Admitting that the Oklahoma State Fair is a "colossal waste of money," he said that one of the reasons why his book might in fact be better this year is that it's a "much smaller waste of money." Currently for sale at his website Inflatablecarnival.net under the merchandise banner, he said it's a lot harder to have "buyer's remorse" after spending only $7.00.
"For those of you reading this and think you are buying some kind of well-written novel, I cannot wait to disappoint you," Stucky jokes. "This is actually a coloring book and an activity book. It is written as immaturely as possible—there are poop and dead goldfish jokes—but nothing that you can't show your kid who, by the way, thinks poop jokes are way funnier than you do." .
_
Follow Sam Stucky on Facebook at The Inflatable Carnival.  
Follow Louis on Twitter at @LouisFowler and Instagram at @louisfowler78.
Stay in touch
Sign up for our free newsletter