Everything Else
Bice and Neese squabble over Mike Pence endorsement
10:02 AM EDT on July 29, 2020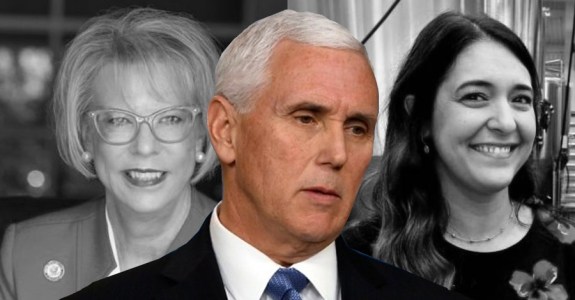 Just like a classic football game between Oklahoma State and Texas, the race between Terry Neese and Stephanie Bice for the Republican nod in OK-CD5 has quickly devolved into one of those "Is it possible for both of them to lose" runoff elections.
In fact, things have gotten so sad that they're now fighting over the support of Vice President Mike Pence!
Here are the details from a Chris Casteel report in The Oklahoman:
Republican congressional candidate Terry Neese received a campaign check from the political committee associated with Vice President Mike Pence, apparently refuting the claim by state Sen. Stephanie Bice that Pence was on her "team" in the race.

The Great America Committee sent Neese a check for $1,500 last week and the same letter that was sent to Bice on June 30, the day the two 5th District candidates emerged from the crowded GOP primary as the top two vote getters...
The letter to Neese and Bice, signed by Pence, says, "Through Great America Committee, I am committed to support our President's allies in Congress. Please accept this contribution as a sign of my appreciation of your support for our administration and our agenda."

Bice, after receiving her check and letter, posted on her social media sites that Pence was on #TeamBice.
Yeah, that's right. Stop the presses and notify the President – a person running for public office may have knowingly misrepresented and embellished something on social media. Whatever will we do!
Here's the actual tweet from Stephanie:
📣 BREAKING NEWS: @VP is on #TeamBice! I am extremely grateful for the Vice President's support. I am honored that one of our nation's top conservative leaders recognizes my hard work and dedication to Oklahomans. I'm the best candidate to take back #OK05 for conservatives. pic.twitter.com/WZ2GRB9wtK

— Stephanie Bice (@stephaniebice) July 16, 2020
First of all, like any of this matters. Outside of Mike Pence, who gives a fuck who Mike Pence endorses. Second, you can't really blame Bice for interpreting a letter like that as an endorsement. Sure, it may be a form letter and full of propagandist lies, but if I got something like that in the mail along with a $1,500 check, I'd take it as a general sign of support, too.
Also, I don't see the big deal in Mike Pence sending the same letter to Neese. In these open, inclusive and waffling times, it's totally okay for the Vice President to support and endorse both Neese and Bice. In fact, I think that makes him bi-endorsal!
Anyway, in case you're wondering why a GOP newsletter like The Oklahoman is helping make this topic an issue, I present the following tweet from Neese:
Thank you to everyone who joined us for Harold Hamm's Oklahoma Tough reception! Republicans are unified behind our campaign and are ready to defeat Kendra Horn in November.
Visit https://t.co/Fpcw9RfwDy to join our team today. pic.twitter.com/hVEqPdfziT

— - (@NeeseForOK5) July 27, 2020
Yep, the Oil Overlords have shifted their money and attention firmly into the Team Neese camp. That's not a surprise. In 2018, Bice voted to raise Harold Hamm's taxes to help fund education during the big teacher walkout. It was a sane and reasonable decision then, and it looks like Bice is being punished for it now.
Stay in touch
Sign up for our free newsletter