Everything Else
News 9 conveniently ignores public health risk of Lazy E Arena holding massive rodeos
5:28 AM EDT on July 24, 2020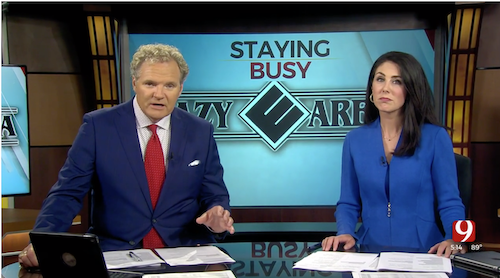 Although most concerts, sporting events and entertainment venues have shut down during the pandemic over public safety concerns, Lazy-E Arena in Guthrie has remained open for business, hosting national rodeo events that have brought in visitors to the state from all over the country, and as a result, helped spread the Coronavirus across Oklahoma.
Fortunately for us, Oklahoma's Own™ News 9 – a locally owned channel that's always looking out for the safety of its viewers  – was on the scene, and on the story, to report on this public health hazard.
Via News 9.com:
While many businesses have closed or reduced operations, the Lazy E Arena has become the rodeo capital of the country since the pandemic started.

It's massive amount of space has made the arena the most attractive venue for competitions.

While businesses are hurting across the country, rodeos have helped Guthrie buck the national trend.

"Some of our restaurants have said they're going to survive because of the influx of dollars from Lazy E visitors," said Guthrie Tourism Director Justin Fortney.
Wait. They're leading with the economic benefit of hosting COVID-19 super-spreader rodeo events? I guess it's good that Guthrie eateries like Stables Cafe – get the Frito chili pie, trust me – are getting some extra business, and as a result, increasing the likelihood that their employees catch an extra spikey novel coronavirus that's killed 477 Oklahomans, but what about the public health threat of having people from all across the country congregate in close quarters while being bucked around by horses?
Here's more:
This week it's the National High School Finals Rodeo, one of ten events that have been relocated to Lazy E because of coronavirus concerns.

Lazy E estimates the last two events have wrangled $70 million from visitors, the impact of it felt throughout the state as competitors and their families explore Oklahoma after competitions at the arena.
Wait a second. Lazy E is claiming that two rodeo events generated $70-million from visitors? Yeah right. Even Kevin Stitt would fall off his horse if he heard that claim.
To put that blatantly exaggerated number being propagated on TV news into perspective, the Thunder's economic impact on OKC for the entire 2012 - 2013 season was estimated to be $64-million. You're telling me that events like the National High School Finals Rodeo and National Little Britches Rodeo Association Finals generate more money than 41 NBA home games? I know rodeos deal in bullshit, but even that's over the top.
Anyway, I guess we should get to the part where News 9 talks to a health expert about the hazards of having people from all over the country congregate in a town 20 minutes outside OKC to ride angry animals in close quarters during a pandemic. At the very least, News 9 will discuss what health and safety measures Lazy E Arena has implemented to keep patrons safe, and help prevent the virus' spread:
"For a town like Guthrie that depends on tourism for a lot of revenue, our restaurants and hotels, it's been great to have some of the Lazy-E folks do some shopping here," Fortney said.

Fortney said he can't put an exact number on the economic impact for Guthrie, but step inside a local restaurant, count the cowboy hats, and you get the idea.

"It's brought a lot of business to us. They keep us here to about 2, I mean right up at 2, working," said Ailene Siharath.
Really? They're still ignoring the health risks and playing up the economic impact? I know News 9 is the local news version of Fox News, and is more focused on pushing conservative propaganda from its reporters and helicopter pilots than actual reporting, but they can't keep that up for the entire piece, right?
The answer to that question is "Yes, they can."
Siharath owns Katie's Diner in Guthrie. Like most other businesses, times have been tough, but about two weeks ago, she noticed the rodeos were steering more business her way.

She estimates the rodeo revenue has resulted in an increase of $500 to $600 per day at her restaurant.

"And that's substantial, because we're here seven days a week, so if you spread that out across a couple weeks that they're here, it's substantial for a small business," she said.

With Lazy E Arena booked through the rest of the year, business should continue to be booming in Guthrie.
Yeah, and with Lazy E Arena booked through the rest of the year, business won't be the only thing booming in Guthrie, either.
Stay in touch
Sign up for our free newsletter