Food
TLO Restaurant Review: Nina's Family Restaurant
5:00 AM EDT on July 21, 2020
"Eat Local."
It's a sturdy phrase that's been passed around like a plate of Okie hors d'oeuvres, especially over these past few months, usually recited after hearing horror stories of restaurants that are slowly dying the untimeliest of deaths. But, sadly, when people often repeat this well-done mantra, they're usually only referring to the hippest places in town.
Nina's Family Restaurant, 5001 N. Portland Ave., isn't the hippest place in town—far from it—but it's the type of area diner that, to me at least, completely embodies the phrase "Eat Local."
It's the type of run-down eatery you might pass by if you weren't looking for it—and let's face it, most of you aren't—but Nina's Family Restaurant has some of the best lunchtime grub around that, while it may not win any awards from a cool alt-weekly, does a damn good job of impressing me with its window-touted American and Mexican offerings.
I think it might have been an old Coit's Root Beer once—the rusty drive-in stalls are still out there—and possibly even a Wendy's, judging from the lonely atrium-like patio that my gal-pal Jodie and I were consciously seated and socially-distanced in sometime last week.
Now a family-run business, an older gentleman brought us our menus and glasses of ice water; I noticed there were only one or two other families having lunch in the place that day, my eyes wandering around once I was done looking over the mid-sized menu, happy that all of my most favorite greasy spoon eats were duly represented.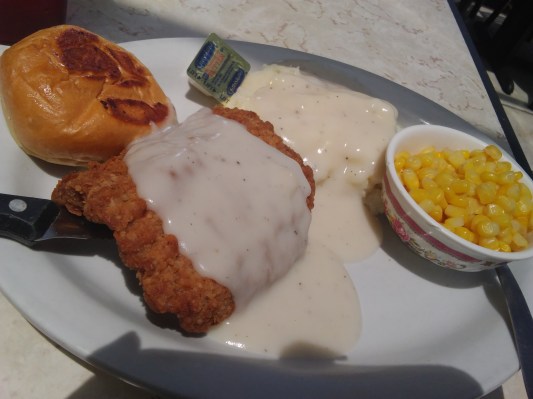 Of course, I started with that gracious Oklahoma fave, the Chicken Fried Steak topped with Creamy Gravy ($9.99). It's a dine-time staple here and Nina's is definitely worth its weight in tenderized cuts of hammered beef, better than gold if you ask me.
Hand-breaded and well-coated with a thickly-done exterior of golden-hued fried flour and mass seasonings, every bite was a childhood trip back to your deceased grandma's dinner table on a Sunday afternoon, the cream gravy generously poured over most of the plate with welcomed gusto.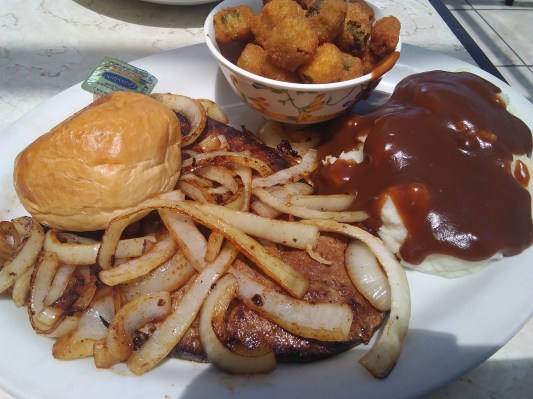 Much like me, Jodie tends to go for the most unique items to eat as well, wholly surprised that one of her favorite meals, Liver and Onions ($9.99), was patiently waiting on the menu for her to order. A typically hard cut of organ meat to cook just right, the plate was covered in the requisite dark slab with plenty of gravy-ready onions to bear.
Tender enough to cut with the fork—I've had some real shoe-leather liver in my day, son—it was a folic-filled surprise, with the tongue-wincing onions mincing perfectly with the gently spiced liver to create the type of tasty lunch that would make you gleefully suck on a half a pack of Certs when you're done.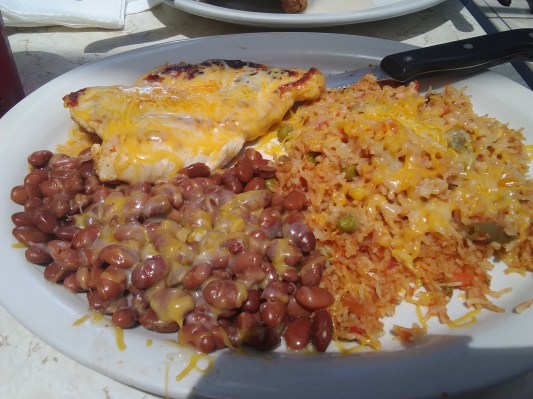 From the Mexican side of the menu, I absolutely had to try the Queso Smothered Chicken Breast with Rice and Beans ($9.50). At first glance, this may look just like cheese sauce on top of chicken—and, hallelujah, it is! With a dangerous pour across the plate, the queso absolutely drowns the chicken and, surprisingly, the rice and beans.
The cheese-topped chicken is a naked breast full of calcium-rich flavor, but the cheese really gains points on the rich rice and flavorful beans, creating some of the best tasting sides I've had recently in this here capital city. As the queso covers every bit of rice and beans, it coated my stomach in a gloopy sheen of pure joy as well.
Nina's Family Restaurant is definitely not the hippest place in Oklahoma City, but with comfort food this traditionally well-made, it doesn't need to be. Remember that the next time you're telling someone to "Eat Local." Cómpralo ya!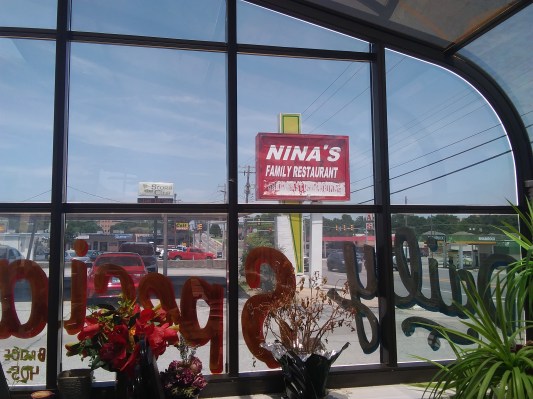 _
Follow Louis on Twitter at @LouisFowler and Instagram at @louisfowler78.
Stay in touch
Sign up for our free newsletter