Food
TLO Restaurant Review: Kao Mun Gai
10:05 AM EDT on June 30, 2020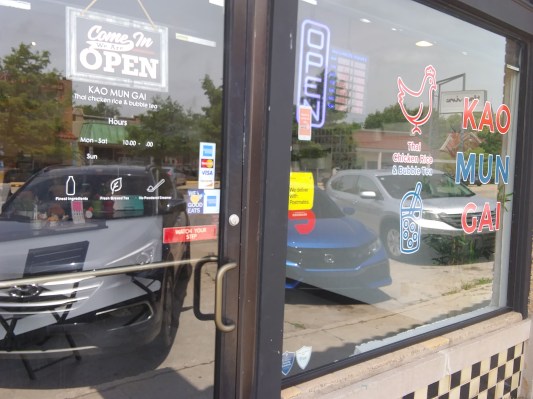 I live a life of piety and privation, trying my best to not to ask for all that much in life, this borrowed time remaining all I really need. That being said, there are two vices that I do tend to indulge in once a week: a good meal to write about and an album from Guestroom Records to soundtrack that writing.
On Saturday, these transient worlds finally came together when, after purchasing a vinyl reissue of Rodriguez' Cold Fact LP, I walked a couple of doors down to Kao Mun Gai, 3709 N. Western Ave., to try one of their famed bubble teas, something I had been most curious about for quite a while.
Album slid loosely under my arm, as I read the outside window, it proclaimed they also served Thai chicken rice, another delicacy I had never had and now wanted to. Inside the slim eatery—only take-out and delivery for now, by the way—they have a small menu on the wall with very few items to eat, but plenty of written instructions on how to traditionally eat them.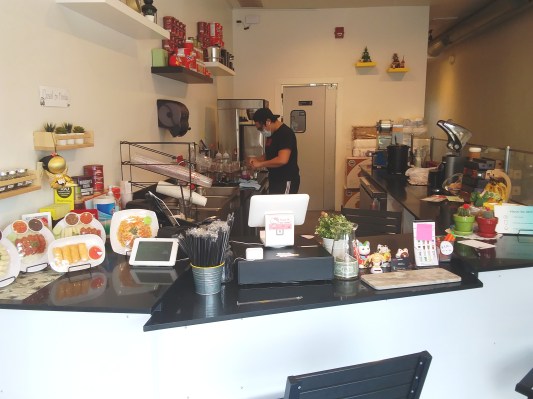 Ordering an appetizer of four eggrolls ($4.00) was an easy thing to do, as was putting in for a regular Thai Chicken Rice ($6.50), over other eats like the Shrimp Pad Thai or the Chicken Pad Thai. My typically frustrating problem of routine indecisiveness came, however, when choosing that specific flavor of Bubble Tea that I didn't know I was craving.
With specific tastes like Matcha Lava, Oolong Milk and Hajicha among the selections, I eventually decided on the heavy Thai Ice Tea ($4.00) and the light Dang Soda ($4.00), a happy medium of foreign flavors to taste and see, although I almost asked for the Banana Smoothie as well; it's sometimes so hard to deny yourself these pleasures in life.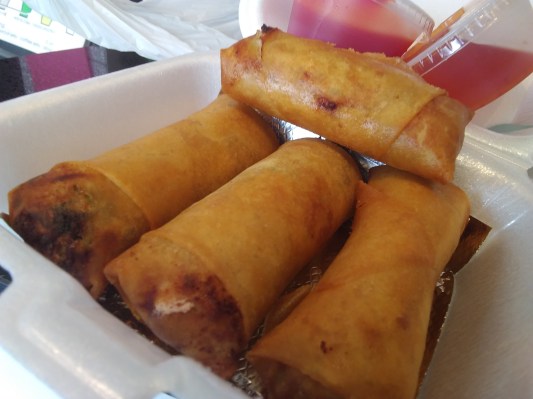 After a few scant minutes, the clerk behind the counter handed me a plastic bag full of food as well as my drinks. I settled on sitting on the concrete curb near Cock O' the Walk to have today's calming lunch and a few calmer sips of these bubble teas. The four freshly prepared eggrolls, fried to a crisp, were a decent enough starting point.
Packed tight with a selection of dipping sauces, these eggrolls were definitely a doable snack that, while mildly unremarkable, did their job of satiating my mounting hunger; I wiped my greasy hands off on my jeans and then took a mighty swig of the beautifully complex Dang Soda, a carbonated beverage reminding me of an evening sky filled with pink and pale as two wedges of well-cut limes floated on the top, giving it a far more acidic taste than expected.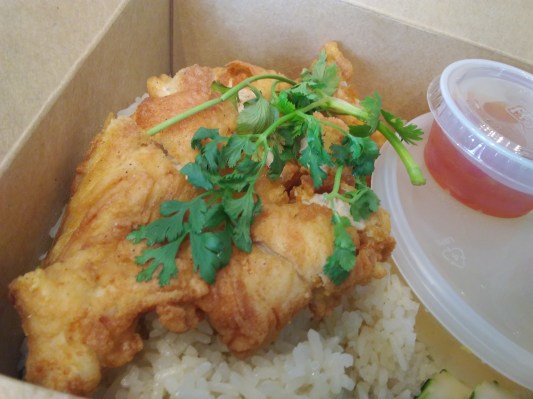 Following the complex directions that were hanging on the wall inside, I prepared my first bite of the Thai Chicken Rice proudly, loading my plastic spoon with rice, chicken and sauce, in that order; a popular dish in Bangkok, it's made with rice steamed in herbs and broth, topped with pieces of fried chicken and sided with a forceful sauce made of chiles, ginger and garlic.
Lusting for one spoonful after another, a heavenly chorus of roosters cocked and hens crowed in my general direction as I was taken structurally aback by this savory combination of relatively easygoing rice and pent-up chicken getting knocked down and around by these braggadocios Thai spices, a slice of cucumber and a sip of my soup helping to cool my internal fires for a brief moment.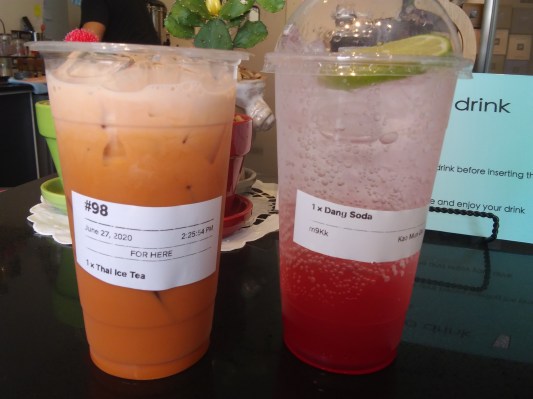 Needing a bit of the harder stuff, I put my meal down beside me and brought the waiting cup of Thai Ice Tea to my puckered lips; the rough and tumble Thai tea was subdued with ataractic drops of milk, sugar and cream, crafting a rarified liquid that will justly make me into a regular customer, stopping by for a celebratory cup after each and every record purchase.
So I guess I have three vices now. Cómpralo ya!
_
Follow Louis on Twitter at @LouisFowler and Instagram at @louisfowler78.
Stay in touch
Sign up for our free newsletter